Starting today, nominations and voting for the 19th annual Small Business BC Awards are open! British Columbians are encouraged to nominate their own business (or a business they love) for the awards and show their appreciation for the resiliency and creativity of the province's hard-working entrepreneurs.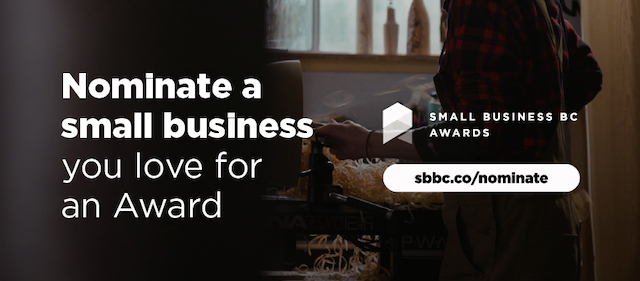 Nominations Open for Small Business BC Awards 2022
The Small Business BC Awards are open to BC-based businesses with fewer than 50 employees. There are just two award categories this year (as opposed to six, previously) and those are:
The Business Impact Award

The SBBC Business Impact Award goes to the business owner(s) that are truly making a difference. These hard-working individuals embrace the challenge of entrepreneurship, displaying skill in areas like sales, marketing, logistics, finances, and operations. Their organization has taken positive action to invest in the community and sees social responsibility as an integral part of business success. Prizing will be awarded as follows to the Top 3 businesses: $8,000 first prize, $4,000 second, $1,500 third.

Premier's People's Choice Award

This unique award category, sponsored by the Province of British Columbia, is presented to a BC-based small business that can demonstrate they have the unwavering and loyal support of their community. The criteria for winning the Premier's People's Choice Award is simple: Get more votes than any other nominee. Nominees are tasked with using any imaginative, creative or traditional tactics available to them to engage customers, clients and neighbours to vote for them. At the end of the process, the business with the most votes from their community is the winner and they will receive a $1,500 cash prize.
Once a small business is nominated, they must gain as many public votes as possible for their business until February 28, 2022.
The businesses with the most votes in the SBBC Business Impact Award category (after a normalization process to allow for regional populations) will be narrowed down to the top twenty, then judged by an internal panel of business experts to select the Top Five finalists.
The Top 5 Finalists for the SBBC Business Impact Award will be invited to present to a panel of judges, pitching why their business should win the award. The winner of the Premier's People's Choice award will be selected based on the most votes, after a normalization process to allow for regional populations.
On April 28, 2022, a virtual gala will be hosted by Small Business BC to announce and honour the winners.
Related: See the 2021 winners