Nominations are now open for the 18th annual Small Business BC Awards. Once a simple business planning contest, the awards have evolved over the years to a large-scale provincial competition with a reputation for prestige and excellence among the BC small business community.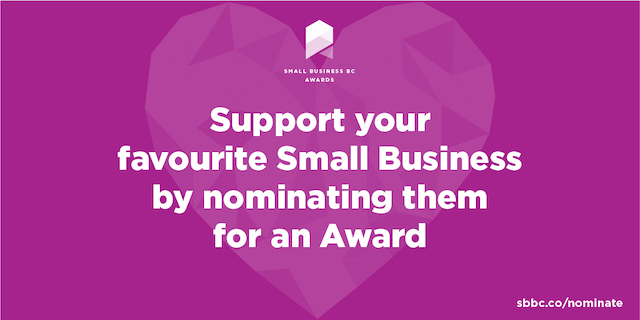 Small Business BC Awards
If you're a business owner, you can nominate your own business. Or, if there's a small business you love, show your appreciation and nominate on their behalf. Nominations and voting are open until 11:59pm on March 7, 2021.
Categories:
Once nominated, businesses engage with their community to gather as many votes as possible before the deadline March 8th. The top 5 businesses in each category with the most votes and best applications will move on to the next stage of the contest, where they'll pitch their business to a panel of business experts.
Nominees can increase their brand visibility, reach new customers and boost their reputation.
In a typical year, the event would culminate with a gala award ceremony where the success of the small business community is toasted. As we continue to navigate the challenges posed by the COVID-19 pandemic, the award ceremony will be held virtually in 2021 over several days.
Related: Small Business BC Digital Meetups During COVID-19 Isolation