Employ To Empower will host the 8th annual DTES Street Store on December 11th. This accessible outdoor event, presented by BC Housing, provides a dignified shopping experience for those experiencing homelessness.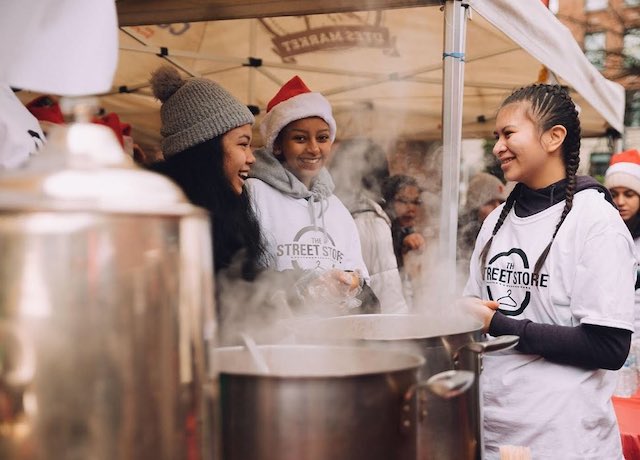 DTES Street Store at Oppenheimer Park
Held at Oppenheimer Park for the first time, the internationally recognized event will take place on Saturday, December 11, 2021, from 10:00am to 4:00pm at 400 Powell Street. 
"Street Store is what we consider a reverse gala – our take on an event that raises awareness, addresses a need, and brings people together, but instead of dressing up ourselves, we dress the community," said Christina Wong, Executive Director of Employ To Empower.
"We expect it to be the largest Street Store yet, providing a dignified holiday shopping experience where residents can pick what they want and need, at no cost. Last year we were limited by capacity, but this year we have a new location and less restrictions."
At the 2020 event, the Street Store saw a significant increase in donations, collecting 552 bags which was nearly three times more than the previous year. While the surge in giving is welcomed, the community has expressed a need for more men's items leading up to this year's event — based on a discrepancy in donated items. 
"We are so encouraged by the community's support," said Wong. "About 75% of the homeless population are men, however, there were more than double the donations for women at last year's event. So we are asking for additional donations for men's items."
This year, the community has expressed a need for warm winter jackets, men's and women's clothing (specifically pants), men's winter boots, backpacks, blankets, sleeping bags, winter accessories (hats, gloves, scarves), and toiletries in good condition. Summer clothes, children's clothes, used undergarments, hotel-sized toiletries, books, and household items will not be accepted. 
Item donations were collected in November and early December so at this time the DTES Street Store is asking for fund donations to help cover expenses for venue, event equipment, operation costs, and ETE programming.
Since 2014, the Street Store has made an impact in the community by working with nearly 500 volunteers, sharing 66,550 donations, and spreading holiday cheer to more than 6,360 residents. In addition to the shopping experience, the Street Store also offers free food, drinks, and haircuts.
This year, the power of community sponsors helped make the event a reality, thanks to presenting sponsor, BC Housing; gold sponsor, Royal Bank of Canada; silver sponsors, BC Rentals and RIF Moving Company; and bronze sponsors, Vancity and ANSA Custom Prints.
The 2021 event will include COVID-19 regulations, such as screening questions, mandatory masks, sanitation stations, clean donations, physical distancing, and PPEs. 
Employ to Empower (ETE) is a registered charity, launched in 2018, that provides residents in Vancouver's Downtown Eastside with access to development and entrepreneurial resources, such as affordable microloans and business mentorship, to have long-term positive impact on their personal and economic well being. ETE also actively advocates for positive social change in the DTES community.