The DTES Street Store, a free, outdoor pop-up clothing store for people experiencing homelessness, returns for the seventh year on December 12th. Employ To Empower will host the event at a Hastings Street venue to provide a dignified and uplifting shopping experience for those experiencing homelessness.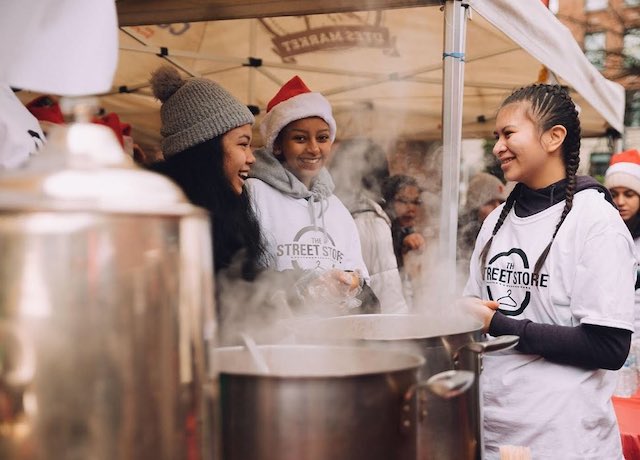 DTES Street Store Returns
When: Saturday, December 12, 2020 from 10:00am to 4:00pm
Where: 58 West Hastings, Vancouver
Volunteers Needed
Volunteers have four different time shifts to select on event day, with those interested to register through this form. There is a mandatory virtual volunteer training session on Monday, November 23, from 6:00pm to 8:00pm. As well, the Street Store is asking for additional fund donations to help cover expenses for PPE gear, venue, heaters security, operation costs, and ETE programming.
Other ways to get involved includes becoming a Donation Champion. This year, the community has expressed a need for warm winter jackets, men's and women's clothing (specifically pants), backpacks, blankets, closed toe shoes, bags, jewelry, and toiletries in good condition. Summer clothes, children's clothes, books, and household items are not accepted.
Dropping Off Donations
Donors are asked to drop off their new or gently used items on Saturday, November 28; Saturday, December 5; and Thursday, December 10, 2020 from 10:00am to 4:00pm at Coastal Church Commercial, located at 1645 North Grandview Hwy.
Donors are asked to stay in their cars and wait for volunteers to help remove items in order to limit touch points.
"At the Street Store, we offer a hand up rather than a hand out," said Christina Wong, Executive Director of Employ To Empower. "We want to provide a dignified holiday shopping experience where residents can pick what they want and need at no cost. With all the additional challenges that many are facing in the DTES, we know that this is an even more important year for us to hold this event for the community, and we're grateful for all the support we've seen so far."
According to a recent The Vantage Point report, there has been an increase of 61% in homelessness in the DTES since 2019, and 74% of nonprofit organizations have experienced a reduction in revenue from fundraising.
Since 2014, the Street Store has worked with more than 350 volunteers, shared nearly 50,000 donations, and spread holiday cheer to more than 5,600 residents.
The 2020 event will include added COVID-19 regulations, such as a capacity of no more than 50 people at the outdoor venue at one time, as well as sanitation stations, clean donations, temperature checks, line up leaders, and PPEs. In addition to clothes and toiletries, the Street Store offers free food and drinks, as well as haircuts.
Related: Adopt-A-Family Programs in Metro Vancouver for the Holidays