Family Services of the North Shore's Christmas Bureau is hosting a raffle – with five great prizes up for grabs – that ends tonight!
The Christmas Bureau ensures that low-income and vulnerable families, individuals, and seniors living in North Vancouver, West Vancouver, Lions Bay, and on Bowen Island can celebrate the holidays. By purchasing a raffle ticket you support their efforts and have a chance of wining an awesome prize.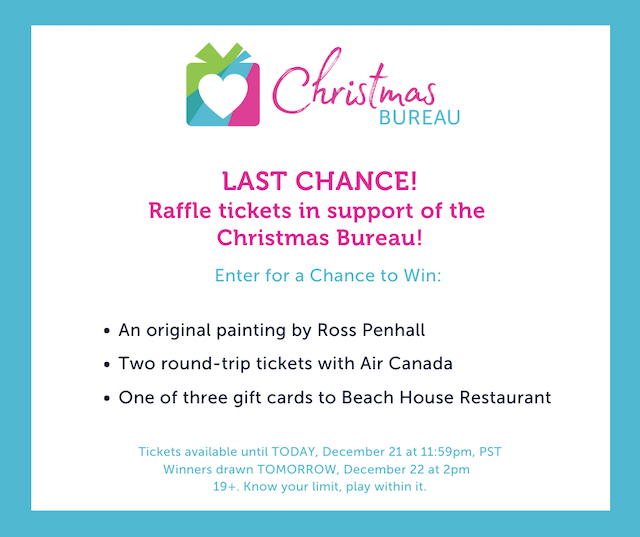 Christmas Bureau Raffle Ends Tonight
Enter here for a chance to win a beautiful, original Ross Penhall Painting: "First Impressions" size 30×40, oil on canvas
Enter here to win two economy class return tickets for travel to any Air Canada scheduled destination in North America, including Hawaii, Mexico, and the Caribbean.
Enter here to win one of three gift cards for Beach House Restaurant (one $500 gift card and two $250 gift cards are up for grabs).
More Ways to Support
Making a financial gift will help the Christmas Bureau staff and more than 450 volunteers operate the program during the holiday season. Your gift will guarantee that the team can provide individually-selected presents and holiday gift baskets for more than 2,500 people in just a few short months. Your gift will also help train volunteers and keep the lights on at the Toy Shop, so parents can select gifts from the heart for their children. Donate here today. Gifts over $20 with purchase receipts are eligible for a tax receipt.
For more information, and ways to show your support, follow along on Facebook.
Related: Family Services of the North Shore's Christmas Bureau Toy Drive & More