Vancouver-based vegan makeup brand SAPPHO New Paradigm has launched a Give Back campaign featuring a limited-edition lip gloss. Net proceeds from the Speak Volumes Lip Gloss will be donated to Kílala Lelum, an urban Indigenous health and healing cooperative located in Vancouver's Downtown Eastside.
Speak Volumes Lip Gloss Supports Kílala Lelum
The limited edition lip gloss is available for purchase online now and SAPPHO New Paradigm is hoping to raise $10,000 by the end of the year.
"Here is an opportunity for a small but growing company like ours to give back to our community and support Indigenous health and healing" says JoAnn Fowler, an Emmy-nominated makeup artist who in 2016, launched SAPPHO New Paradigm, a consciously created vegan and organic makeup brand. "Formulated for diversity, performance and sustainability, SAPPHO is, in essence, my apology to the next generation."
The lip gloss is vegan, organic, cruelty-free and a deep shade of red "to raise awareness of Missing and Murdered Indigenous Women, Girls, 2 Spirited, Boys and Men while also taking actionable, tangible steps to directly impact the people in a positive way", says Alexis Fisher (MSW RSW), a Social Navigator working for Kílala Lelum in the DTES and SAPPHO's model for this campaign.
Fisher hails from the ʾakisq̓nuk First Nation in Windermere, BC and was raised on St. Mary's Reservation. In addition to her work with Kílala Lelum in the DTES, she opening her own private Indigenous counselling practice and is continuing to explore modelling. 
"Modelling is my newest venture", says Fisher. "My reasons for doing this are similar to my reasons for doing anything – to raise awareness and representation of Indigenous people. As a little brown girl who grew up in a sea of white faces, I never saw my culture or myself positively reflected in mainstream media. It is time to change all that."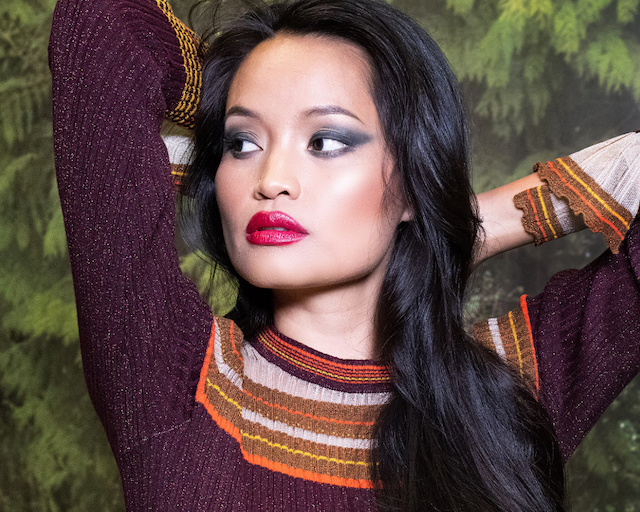 Kilala Lelum Urban Indigenous Health & Healing Cooperative
Kilala Lelum is a place where one can recognize themselves in others and can connect to Indigenous teachings and cultural activities, as well as have medical issues addressed in a non-judgmental way.
Kilala Lelum consists of a multi-disciplinary team that goes beyond traditional clinical methods to provide holistic and culturally based care for residents in Vancouver's DTES.
Elders work alongside physicians to provide culturally safe, trauma informed services guided by the values of equity, wellness, respect, love & kindness.
Kilala Lelum provides medical services with an emphasis on cultural safety as well as relational and social care to honour mental, emotional, and spiritual healing.
Their team serves Indigenous and non-Indigenous people, guided by Elders and their traditional, Indigenous ways of being when appropriate.
Kilala Lelum participates in research that aims to promote health equality and Indigenous Peoples health and wellness, establishing measurable goals to identify and close the gaps in health outcomes for Indigenous peoples and to recognize, respect, and address the distinct health needs of the Métis, Inuit, First Nations, and off-reserve Aboriginal peoples. Relevant studies are published on their site.
Kilala Lelum's outreach support includes medication visits with members, food security deliveries, as well as case management. The latter involves assessment, planning, facilitation, evaluation and advocating for services to meet an individual's holistic healthcare needs.
You can purchase the Speak Volumes Lip Gloss online here (while supplies last) and support Kilala Lelum online here.