Have a scare-free but exceptionally entertaining Halloween with Gateway Theatre this month! For two weekends only, Gateway Theatre is bringing a life-size version of its Hallows' Eve miniature paper theatre, that was created last year, to two locations in Richmond.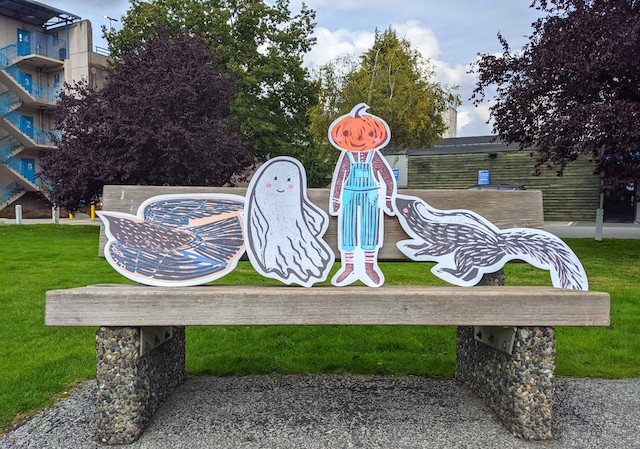 Halloween with Gateway Theatre
With the goal of welcoming more of the community to enjoy the performing arts, Gateway Theatre has been planning exciting, innovative, and participatory artistic offerings.
When: October 23 & 24, 2021
Where: Gulf of Georgia Cannery in Steveston (12138 Fourth Ave, Richmond)
Tickets: Part of the Cannery's Haunted Sea exhibit. There is no additional fee to enter the Hallows' Eve Pop-Up Theatre but admission to the Gulf of Georgia may be required.
When: October 30 & October 31, 2021
Where: Aberdeen Centre (4151 Hazelbridge Way, Richmond)
Tickets: Free and no advance registration is required.
"It's an opportunity to create lifelong memories with family," states Jasmine Chen, Gateway Theatre's Artistic and Community Producer, "and we're thrilled to bring the magic of performing arts into the community."
Beautifully illustrated by Keely O'Brien, a Richmond-based interdisciplinary artist, this travelling theatre literally expands on Gateway's last Halloween delight, a build-your-own miniature theatre also featuring O'Brien's enchanting puppetry and illustrative works.
As they step into this enchanting set, families will have a chance to play with a cast of magical creatures and autumnal animals friends: Jacky the Pumpkin Kid, Gregory the Ghost, Cackles the Crow, and Squeaks the Skunk. Kids can act out the story using a script created by Jasmine Chen, or simply let their imagination run free to create their own adventure.
For families who would like to continue the fun at home beyond their time inside the pop-up theatre, a limited number of the miniature paper-theatre kits will be available for purchase onsite. There will also be exciting gifts and prizes to be won! Follow Gateway Theatre on Facebook for more info.
About Artist Keely O'Brien
An interdisciplinary artist based in Richmond, BC, Keely is devoted to a thoroughly handmade, DIY process. Her work includes puppetry in miniature and enormous scales, immersive installations, imaginative ephemera, and interactive experiences. As a community engaged arts educator Keely creates and facilitates participatory and collaborative artwork with community members and organizations. Deeply site responsive and engaged with questions of place, home, and belonging, Keely's work aims to celebrate the potential for creativity and community in the place and people around her. Keely is Co-Artistic Director of experimental theatre company Popcorn Galaxies.