Celebrate creativity and imagination this Halloween! Beautifully illustrated by local artist Keely O'Brien, Gateway Theatre's Hallows' Eve paper theatre kit includes a build-your-own miniature theatre with enchanting backdrops and ghostly characters, a story to act out with family and friends, and other frighteningly fun activities included in your very own house program.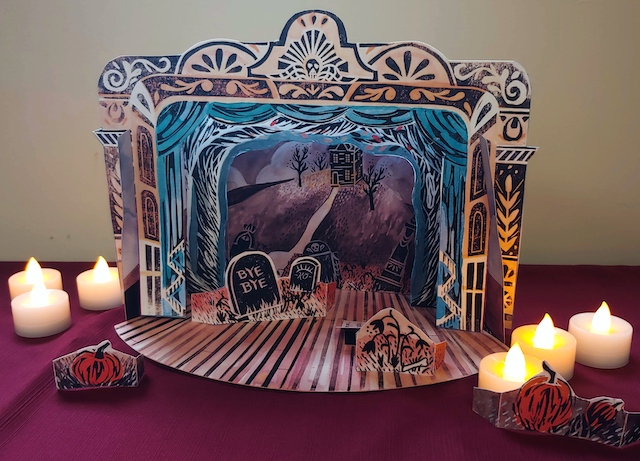 Hallows' Eve Paper Theatre Kit
With the limited-edition Hallows' Eve paper theatre kits, Gateway Theatre offers everyone from art and craft-enthusiasts to theatre-lovers and story-tellers of all ages a miniature 3-D theatre and a play that they can stage in the comfort and safety of their own home.
To inspire creativity and storytelling, the paper theatre also comes with a fun Halloween-themed play, written by Jasmine Chen, Gateway's Artistic & Community Producer.
Each kit includes artwork printed on cardstock, the script for the play, and assembly instructions in English and Chinese. A special "how-to" video will be posted online, all that's required is scissors and glue.
"I hope everyone who orders Hallows' Eve will find as much delight in assembling and playing with the theatre as I did in making it, and that you will let your own imagination and creativity shine as you build and activate this enchanted little world," says co-creator O'Brien.
Assemble your own kit to breathe life into this whimsical landscape of ink, watercolour, and printmaking. Share your at-home experience by posting photos and videos with the paper theatre on social media using #MyGTPaperTheatreKit.
To receive a paper theatre kit in time for Halloween, order by October 26, 2020.
The original paper theatres were sold as kits at concession stands at opera houses, playhouses, and vaudeville theatres in early 19th century Europe. They were most often replicas of popular plays.