I was really excited when ZenSeekers asked me to go out on assignment in the Kootenays, and in particular to start in Castlegar. Earlier this year I did social media coaching with some businesses in the area for the #BuyBasin Festival and they all seemed to have one thing in common: They loved where they lived!
I had a very full day of adventures, inspired by this awesome ZenSeekers story, and here are some highlights and spots you have to stop when you make Castlegar your gateway to adventure in the Kootenay region.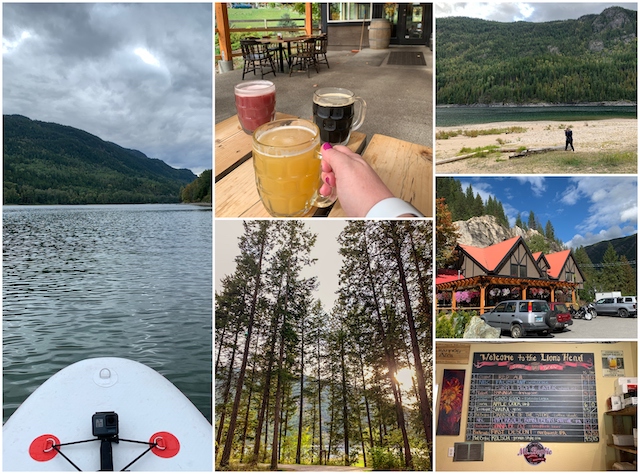 3 Things to Do in Castlegar
1. Eat
The Lions Head Pub is the place to be. They have 12 BC craft beers on tap and house-smoked barbecue. We were there around brunch time so we ordered a smoothie, orange juice and coffee — all in beer form! The Hyperbolic Bumbleberry Smoothie form Nelson Brewing, a Mt Begbie Coffee Stout, and the Going to be OJ from Slackwater were our brunch selections.
2. Play
I posted on social media that I was at Syringa Provincial Park and folks kept telling me it was their favourite spot to camp! Located on the sandy shores of Lower Arrow Lake, you can walk the beach for over 3km, hike up to waterfalls, or stay the night in the campground.
3. Paddle
With so much water around, you'd be remiss not to get out on it to paddle around for a bit! You can rent kayaks at Scotties Marina – on your way up to Syringa – or BYOB (bring your own board) and do some SUP like I did on the Columbia River back down near the Lions Head.
What I loved about Castlegar, aside from all of the above – and its beautiful mountains, rivers, and lakes – is that it's a hub: You have a mix of local craft beer, independent cafes, and lots of shops (local and big brand) in case you forget any gear. Highways and rivers converge on this beautiful Selkirk Mountain town that will be the gateway to your next adventure in the Kootenays!
When You Go
Castlegar is located in south-central BC, a 7-hour drive from Vancouver or Calgary. It's also a 3-hour drive from Spokane, Washington.
Air Canada flies into the West Kootenay Regional Airport in Castlegar five times a week.
Russian Doukhobor culture is strong in the city. Visit the Doukhobor Discovery Centre and get a bottle of authentic borscht at the airport.
There are 62 mountain bike trails offering 122 kilometres of riding in Castlegar.