This October, experience Halloween at Playland with thrill rides, creepy décor, scary characters and live performances during Hallowed Eves. You'll be awestruck by fire and swordplay, incredible stunts and circus arts, while the amusement park crawls with terrifying monsters, mutant carnivores and re-animated dolls who have breached their usual cages.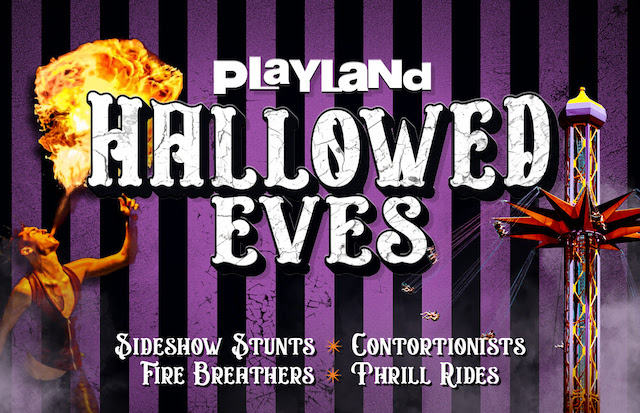 Hallowed Eves at Playland
When: October 8-31, 2021
Where: Playland
Tickets: Advance tickets required. Book online here.

Vaccine passports will be required for entry.
Not recommended for ages 7 and younger
In the dead of night, a Caravan of Curiosities rolled into town… Alongside firebreathers, contortionists and other oddities, a resentful puppet longed to be the star of the show. Chippy is no dummy; he's ready to cut the strings and become the Ringmaster of the Sideshow.
Scream your heart out on the Beast, Hellevator, and Atmosfear. Note: The indoor haunted houses will not be open and the Wooden Roller Coaster is currently undergoing a major refurbishment and will not be running.
Admission includes the following list of rides:
AtmosFear
Balloon Explorers
The Beast
Breakdance
Bug Whirled (except rainy nights)
Dizzy Drop
Enterprise
Flutterbye
Gladiator
Hellevator
Kettle Creek Mine Coaster
Merry-Go-Round
Music Express
Pirate Ship
Revelation (extra charge)
Rock'n'Cars
Sea-to-Sky Swinger
Tea Cups
Food options include candy floss, iced mini donuts, Triple O's, and depending on the night: Buen Gusto Tacos & Totchos, Cheese Please, Coaster Dogs, Pizza Pizza may also be open. Sip a refreshing Aperol spritz or a spiked hot chocolate on the Ride Side Patio (19+) in addition to a selection of fan-favourite beer, wine, and ready-to-drink beverages. Playland uses cashless procedures on site for retail and food and beverage.