The Lower Lonsdale Business Improvement Area ("LLBIA") has announced the return of the highly popular, and free, Shipyards Festival which will take place in the Shipyards District in North Vancouver on Saturday September 25th.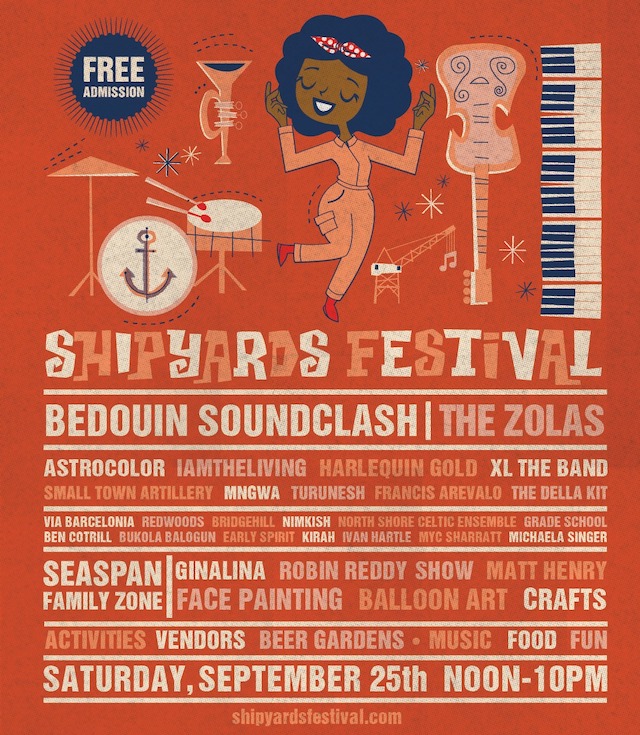 Shipyards Festival 2021
When: Saturday, September 25, 2021 from 12:00pm to 10:00pm
Where: Lower Lonsdale, The Shipyards, and Lonsdale Quay in North Vancouver
Admission: Free
"This is great news for the community, businesses, and the bands – we are all eager to get back to celebrating and enjoying large events together," said Greg Holmes, Executive Director of the Lower Lonsdale BIA. "When we hosted this event in 2019, more than 15,000 people attended so we knew we had to bring the festival back."
Shipyards Festival will feature four music stages and offer activities and attractions for all ages.
The Commons Stage: Bedouin Soundclash, XL the Band, Small Town Artillery, MNGWA, Turunesh, Francis Arevalo, Redwoods, Nimkish, Ben Cotrill
Shipbuilders Square Stage: The Zolas, Astrocolour, IAMTHELIVING, Harlequin Gold, Via Barcelonia, Bridgehill, Grade School, The Della Kit, Bukola Balogun
Seaspan Family Stage: Ginalina, Robin Reddy Show, Matt Henry
Burrard Dry Dock: Celebrating World Maritime Day with North Shore Celtic Ensemble, Early Spirit, Kierah
Lonsdale Quay Stage 12:00pm to 5:00pm: Ivan Hartle, Myc Sharratt, Michaela Slinger, Bukola Balogun
During the day, kids and families are sure to enjoy the Seaspan Family Zone in The Pipe Shop thanks to entertainment provided by Ginalina, Robin Reddy Show, and Trained Human Matt Henry, as well as face-painting, balloon arts, and crafts.
The Burrard Dry Dock will feature Celtic performances celebrating World Maritime Day. Lonsdale Quay Stage will host a full day of intimate and emerging recording artists.  
Parking will be limited so biking, walking or using transit is encouraged. A bike valet service will be available. Follow the Shipyards District on Facebook for more info.