Decolonial Clothing and ALIVE Society (Aboriginal Life in Vancouver Enhancement Society) are hosting the free Circles Festival on August 28th featuring performances, a youth workshop and showcase, visual arts, and speakers. This one-day pop-up will showcase over 50 local and national artists, designers, and musicians with a focus on the talent and creative community of Indigenous youth.
2023: Circles Festival – Indigenous Art & Music Festival at Sunset Beach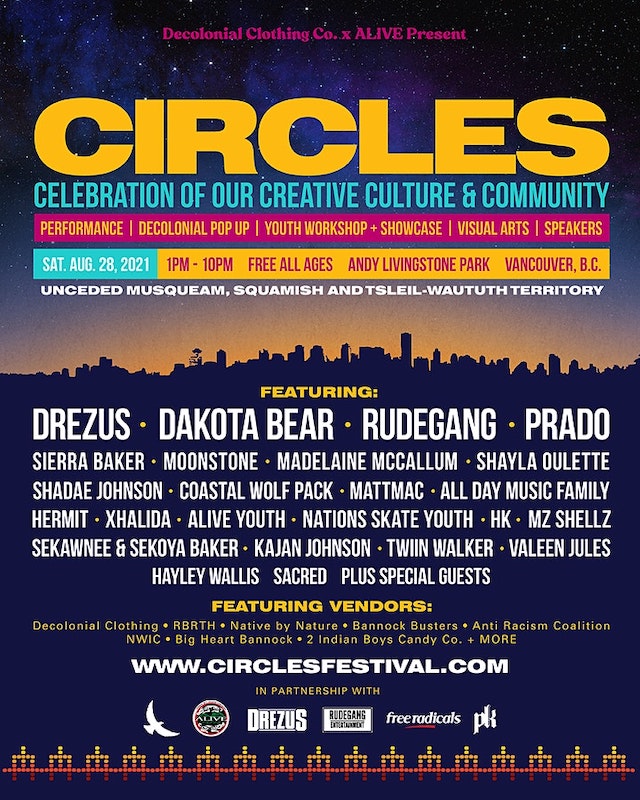 Circles Festival
When: Saturday, August 28, 2021 from 1:00pm to 10:00pm
Where: Andy Livingstone Soccer Field (98 Keefer St, Vancouver)
Tickets: Free! RSVP online here
From the organizers: "Circles is in reflection of community, uplifting and empowering BIPOC youth. Often, Indigenous People don't have safe spaces for our creative expression. We are building those safe spaces, we are grass-roots and doing the groundwork needed to bring healing to our community."
Lineup
Headliners: PRADO (Performance Artist), DAKOTA BEAR (Artist and Activist), DREZUS (Music Artist), RUDEGANG (Music Artist.
Also featuring: SIERRA BAKER, MOONSTONE, MADELAINE MCALLUM, SHAYLA OULETTE, SHADAE JOHNSON, COASTAL WOLF PACK, VIFW x SUPERNATURAL, MATTMAC, ALL DAY MUSIC FAMILY, REX SMALLBOY, XHALIDA, ALIVE YOUTH, NATION SKATE YOUTH, HK, MZ SHELLZ, SEKAWNEE & SEKOYA BAKER, KAJAN JOHNSON, TWIIN WALKER, VALEEN JULES, HERMIT, HAYLEY WALLIS, SACRED, and more
The goal of the event is to create an energy that empowers Indigenous youth in the community, and nation-wide. There is also an ongoing fundraiser for Nlaka'pamux (Lytton) Youth Programs.
Pop-Up Market and More
During Circles Festival, Alive Youth will be on location live streaming and podcasting, engaging the community to come and take part in interviews, discussions, and open dialogue on everything youth.
Decolonial Clothing Co is also curating a massive independent Indigenous Pop-Up outdoor market. This will feature a lineup of young fresh artists and designers; clothing design, jewellery, artwork, zines and more.
Follow the festival on Facebook, Twitter, and Instagram for more info and updates.
About ALIVE Society
ALIVE seeks to build on capacities of Vancouver's urban Aboriginal residents through involving them more fully in their neighbourhoods. Employing a 'place based' approached, the society has begun this process by working with local community centres to assist them to better reflect and involve local Aboriginal residents in their programs, to foster leadership skills in Aboriginal youth, and open up employment opportunities to quality Aboriginal applicants. At the same time, ALIVE reaches out to urban Aboriginals to support their involvement and acceptance in their communities.