The Circles Festival happening August 26th at Sunset Beach features a talented selection of Indigenous performers, an Indigenous marketplace, traditional foods, youth workshop, children's play area and so much more!
Circles Festival
Indigenous Art & Music Festival
When: Saturday, August 26, 2023 1:00pm to 10:00pm
Where: Sunset Beach Park (1204 Beach Ave, Vancouver)
Admission: All ages limited FREE tickets + VIP option. Register online here
Presented by Decolonial Clothing and ALIVE Society (Aboriginal Life in Vancouver Enhancement Society), the groundbreaking event made history with 4,000 attendees in its first year, and Circles Festival is now the largest Indigenous music and arts festival across Turtle Island.
"Often, Indigenous people don't have safe spaces for our creative expression. We are building those safe spaces, we are grassroots, and doing the groundwork needed to bring healing to our community," says award-winning hip-hop artist, activist and entrepreneur, Dakota Bear. "Music is a vehicle to drive our messages and amplify our voices, music is a universal language that brings people together. We will continue to build off the strength of our ancestors, and bring our truths to light and use our platforms to fight for justice."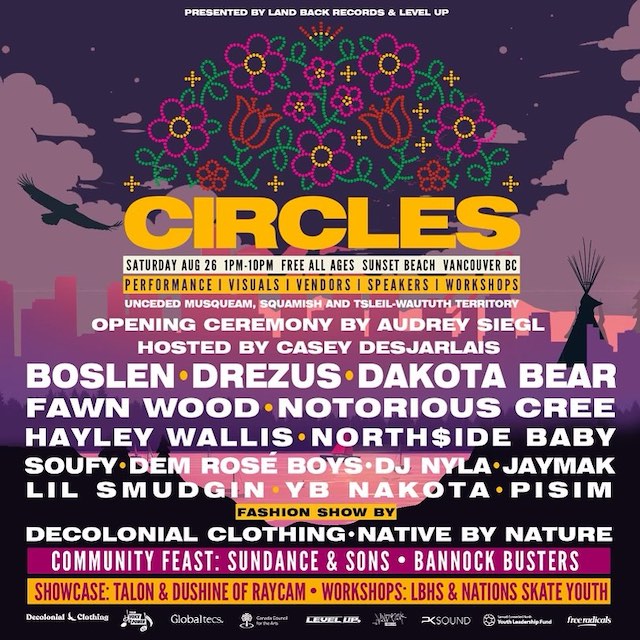 Performance and Presenter Lineup
Opening ceremony by Audrey Siegl, hosted by Casey Desjarlais.
Performances by Boslen, Drezus, Dakota Bear, Fawn Wood, Notorious Cree, Hayley Wallis, North$ide Baby, SouFy, Dem Rosé Boys, DJ Nyla, JAYMAK, Lil Smudgin, YB Nakota, Pisim. Featuring a fashion show by Decolonial Clothing and Native by Nature.
There will be youth workshops with LBHS & Nations Skate Youth, and a showcase with TALON & Dushine of Raycam.
VIP tickets include meet and greets with headlining artists, exclusive festival merch shirt and poster, swag bags, access to the VIP area right by the stage, food and snacks, private washrooms and entrance, and more.
Update: Wildfire Relief Fundraiser
Nations Skate Youth will be selling t-shirts for $40, on-site at the festival. "ALL proceeds are going towards NWT and the local communities we lost due to the on going fires."
Follow the festival on Facebook and Instagram for more info and updates.