A BC Vaccine Card is coming. By order of the Provincial Health Officer ("PHO"), proof of vaccination will be required to access some events, services and businesses. Starting September 13, you must have at least one dose of a COVID-19 vaccine. By October 24, you must be fully vaccinated.
Proof of Vaccination in BC
The requirement applies to all people born in 2009 or earlier (12+) and covers:
Indoor ticketed concerts, theatre, dance, symphony and sporting events
Indoor and outdoor dining at restaurants, pubs and bars
Nightclubs and casinos
Movie theatres
Gyms, pools and recreation facilities

Does not include youth recreational sport

Indoor high intensity group exercise
Indoor organized gatherings like weddings, parties, conferences, meetings and workshops
Indoor organized group recreational classes and activities like pottery and art

Does not include K to 12 school and before and after school programs

Post-secondary on-campus student housing
Events, businesses and services will ask to see your Proof of vaccination and valid government ID.
The requirement is in place until January 31, 2022, subject to extension.
You'll be able to show your proof of vaccination easily using the BC vaccine card website.
Vaccination Key Dates
September 13: Partially vaccinated: By September 13, you must be partially vaccinated. You're partially vaccinated with 1 dose.
October 24: Fully vaccinated: By October 24, you must be fully vaccinated. You're fully vaccinated 7 days after dose 2.
The secure website will be available for September 13, 2021 and will provide confidential access to your proof of vaccination.
You'll be able to save your vaccine card to your smartphone and show it when accessing events, services and businesses. A secure paper option will also be available for September 13.
To access your BC vaccine card, you'll need to provide:
Name
Date of birth
Personal Health Number (PHN)
Read the full details of this announcement online here.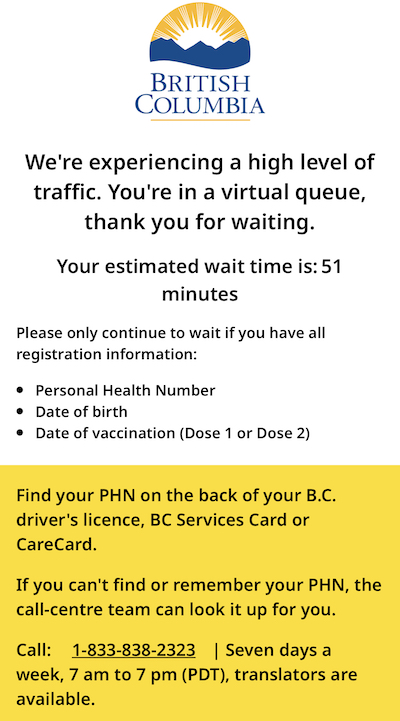 How to Get Your Vaccine Card
(Update Sept 7, 2021)
This morning the government soft-launched the vaccine card website. Due to a high volume of traffic the website is experiencing delays so I would recommend you try any time in the next couple of days, early morning or late night.
Here's how to get your card:
Go to this website and click on Get my BC Vaccine Card

You'll need your Personal Health Number, Date of Birth, and a date of one of your two vaccine doses.
Your QR code will appear and you can take a screenshot on your phone or computer to save the code. You can keep it on your device or print it out after that.
You can also call 1-833-838-2323 7 days a week from 7am to 7pm and they will mail you a paper copy.
You can still show your vaccination card (the one handed to you when you got your doses) until September 27th as proof of vaccination. After that you will need to have this vaccine card (code) to enter some non-essential establishments.