The 38th annual, and 2nd annual virtual, YWCA Women of Distinction Awards took place tonight in Vancouver, and beyond. Dozens of incredible women were nominated across twelve categories, and over $75,000 (and counting) was raised through donations, a raffle, and a silent auction.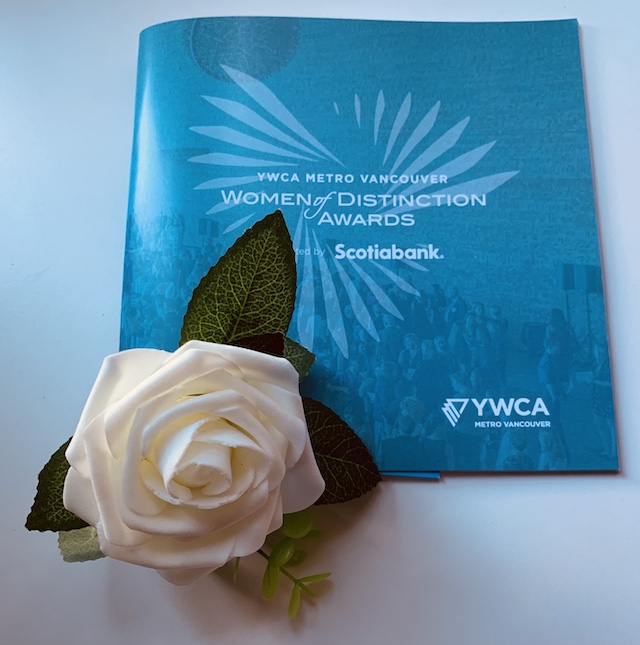 As Social Media Sponsor, I spent the evening live-Tweeting and live-Instagramming, and it was so inspiring to hear not only from the recipients but also two YWCA moms, Lindsey and Stella.
Here are your YWCA Women of Distinction Awards 2021 Recipients:
YWCA Women of Distinction Awards 2021 Recipients
Outstanding Organization or Workplace: Clio

Clio provides cloud-based legal technology and is embracing a new way of working called "Distributed by Design," which allows Clio to operate with a fully remote workforce, supported by world-class physical offices in hubs within key urban centres. The company invests in best in-class tools, technology and culture to ensure team members are able to do their best work either from an office or remotely. Women hold 43% of management positions at Clio and the company actively develops reintegration plans for new parents going on leave. Clio supports a Diversity, Inclusion, Belonging and Equity Organization and deeply invests in employees' physical, mental and social wellness. The company continuously challenges and develops its employees – by opening new roles, encouraging staff to pursue their ideas and providing mentorship.

Environmental Sustainability: Dr. Melina Scholefield

Melina is a Professional Engineer and Manager of Green Infrastructure Implementation with the City of Vancouver. She led the creation of Vancouver's multi-award-winning Rain City Strategy, which has won 8 National and Provincial Awards. It is a transformative and visionary strategy for holistic and integrated approaches to water management over the next 30 years, introducing nature-based solutions that integrate with engineered approaches. Melina brought six different internal departments and more than 30 branches across the organization together, along with City staff, the public, industry, Indigenous peoples and technical experts, to establish a green rainwater infrastructure as a viable, cost-effective and strategic water management infrastructure. Melina and her team have designed and constructed 46 innovative green infrastructure assets, which capture and clean 32 million litres of polluted rainwater run-off per year.

Non-Profit: Armin Amrolia

Armin is Associate Vice President, Development Strategies at BC Housing, delivering thousands of non-profit homes to communities across BC every year. In her current role, she has successfully delivered more than 23,000 housing units for seniors, families, Indigenous communities, women fleeing violence, youth and those who are homeless or at risk of homelessness. Armin has been on the forefront of using modular construction, incorporating daycares into affordable housing projects, programing space for women's shelters, healing space in Indigenous projects, safe injection space in supportive housing projects. She has also championed access to safe and hygienic menstrual products to provide dignity and equity to women experiencing, or at risk of, homelessness. Armin has been at the forefront of every housing program that created new housing in the province since 1990.

Arts, Culture & Design: Nadine Westerbarkey

Nadine is Studio Head of 2D Animation at Atomic Cartoons, where she oversees more than 300 artists and crew. She promotes an artist-driven environment and utilizes her position to support female leadership and the full inclusion of BIPOC and LGBTQ2+ groups. Nadine has been instrumental in achieving the company's mission to produce socially responsible and inclusive content that helps make the world a better place. She oversaw the production of the first-ever kids' series in the USA to feature an Indigenous lead character, Molly of Denali, which recruited Indigenous crew to produce and voice the series. Nadine has also helped establish company partnerships, mentorships, sponsorships and scholarships with colleges, non-profits and community groups to create new opportunities for under-represented communities to gain experience to break into the industry.

Community Champion: Dr. Balbir Kaur Gurm

Balbir Kaur is the Founder and Chair of Network to Eliminate Violence in Relationships (NEVR), and a Professor Faculty of Health, Kwantlen Polytechnic University. Dr. Gurm started the grassroots, interdisciplinary group in 2011 and has grown to more than 200 members from more than 100 participating organizations, groups and individual members. Dr. Gurm's book Making Sense of a Global Pandemic: Relationship Violence and Working Together Towards a Violence Free Society was published in 2020 and includes multiple perspectives and resources to provide a comprehensive overview of relationship violence. It serves as an online platform and living resource. As a Nursing Professor, Dr. Gurm is a role model for nursing students. She introduces the concepts of violence being a community issue and facilitates nursing students to participate in community activities within their classes.
Research, the Sciences & Technology: Dr. Stephanie Simmons

Stephanie is Founder and Chief Quantum Officer of Photonic Inc., a pioneer in designing silicon-based quantum technologies. A world-leading expert in quantum technologies, Stephanie is providing the vision to build the world's first large-scale universal quantum processor, revolutionizing computing and establishing Metro Vancouver as a global quantum hub of excellence. A thought leader, Stephanie is also a Tier 2 Canada Research Chair in Quantum Nanoelectronics and Assistant Professor of Physics and CIFAR Research Fellow at SFU. Her work garnering notable recognition including the only Canadian and one of just five individuals globally to receive two Physics World Top 10 Breakthrough of the Year awards. Committed to championing diversity and inclusion in her field, a significant proportion of Stephanie's research team has consisted of women and individuals from under-represented populations.

Education, Training & Development: Dr. Jo-Ann Archibald Q'um Q'um Xiiem

Jo-ann – Q'um Q'um Xiiem is an esteemed scholar and member of the Soowahlie First Nation and Professor Emeritus, Educational Studies at UBC. Dr. Archibald was the first Associate Dean of Indigenous Education in a Canadian university. In this role, she substantially increased the numbers of Indigenous undergraduate and graduate students and faculty members, expanded Indigenous course and program offerings, established Indigenous Ph.D. scholarship funding and expanded partnerships with Indigenous communities and other post-secondary institutions. Jo-ann co-developed Supporting Aboriginal Graduate Enhancement (SAGE). This student peer support network has become a province-wide multi-disciplinary peer support and mentoring network that supports more than 100 Aboriginal graduate students annually to make significant educational and social change using research, Indigenous knowledge and community-oriented approaches.

Entrepreneurship & Innovation: Julia Chung

Julia is CEO and Co-founder of two women-owned and women-led organizations, Spring Plans and Admin Slayer. Both companies are structured to allow women to work flexibly and remotely, allowing them to learn, support their families and live outside of major cities, while still growing, developing and taking on impactful roles within the administrative professional and financial planning industries. She co-founded two non-profit organizations, Advice Only Financial Planners' Forum and Financial Planning Association of Canada, that support the professionalization and diversification of the financial planning industry. Julia is a board director with the Family Enterprise Xchange, which supports family businesses and the professional advisors who work with them. She has co-authored three ebooks, while being recognized in mainstream media as an expert in business and personal finance.

Health & Wellness: Dr. Serena Kassam

Serena is a Pediatric Dentist with UBC and BC Children's Hospital and Associate Clinical Professor at UBC. In 2017, Dr. Kassam became a founding member of the World Cleft Coalition, an alliance of NGOs that work in the area of cleft lip and palate, to encourage international collaboration on best practices for safe and comprehensive care. The technique in which she specializes is breaking new ground in treatment for cleft lip and palate and she has expanded global access to cleft care for underserved patients through her leadership role with the Global Smile Foundation (GSF). As Co-Founder of the Global Fellowship in Craniofacial Pediatric Dentistry and in partnership with the GSF, she established a clinic in Ecuador and offered advanced training to dental providers from around the world.

Business & the Professions Award: Joy MacPhail

Board Chair of Insurance Corporation of BC (ICBC), Joy MacPhail is leading the organization through unprecedented changes. She has been instrumental in bringing about a move from a tort compensation system to a more care-based system, making insurance more affordable for British Columbians. In 2006, Joy purchased a major share in OUTtv, a cable network for the LGBTQ+ community. She has since helped turn OUTtv into a business that is recognized as the world's longest airing and most successful LGBTQ+ television network, boasting more than one million subscribers, with original programming broadcasted around the world. During her 14 years as elected official, she held distinguished positions such as the Deputy Premier, Leader of the Opposition and Government House Leader and was also responsible for a number of ministries.

Reconciliation in Action: Dr Sheryl Lightfoot

Sheryl is UBC's Senior Advisor to the President on Indigenous Affairs where she co-led the creation and implementation of the UBC 2020 Indigenous Strategic Plan. This is the first post-secondary Indigenous framework in North America to take a human-rights based approach to its work and the first university-based Indigenous strategic framework in the world to use the UN Declaration on the Rights of Indigenous Peoples as its foundation. Dr. Lightfoot also participated in UBC's negotiations with the Musqueam on a new Memorandum of Affiliation to further the sharing of knowledge and the advancement of Musqueam and Indigenous youth and adults in post-secondary education. Sheryl is Canada Research Chair in Global Indigenous Rights and Politics and is one of the world's experts in global Indigenous politics.

Reconciliation in Action – Ally: Noorjean Hassam

Noorjean is Chief Operating Officer and Professional Practice Officer, BC Centre for Disease Control (BCCDC), a part of Provincial Health Services Authority (PHSA) where she spearheaded the addition of another 'c' in reconciliation – so that reconcila(c)tion' can be read as "Reconciliation and Action". Through her leadership and advocacy, Chee Mamuk became its own independent service line, placing Indigenous Chee Mamuk team members at key COVID-19 decision tables, elevating their voices to ensure Indigenous people and communities were included in the province's pandemic response. Noorjean successfully advocated for racism to be a public health priority at the BCCDC and over the last four years has initiated, supported and lifted up her colleagues to explore their own personal biases to challenge current structures and practices that contribute to racism and inequalities at BCCDC and beyond.

Young Woman of Distinction: Eloise Moss

A second year medical student at UBC, Eloise is Vancouver Chapter Co-Chair of the Reading Bear Society, where she identified the need to provide children with evidence-based, age appropriate and engaging information on infection control during the pandemic. She created an interactive video highlighting the importance of following public health guidelines, which was distributed to teachers and parents across the province. Eloise also co-founded the Vancouver chapter of COVID-19 Women's Initiative to support women in challenging circumstances due to the pandemic. She soon determined that her work should extend beyond the pandemic. This led Eloise to co-found Community Womxn's Initiative, a non-profit organization of medical students that supports and empowers women experiencing intimate partner violence, substance use disorders and other challenges.

Connecting the Community: Dr. Balbir Kaur Gurm
Congratulations to all of these amazing women! Recognize trailblazers across Metro Vancouver by nominating a woman or workplace for a YWCA Women of Distinction Award. Nominations are now open for the 2022 awards.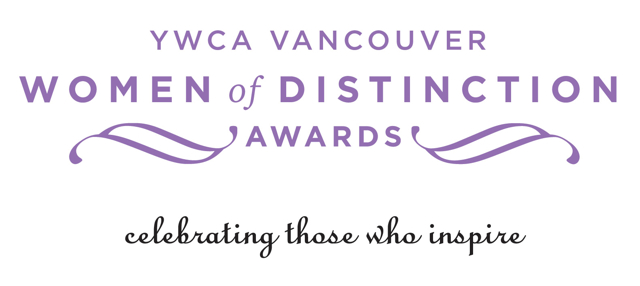 YWCA Metro Vancouver is dedicated to achieving women's equality. Their mission is to touch lives and build better futures for women and their families through advocacy and integrated services that foster economic independence, wellness and equal opportunities.
Miss604 is a proud sponsor of the YWCA Women of Distinction Awards, since 2010.