Each year, Megaphone Magazine's low-income vendors take part in the Hope in Shadows photography contest. Using single-use film cameras, vendors capture images of their communities and submit them for a chance to be featured in the annual Hope in Shadows calendar. Voting is now open for this year's calendar cover!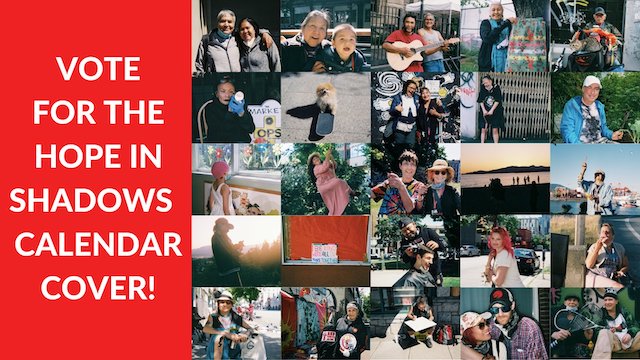 Hope in Shadows Calendar
Megaphone received over 1,500 photos for this year's contest, which a community jury narrowed down to just 30 finalists. These top 30 photographs showcase this year's theme, Play and offer an intimate look into the lives of Megaphone vendors.
This project is rooted in creating space for people experiencing poverty to tell their own stories, through their own lens. Hope in Shadows shows the beauty, joy, friendship, and hope that exist alongside the hardship in the lives of people impacted by poverty.
The Shadows calendar is sold by Megaphone's low-income vendors on the streets of Vancouver and Victoria. Vendors buy each calendar for $10 and sell them for $20, keeping the profit.
About Megaphone
For over a decade the monthly magazine, published by professional journalists and designers, has been sharing stories that explore social justice, culture, politics, and independent arts in Vancouver and Victoria. It also serves as a platform for people experiencing poverty and homelessness to share their stories and creativity as writers, featured interviewees and more. Shop online now or find a vendor near you.
Miss604's Rebecca Bollwitt is a proud contributor to the magazine, since April 2021, writing the Heartbeats column that shines a spotlight on non-profit organizations in the community and the amazing people behind them.