Sticky's Candy & Bakery (at 20464 Fraser Hwy) in Downtown Langley knows root beer. For four years they hosted the Root Beer Festival that drew in thousands to sip and sample over 60 kinds of root beers from all across the continent. Plus – root beer ice cream, root beer candy, root beer caramelized onions! This year, due to COVID, you can take the best of the 5th annual Root Beer Festival home with you!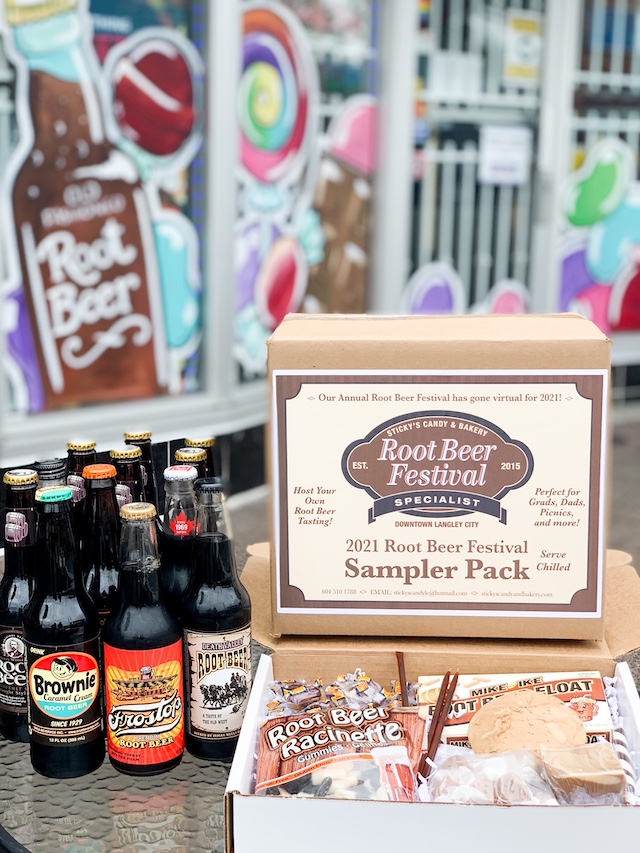 Root Beer Festival
Sticky's is offering festival sampler packs available this week for order and pickup just in time for Father's Day.
The Sampler Box includes 12 assorted root beers that Sticky's imports from all over North America (value $50) along with tasting notes. They also have a Root Beer Festival Sweet Treat Box filled with root beer candies, cookies and fudge (value $25). These specialty festival boxes are available for a limited time only, by preorder, so get your orders in as soon as possible.
Shop Sticky's online anytime and take advantage of free delivery on novelty candy, liquorice, theatre boxes, UK and USA chocolate, vegan, sugar-free, nostalgic treats and more.
Giveaway
To help spread the word, Sticky's has offered a root beer sampler box AND the sweet treat box up for me to give away to a Miss604 reader/follower (value $75)! Here's how you can enter to win:
Prize is available for in-store pick-up only, the week of June 14-20, 2021. I will draw one winner at random from all entries on Monday, June 14, 2021 at 12:00pm. UPDATE! The winner is Elizabeth