The BC Restaurant and Foodservice Association ("BCRFA"), Sumac Ridge Estate Winery, Save-On-Foods stores, and Town Hall Brands are proud to collaborate to call on the public and industry to #StandUpforService. From March 1 to May 23, 2021 British Columbians are asked to visit the campaign website and share stories of colleagues, servers, cooks, friends, or businesses who are providing a welcoming and unique dining experience while following best practices to combat COVID-19.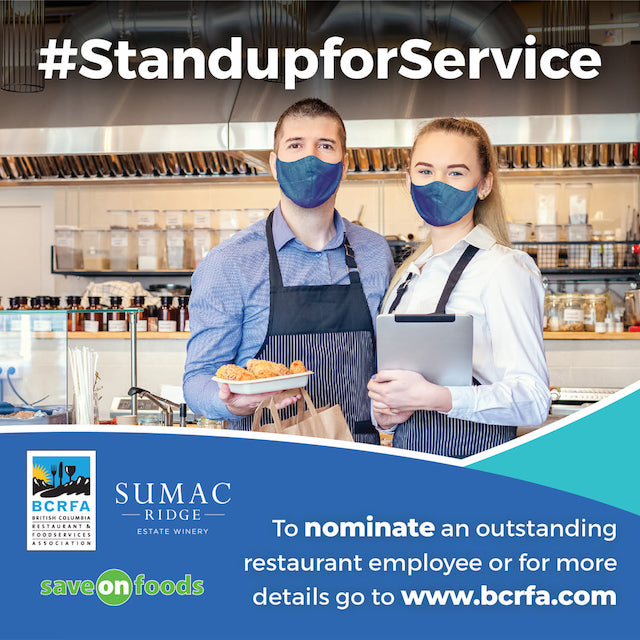 Stand Up for Service and Celebrate BC's Restaurant Industry
The 12-week program recognizes excellence in all the forms that it takes in these times. The efforts of the dedicated personnel that work each day to provide a top-notch dining experience deserve to be recognized, and it is easy to make a nomination online with just a few clicks.
Each week, an outstanding restaurant worker (must be of legal drinking age) will be selected to receive a $100 Save-On-Foods gift card and a gift from Sumac Ridge Estate Winery. At the end of the 12-week promotion, four individuals will be chosen to each receive a special Sumac Ridge Estate Winery gift and a $250 gift card to Save-
On-Foods. These superstar restaurant workers will also be highlighted on the BCRFA and BC Tastes Better Instagram pages.
"We are incredibly proud of the efforts that restaurant, foodservice and pub staff are making to ensure that restaurants are rising to the occasion in the face of the most challenging time in a century. It takes a lot of effort and diligence to be on the front line … and we want restaurant staff to know we are there to support them and encourage them." – Ian Tostenson, president and CEO, BC Restaurant and Foodservices Association
Nominate an individual who makes a difference with your dining experience and support the people of BC restaurant industry today. Follow #StandUpForService on social media to view entries, recipients and updates.