The following has been contributed by Steffani Cameron, who lives and works in Victoria. Just before the pandemic she completed a 4-year worldwide adventure that she has chronicled at FullNomad.com.
Playing with Old Grist Mill Preserves
When I took possession of a small pantry share from Old Grist Mill & Garden in Keremeos, it included a few things I've got a good idea on how and when to use them, like the Lemon Jelly or Quince Jelly, which will be delicious as anything from the sweetener in homemade dressings to using for the glaze on home-baked pastries.
But then it came with fun stuff like "Cowboy Candy" and "Roasted Garlic Scape Powder".
As a share buyer, you'd have your own choices for the products you're given, but us writerly types get what we're given. Luckily, it's been a fun exploration with Old Grist Mill Preserves!
When I chatted with Chris Mathieson, proprietor and chief food nerd, we got talking about kitchen essentials and recipes. The one recipe packing on the pounds at his house these days is listed on their website, a Rhubarb Upside-Down Cake, perfect for seasonal baking. Don't forget to support BC Dairy Farmers by getting some whipped cream or ice cream on that plate too.
For us writers, budget-watching is natural, so splurging on food is something I think twice about doing – except with preserves and vinegars, because they'll literally last years.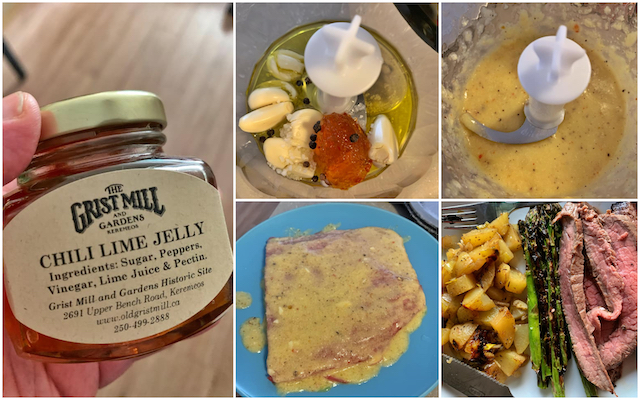 In my pantry share, I had Chili Lime Jelly. Sure, you can smear that on a bagel and cream cheese, but it's also sensational in a marinade, like I did. I pureed several cloves of garlic, a tablespoon of Chili Lime Jelly, some peppercorns, olive oil, and a little white wine vinegar, then marinated a flank steak in that. It turned out delicious on the barbecue.
As for the Lemon and Quince jellies I mentioned earlier, they'll be ideal in salad dressings or marinades too. Making dressings is simple – you need a whisk and a bowl, so it's not high-tech science going on here.
Three parts oil to one part vinegar is the typical ratio, which Mathieson subscribes to, but I like more acid so I'm more a 3:2 kinda gal. Then you add your flavours – like a jelly that'll be the flavour profile and bring sweetness. Next, use a subtle hand with a dash of mustard powder, or a bolder hand with a mustard you love. Me, I collect mustards and can choose from over a dozen – another great thing to invest in, since they'll keep for years. Mustards will also help emulsify the dressing, so it coats your salad better.
Here's an example:
3 tablespoons olive oil
1-2 tablespoons vinegar of your choice (raspberry, champagne, white wine, you name it!)
2-3 teaspoons of your chosen jelly
1-2 teaspoons of mustard
salt & pepper to taste
Essentially, any vinaigrette recipe you use that calls for sugar or honey, you can simply replace that with your Old Grist Mill jams or jellies. I'm hatching a plan to make a lemon-herb vinaigrette for my arugula and chicken salad, using the Lemon Jelly.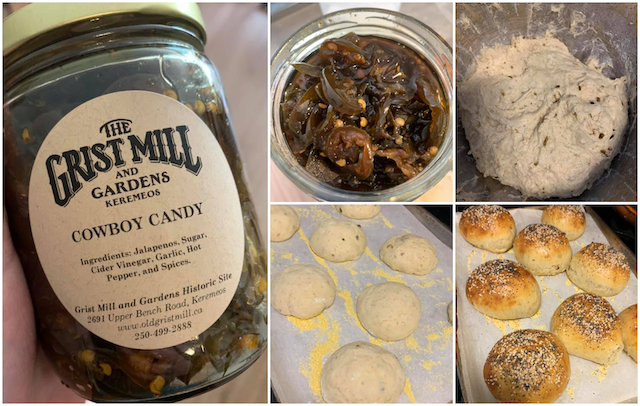 As someone who's always ordered nachos with a "hold the jalapenos" caveat, you can imagine my surprise when it was the Pantry Share's Cowboy Candy that I really fell hard for. It's candied jalapenos, and they're gold. Unlike some more mass-produced varieties of candied jalapenos I've seen in stores, Mathieson uses a drier process, resulting in a definitively more "candied" texture to the jalapenos. He tells me he loves making cheese breads with the jalapenos in them.
So, naturally, I got it in my head to make some sourdough hamburger buns with them. After I delivered a couple to my grill-fiend hunky Air Force pilot next door, he reported back that they were the best hamburger buns he'd ever had. Part of it is because the Cowboy Candy's made with sugars and apple cider vinegar, both of which act as a "dough enhancer."
But not everyone's a bread baker. So, here's the other thing that will now be a staple in my fridge – Cowboy Candy Mayo. Simply take a cup of your favourite commercial mayonnaise and add 2-3 tablespoons of the Cowboy Candy, blitz that up, and bam – the best burger spread you'll ever have. Sriracha mayo ain't got nothing on the complexity of Cowboy Candy mayo. I also use it for my breakfast sandwiches with an egg, two slices of bacon, and a slice of cheddar. (It'll keep for as long as the mayo is good for, according to the jar's best before date).
Breakfast sandwich first — my first-ever quail's eggs of any kind. Plus bacon, cheddar, avocado and candied jalapeño mayonnaise. On a candied jalapeño homemade bun. pic.twitter.com/ceEz3iRScR

— Steffani Cameron, Deep State Operative (@SnarkySteff) May 3, 2021
Another couple items to wow me are the two powders I received – "Roasted Garlic Scape" powder and "Mushr-umami" powder. They're basically like dropkicking your food with flavour. The Roasted Garlic Scape powder, for instance, is amazing on anything with potatoes, for starters. Breakfast hash? Throw it in! Grilling a foil bag of potatoes? You need some powder! For those who don't know, garlic scapes are part of the garlic plant, it tastes just like the head of garlic but a little mellower. These are roasted until dried, then turned into a boring-looking powder, but you'll need far less of it for oomph than you think, and it brings way more to the party for complexity than regular garlic powder.
Ditto with the Mushr-umami powder. Use it to fortify sauces or add kick to mushroom risotto. Mix it in cream cheese for a nice sandwich spread.
What does the Chief Nerd and Food Geek at the Old Grist Mill consider as his must-have kitchen staples from their products? Why, the Cowboy Candy and their assortment of mustards, of course! Turns out that great geeks think alike. Mm, mustard.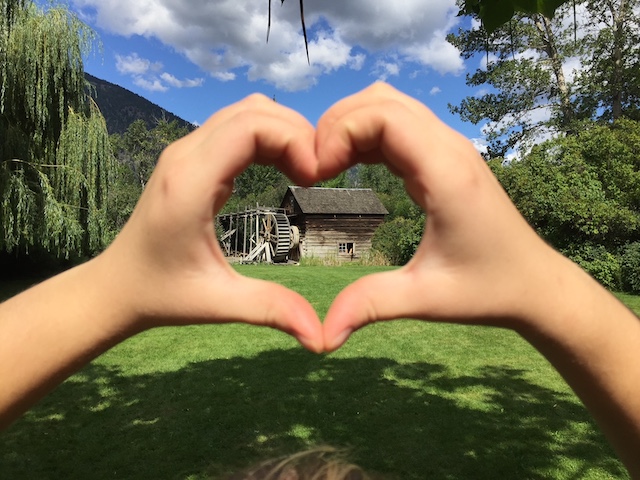 With grilling and salad season upon us, why don't you check out this $99 Pantry Share Staple intro box, and get a few jars of delicious goodies sent your way? You can also enter to win a $200 Pantry Share credit until May 13th.