The following has been contributed by Steffani Cameron, who lives and works in Victoria. Just before the pandemic she completed a 4-year worldwide adventure that she has chronicled at FullNomad.com.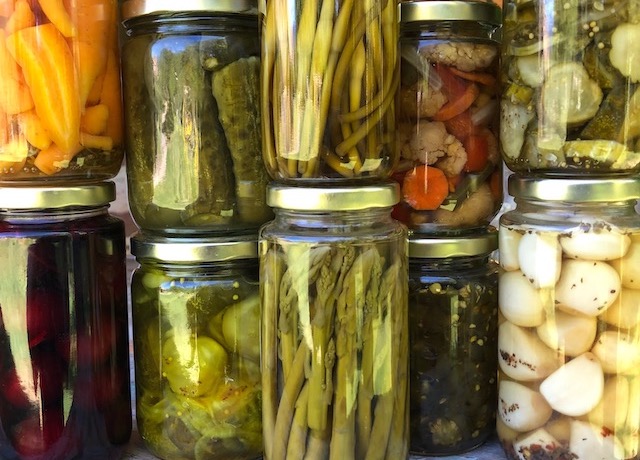 The Old Grist Mill Pantry Share
There are folks with passions and there are geeks. Chris Mathieson is a geek. His whole career has been a series of geek-outs – Executive Director at Vancouver's Police Museum, Assistant Director at a gifted teens' excursion called the Satori Camp in Spokane, Washington. Today, he's the head geek and chief nerd of all things food, history, and garden at the Old Grist Mill & Garden in Keremeos.
These days, that means rolling up his sleeves and creating great edible delights from the bounty grown at the Old Grist Mill and the surrounding farms and offered through their delectable "Pantry Share Program."
If you've never been, the Old Grist Mill in Keremeos is a wonderland where heritage agriculture meets history in Canada's food basket of the Similkameen Valley, adjacent to the famous big sibling, the Okanagan. Nestled in a valley the Crowsnest Highway slices through, the Grist Mill and Keremeos are often overlooked by those in hot pursuit of wine-tasting in the Okanagan.
But it's a highly recommended stop.
When it's not a pandemic, that is.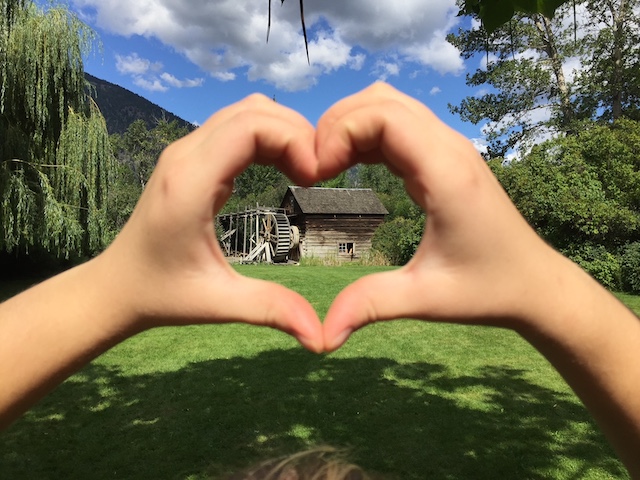 The grounds are gorgeous – the perfect place to get out and stretch your legs after a long drive. Explore the heritage gardens, learn about the importance of seed-saving in significant agricultural regions like the Similkameen and Okanagan. But then eat in their terrific restaurant – good, honest fare that's well-priced and locally sourced.
Proprietor since 2013, Mathieson loves the Grist Mill's gardens and its food-history contribution to BC. In his early years, restoring the grist mill was a labour of love done to precision. Today, he's using a well-earned grant to expand their historical gardens.
As a true history geek, of course his first step in creating the new grant-driven gardens was to dive into research at the provincial archives in Victoria, where I caught up with him and took a delivery of some of the world-class preserves he's been cranking out of their kitchen.
Mathieson is outspoken and passionate on everything from heirloom vegetables to social responsibility, so he's been first in line with cancelling camping reservations or closing their doors when public safety has a priority. But doing the right thing doesn't mean the pandemic hasn't taken a toll on his tourist-driven business too.
Luckily, his knowledge of food and food history meant he could turn to something else to raise funds – the art of preservation.
Latching onto the trending "Consumer-Supported Agriculture" (CSA) programs out there, he launched their "Pantry Share Program" three years ago, but it exploded in popularity during 2020, thanks to the pandemic.
How the Pantry Share Works
Essentially, you pay in advance for guaranteed product from their upcoming harvest. So, you pay to secure $200 or more worth of preserves from whatever harvest the Grist Mill has this year. That puts you front of the line for this year's Lilac Jelly or "Cowboy Candy" Candied Jalapeno. You choose the products you want – out of some 120 or so products.
The Old Grist Mill is a purveyor of preservations of a different ilk. With over 200 edible plants and fruits, many being heirloom varieties, on the Grist Mill's 12 acres of heritage gardens, plus a strong showing from Keremeos' local producers, they're banging out over 10,000 jars of artisanal preserves a season.
Running the joint since 2013, preservation isn't new to Mathieson, since that's what historical food was all about. But he's been ramping their project up every season.
From chutneys to powders to jellies and puddings, his curiosity and ongoing quest for innovation means he loves product research and experimentation.
As is explained on the Grist Mill Pantry Share page, "For every $100 in your share, you can expect to receive an average of ten jars (110mL jars for jellies, 375mL and 500mL for pickles, and 190mL for almost anything else) of product across all of our kinds of products." It works out to about a 15% discount off retail pricing.
The products include jellies and jams, salsas, chutneys, powders, and even seasonal products, like their famous boozy Christmas fruitcake. Learn more about the program and sign up here.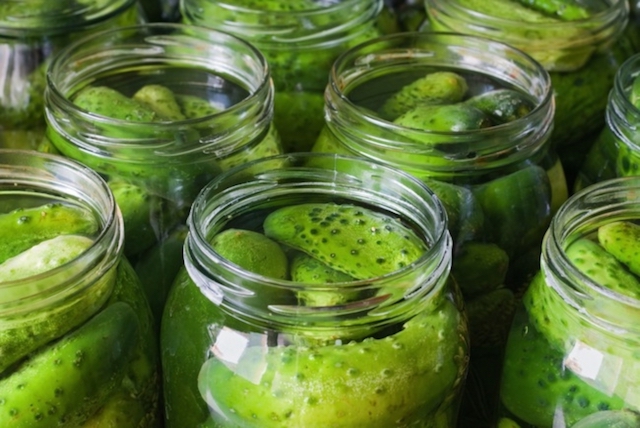 Being a food nerd myself, I was chuffed to try out some of the Grist Mill's products that Mathieson sent my way. Turns out, when you've got a history nerd with a passion for cooking, it results in some tasty and unique product!
Please help keep an important part of BC's food history alive in Keremeos. All it takes is buying and eating delicious things to support one of BC's great food communities.
Win a $200 Pantry Share Credit
You can join the Pantry Share! Miss604 is giving away a $200 credit, which means you'll get a delivery of this wonderful, delicious bounty right to your door when they do their next run. Here's how you can enter to win:
Leave a comment on this blog post (1 entry)
Like/comment on this post on Facebook (1 entry)
Copy/paste the following on Twitter (1 entry)
[clickToTweet tweet="RT to enter to win a $200 @Old_Grist_Mill Pantry Share credit and get the bounty of this heritage garden in the Similkameen Valley delivered right to your door http://ow.ly/JRMC50EGRmB" quote=" Click to enter via Twitter" theme="style6″]

One winner will be drawn at random from all entries at 12:00pm on Thursday, May 13, 2021. Winner must live within the delivery area which is Lower Mainland, Fraser Valley or Okanagan. UPDATE! The winner is Heather.