We're three weeks in with three more to go! The #BuyBasin Festival is happening now, featuring a hundred entertainers, businesses, artisans, makers, tour guides, artists and more all in the Columbia Basin area of BC.
#BuyBasin Festival Online
Where: Facebook
When: March 23 to April 27, 2021 every Tuesday, Wednesday and Friday
Admission: RSVP and tune in for free!
Entertainment: Shred Kelly, Heather Gemmell, Shayna Jones, Maggie May Davis, Ricky Diamonds, Tenise Marie, and Red Girl.
Last week I saw some of the superfood ingredients that go into Viva Cacao small-batch chocolate (in Slocan), I learned some N̓syilxčn̓ words from Sʔímlaʔxʷ at the Syilx Language House, and I watched how Boba Slush is made at Bombshack Apparel (in Rossland). I also caught performances from Shred Kelly, Moontricks, and Nelson Civic Theatre's artist in residence Shayna Jones. And there's so much more coming up!
The #BuyBasin Festival lineup is growing every day so RSVP to get updates. Here are just a few more broadcasts I'll be tuning into: Kootenay Gateway going live on Wednesday, April 7th to talk about mountain biking programs and even mountain bike art they feature in store; Reel Adventures which will be live from a boat on Kootenay Lake on Tuesday, April 6th; another language lesson from Syilx Language House on April 13th and even more entertainment.
It's live on Facebook every Tuesday, Wednesday, and Friday until the end of April. Get to know more about your province and the incredible small businesses – and business owners – that are such an integral part of BC. RSVP to tune in live, shop online, and show your support!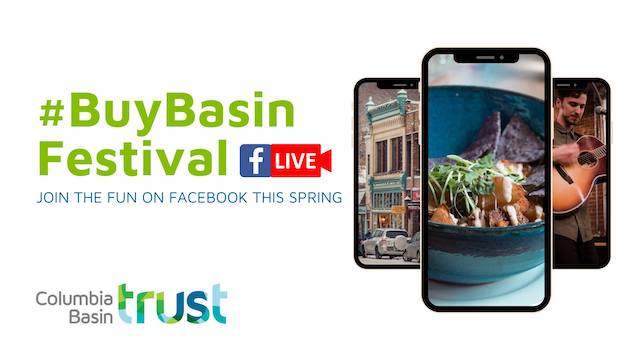 About the Columbia Basin Trust Region
The Columbia Basin Trust serves the region consisting of all the watersheds that flow into the Columbia River in Canada and operates in the unceded traditional territories of the Ktunaxa, Lheidli T'enneh, Secwepemc, Sinixt and Syilx Nations.