Music on Main presents great music and conversation through its free Listening. Together. online festival happening in May. Experience five days of special online performances, artist talks, and opportunities to learn about music.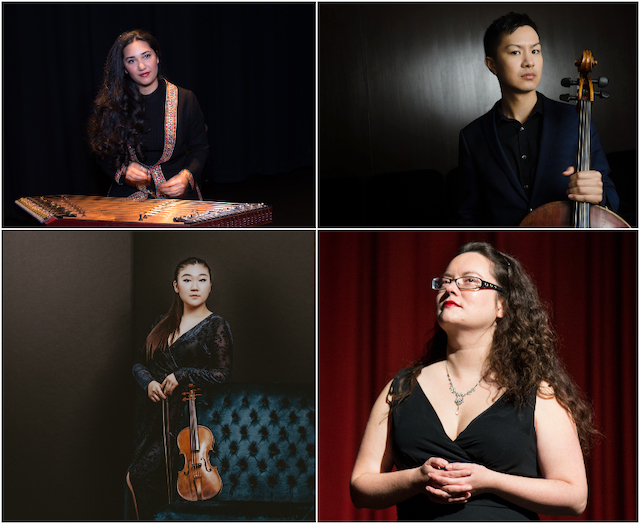 Music on Main Presents Listening Together
When: May 14-18, 2021
Where: Online
Tickets: Free! Donations accepted here
Shared music experiences throughout this past year have become a beacon of light for human connection between listeners and creators. These collective occasions have contributed to celebrating Music on Main's 15th season, and they're continuing the momentum by inviting audiences across the globe to listen together once again during a free online festival.
Music ranges from the accessibly eclectic percussion duo Infamy Too! (Aaron Graham and Julia Chien), to the soul-stirring folksong melodies of Dálava, and the rising star violinist, Chloe Kim. Flutist Mark Takeshi McGregor returns to Music on Main with electro-acoustic hybrid sounds including his performance of James O'Callaghan's "Doubt is a way of knowing". Invite Jonathan Lo's cello performances to fill your room as he effortlessly masters Benjamin Britten's "Ciaccona" and Giuseppe Colombi's "Chiaccona a Basso solo".
Witness Rachel Kiyo Iwaasa's quiet profondity as she performs Rodney Sharman's "Opera Transcriptions" and describes listening as "one of the ways of being fully present in the world." And discover Saina Khaledi's "Mystery of Love" from Music on Main's celebrated production As dreams are made. Here's a chance to connect with the artists' up close and personal performances that take you on an emotional journey.
"To me, listening together is about being a part of a community. Even when we can't be in the same space, deliberately listening to something knowing that other people are also choosing to make this an event brings the music to life in an incomparable way." – Elaine Wong, Practicum Student
New additions and updated programming are happening weekly. Follow Music on Main on Facebook for their latest news.