The Burrard Arts Foundation ("BAF") has announced the six Vancouver-based emerging artists who will fulfill its programming and exhibition space in 2021. The selected artists are Rydel Cerezo, Kriss Munsya, Parvin Peivandi, Maria-Margaretta, Sara Khan, and Karin Jones.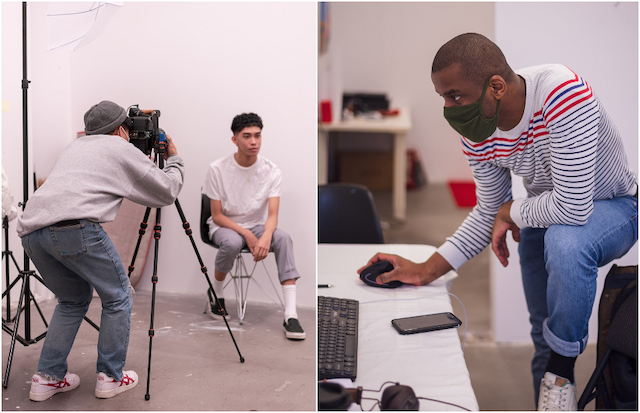 Burrard Arts Foundation Announces 2021 Artists in Residence
When: Exhibition dates throughout 2021
Where: Burrard Arts Foundation, #2 —258 East 1st Ave, Vancouver
Admission: Free
The Vancouver community is encouraged to support local artists by visiting the BAF Residency Program Exhibition for a COVID-19 safe experience. Discover up-and-coming artists who are seeking exposure to new and/or local audiences.
With the launch of its 2021 Residency Program, BAF continues to further its goal of supporting emerging artists and spotlight creative work that elevates Vancouver's culture. Building on the necessary conversations highlighted in 2020, this year's artists, whose practice includes photography, sculpture, multimedia, jewelry, and personal history, will explore themes alluding to important social and cultural issues, including cultural identity, social progress, social justice, and urbanism.
A diverse committee representing the local arts, media, and business communities selected each of the residency participants. Each residency is tailored to the individual artist, and artists can work out of BAF's Vancouver studios for up to 14 weeks. BAF provides resources and support to artists inclusive of a materials budget, multimedia production, and a solo exhibition in the adjacent gallery space to showcase the new bodies of work produced by the artists during their residencies.
The Artists
Rydel Cerezo
Residency Dates: January 11 – April 19
Exhibition Dates: April 22 – June 18
Rydel Cerezo is a Filipino-born emerging artist working in Vancouver. His work investigates the space between sexuality and religion, race and beauty, and identity and culture. He is interested in how these disparate themes metaphorically and visually coalesce. Aware of the historical ethnographic use of photography as a tool to 'capture' particular cultures, he works to reposition this practice by employing the camera to reflect on his own identity that has equally lived in the Philippines and Canada through immigration. Cerezo holds a Bachelors of Fine Arts Degree from Emily Carr University of Arts and Design. Rydel Cerezo's upcoming exhibition at BAF, opens April 22nd. Developed through the BAF Residency Program, the series features new photographic works that delve deeper into the artist's recent explorations of religion, identity, and trauma, through the lens of failure and coming-of-age.
Kriss Munsya
Residency Dates: January 11 – April 19
Exhibition Dates: April 22 – June 18
Born in the Democratic Republic of Congo and raised in Brussels, 34-year-old Kriss Munsya is a graphic designer, photographer and award-winning filmmaker now living in Vancouver. Through his photographic works, Munsya explores complicated issues around race, gender, and identity, often focusing his lens on the trauma and discrimination he experienced as a child born in The Congo, but raised in Brussels, Belgium. His photographs are sharp and colorful, yet dark and whimsical.
His film work also delves into issues of race. His first feature film, Us and Them, told the story of his travels from New York to Los Angeles and the experiences he had as a Black non-citizen. His second film, All That You Need, spoke about his deep love of music and indie bands.
Monolithic Introspection is a photography project by conceptual artist Kriss Munsya that centers the experiences of communities disproportionately impacted by environmental racism to illustrate the tensions that exist between white exceptionalism, entitlement to land (its resources and peoples), and the finitude of such exploitation.
Karin Jones
Residency Dates: August 16 – November 22
Exhibition Dates: January 2022
Karin Jones is a multidisciplinary artist with a background in jewellery. Her recent work examines the ways in which historical narratives shape our identities. Jones holds a Master of Fine Arts in Craft from NSCAD University in Halifax and has exhibited at museums and galleries including the Vancouver Art Gallery, The Royal Ontario Museum, The Reach Gallery in Abbotsford, Circle Craft Gallery, and Evergreen Cultural Centre. Her work is held in permanent collections at the Royal Ontario Museum, National Ornamental Metal Museum, and Cambridge Galleries Idea/Exchange in Ontario.
Parvin Peivandi
Residency Dates: May 3 – August 9
Exhibition Dates: August 20 – October 15
Parvin Peivandi is an interdisciplinary artist working in sculpture, installation, ceramics, textiles, media, and performance art. Born and raised in Iran and immigrated to North America, Peivandi has continued her journey by studying contemporary art in Canada and the United States and exhibiting her works internationally. Parvin Peivandi's art expresses a nomadic journey parallel to her own life experience as an immigrant artist: moving from one place to another, deconstructing the old patterns and constructing the new hybrid identity. Employing geometric forms as the common abstract language in artistic practices of diverse cultures, Peivandi aims to bring a middle ground for understanding the others by exploring the endless possibilities that form our communications. Her work is inspired by the comparative literature of Western philosophies of Deleuze and Rosi Bradotti and Iranian Sufi poetries of Attar and Rumi. Her work is in a constant journey of becoming.
Sara Khan
Residency Dates: August 16 – November 22
Exhibition Dates: January 2022
Khan was born in Birmingham, England in 1984 and raised in Lahore, Pakistan. She holds a BFA (with honours) from National College of Arts, Lahore (2008). Her work scrutinizes the repulsion and beauty found in ordinary spaces and situations and questions the normalcy of the seemingly mundane matters in life. For example, how a man inside a woman leads to the birth of another human; turning the woman into a mound of soil in which a human germinates like a plant from a seed, and in the process disfigures the woman to the limits of possibility.
It is in dealing with these observations that she draws them out, to find a place for things that are neither here nor there. Slowly laying out translucent layers of watercolour, her work toward pronouncing some areas, while covering others entirely, almost decoratively as if to say, "you didn't belong, but now you do, or you did belong and now you don't." She leaves some questions to chance, answer others more definitively, hovering somewhere between restraint and complete spontaneity. The idea is to develop a space or landscape with both extremes in it; the abhorrent and the fantastic. Coexisting to form one complete picture; thriving in the gray areas, it's a subtle dance between "is it" and "is it not".
Maria-Margaretta
Residency Dates: May 3 – August 9
Exhibition Dates: August 20 – October 15
Maria-Margaretta is Métis interdisciplinary artist from treaty 6 Saskatoon, Saskatchewan. She is currently living on the stolen territory of Musqueam, Squamish and Tsleil-Waututh nations. A recent graduate of Emily Carr University of Art and Design, her work is an exploration of Indigenous representation through social and political issues. Navigating indigeneity through the lenses of both the settler and the settled she attempts to negotiate her sense of self through the implications of existing in a colonial patriarchal system. Utilizing her Métis identity, cultural knowledge, and traditional practice, she challenges assimilation tactics through cultural resurgence and reclamation.
Follow Burrard Arts Foundation on Facebook for the latest news and updates.
Related: Burrard Arts Foundation: Annie Briard, Sandeep Johal and Josephine Lee, Burrard Arts Foundation: Russna Kaur, Cara Guri and Olivia di Liberto