Three new art exhibitions will open on August 29th at Burrard Arts Foundation, a local visual arts nonprofit and gallery, featuring Russna Kaur, Cara Guri and Olivia di Liberto.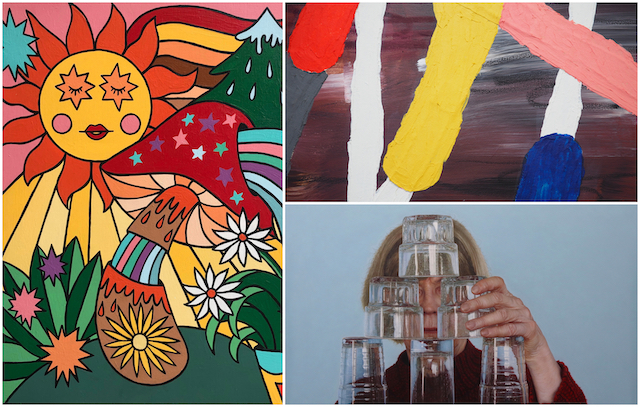 Burrard Arts Foundation: Russna Kaur, Cara Guri and Olivia di Liberto
Where: BAF Gallery (258 East 1st Ave, Vancouver)
When: Tuesdays to Saturdays, 12:00pm to 5:00pm. Free admission with pre-booked tickets. On view August 29 until October 10, 2020.
Two of the shows were produced by the latest participants in BAF's Residency Program, abstract painter Russna Kaur and realist portraitist Cara Guri. During the program, the two artists worked side-by-side in the two studios at BAF's purpose-designed facility in the False Creek Flats. Also opening is new work from Olivia di Liberto in BAF's Garage; this street facing exhibition window displays art to the public 24 hours a day and showcases early-career artists.
In 'Suddenly her lips sharpened – it was splendid', Russna Kaur uses bold colour and large-scale abstraction to speak to her identity as a Canadian of Punjabi diaspora. But despite this overt confrontation of history and identity, the works have as much in common with the heroic gestures of modernist abstraction as they do South Asian material culture, as Kaur effortlessly situates herself within the contemporary painting landscape.
The meticulously realistic, historically-influenced portraits in Cara Guri's 'Interstice' exist in a strange slippage of in-between spaces, tracing shifting notions of time, identity formation, intimacy, and symbol. We are invited into a pact with history in constant negotiation—an invocation of the deeply intimate embedded beside the complex transactions between the artist, the sitter, and the viewer.
Olivia di Liberto creates an explosion of charmingly naive psychedelia with her new public installation in BAF's Garage, An Extraterrestrial Picnic. Using cut paper, found objects, lighting and painting, the work constructs a kaleidoscopic scene: a picnic attended by aliens. Di Liberto harnesses her background in illustration, street art, and visual merchandising, reimagining commonplace objects through a hallucinatory lens and mashing them up with familiar signifiers of rave and bohemian culture into an alternate dimension of escapism, hedonism, and excessive visual stimulation.
Burrard Arts Foundation is guided by an exciting vision – for Vancouver to be recognized, locally and globally, as a thriving centre for visual art.