The magic and vitality of BC's largest festival of French Canadian and francophone music and culture, Festival du Bois is moving online. The virtual event will be full of great tunes by artists from across Canada, performances for children of all ages – plus exciting features and some great surprises.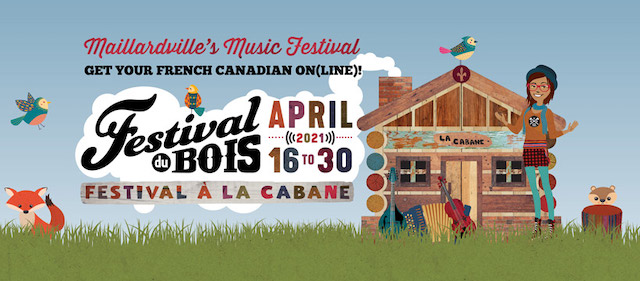 Festival du Bois 2021
When: April 16-30, 2021
Where: Online
Tickets: Tune in for free
For more than three decades, Festival du Bois has welcomed Spring with a popular, vibrant, and tune-filled outdoor celebration in Coquitlam's Maillardville. This year, festival performers offer a brilliant glimpse of a diverse range of talent from here in BC and around the country. Watch exclusive Festival du Bois concerts from the following artists:
Florent Vollant (QC): compelling folk-country from Innu singer, composer, activist and co-founder of the celebrated duo, Kashtin.
Le Winston Band (QC): a one-of-a-kind Montréal Zydeco group that mixes its French-Canadian musical roots with rock and Cajun. 
Genticorum (QC): this traditional music 'power trio' incorporates fiddle, flute, accordion, harmonies and foot percussion into a jubilant musical feast rooted in Québécois tradition.
Sirène et Matelot (PEI): singer/songwriters and musicians Patricia Richard and Lennie Gallant, both Acadians from Prince Edward Island, perform an intriguing mix of folk and country influenced by the musical and cultural currents of PEI and the Maritimes.
Jocelyne Baribeau (MB): this award-winning Franco-Manitoban artist's blend of folk and pop-country is marked by her pure vocals, sparkling ditties and tender ballads.
Joseph Edgar (QC): now a Montréaler, this transplanted native of New Brunswick is an influential Acadian artist who's inspired by music from his roots as well as his current urban, cosmopolitan home.
Loig Morin (BC): originally from Brittany, France,  Morin's music draws together popular influences from both sides of the Atlantic, seducing both French and non-French listeners alike.
Pierre Schryer and Andy Hillhouse (BC): a true dynamic duo featuring fiddle master Schryer and renowned guitarist/vocalist, Hillhouse. They perform everything from old time to Irish traditional to Québécois tunes and beyond.
Jocelyn Pettit (BC): delivering a fresh take on tradition, Pettit is a vibrant young musical prodigy – a fiddler, step dancer, singer and composer.
Children's Programming
Kids and families will find a happy place online with a range of child-focused performances from artists such as André Thériault in the sugar shack, Roger Dallaire and his accordion, Isabelle la Wonderful, and Frenchie the Clown – who will read stories for little ones from Peter H. Reynolds' book, "Be You".
The festival's website will also offer interviews, fun and engaging videos, and more. Follow the festival on Facebook, Twitter, and Instagram for more info.