Granville Island Delivery Co. founder Michelle Ng and local cartoonist Lorne Craig have found a unique way to express their love of Granville Island culture and celebrate the people and businesses that make it special with the launch of a customized and illustrated jigsaw puzzle.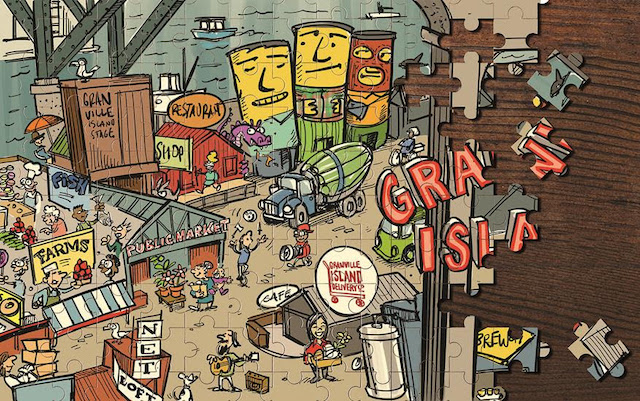 See You On Granville Island Puzzle
See You on Granville Island is a 500 piece jigsaw puzzle with a difference – the artwork features real individuals and businesses in a colourful cartoon caricature that visually explodes off the page.
"Jigsaw puzzles had a great boom in popularity throughout the pandemic," says Ng. "This jigsaw puzzle is a way for us to promote the community we are part of, and their businesses, and share the excitement of Granville Island as people start to return to this iconic destination."
The puzzle can feature a total of 50 businesses and a host of local characters, who can special-order their caricature to be drawn right into the artwork.
"We have people send a photo with their order," says Craig. "Then we draw them in and they get to have the fun of looking for their little self somewhere among the 500+ pieces. We also send them the original caricature drawing, suitable for framing with a small frame."
Craig has already successfully launched one puzzle during the pandemic. The first run of his See You in Whistler jigsaw sold out in 2020, with buyers from Mexico and Australia.
The See You on Granville Island puzzles will be available for sale at Granville Island retailers and will make a popular gift item for tourists as well as locals.
Puzzles can be pre-ordered on the Granville Island Delivery Co. website as well. Spaces are limited so businesses and customers are encouraged to make a pre-order and have themselves drawn into the art while available.