The Granville Island Delivery Co has just launched, evolving from a pandemic pivot into a community support campaign and more!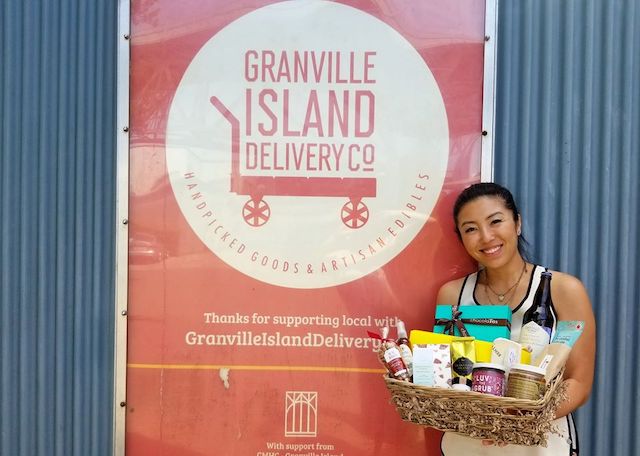 Granville Island Delivery Co.
In March, Michelle Ng, founder of Vancouver Foodie Tours launched Granville Island Foodie Delivery days after pausing food tours due to the pandemic. The initiative even caught the eye of Entrepreneur Magazine which featured Michelle on the July cover: "137 faces of entrepreneurial ingenuity during the pandemic".
With deliveries in full swing, Michelle and her team took on the challenge of finding more ways to give back to the Granville Island community. The new Granville Island Delivery Co. ("GIDC") website is now up and running, as well as their #GranvilleIslandLUV campaign to further rally community support.
Customers can shop on the new and improved website, GranvilleIslandDelivery.co for public market favourites from popular merchants such as Lee's Donuts, Oyama Sausage Co., Benton Brother's Fine Cheese, and much more.
The GIDC team has put their 10 years of market expertise to good use in building curated baskets, including Wellness in a Box, Charcuterie and Cheese, Yes Please!, and Sweet Treat, perfect for gifting. For specialized seasonal goods, don't miss the monthly Market Box, with items personally selected by Michelle to reflect the best of the season. Whether to select a few items or opt for curated baskets, the new site allows shoppers to browse and order easily online.
The website also features "Meet the Artisans" series, a detailed behind-the-scenes look at the talented artisans of the market.
#GranvilleIslandLUV
Along with the new website, GIDC launched #GranvilleIslandLUV to directly benefit the merchants of Granville Island who are struggling due to the pandemic. The first goal is to raise awareness of the community's plight, with many vendors reporting a 50-90% reduction in sales.
As most vendors do not have an avenue to sell their goods online, every purchase made through GIDC helps support small businesses. With a purchase of any curated baskets or monthly Market Box, $5 of each sale goes directly to merchants in need. There is also a social media contest featuring the hashtag #GranvilleIslandLUV asking followers to share a photo of Granville Island or goods purchased from the market to win the monthly Market Box.
The delivery service offers free shipping for orders $99 and over in Vancouver, or $10 discount on flat rate shipping in Greater Vancouver via local courier Novex. Follow on Facebook and Instagram for more info.