Downtown Vancouver just got much tastier with the opening of Hello Nori, a sushi-focused Japanese restaurant, at 1165 Robson Street. Hello Nori's focus is on the experience of enjoying a hand roll: a combination of fresh seafood, meticulously selected seaweed, and signature warm rice, prepared to order in front of guests' eyes at an inviting 24-seat U-shaped bar.
Hello Nori Opens on Robson Street
Hello Nori has taken every step to ensure its dining room is compliant with public health and safety protocols, including reduced occupancy, removable plexiglass dividers, and disposable menus for those who require them.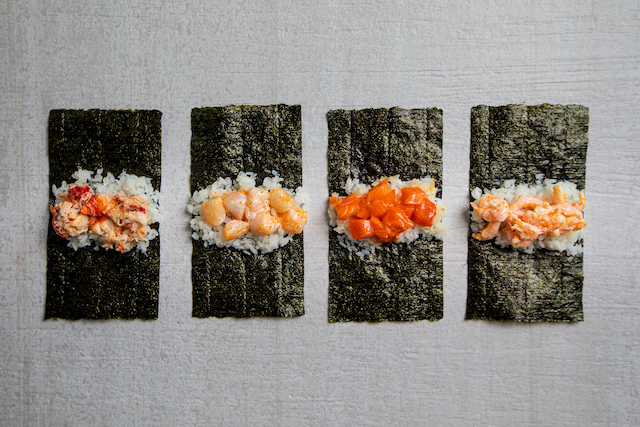 Wrapped around the likes of Hokkaido scallop, toro, yellowtail, and truffle lobster, there are 13 hand rolls in all, available à la carte or as part of set menus of four, five, and six rolls. Hello Nori offers a locally brewed sake (available on-tap), as well as premium matcha tea.
Vancouver-based Concrete Cashmere Designs has fashioned a dining room that perfectly complements Hello Nori's food and drink offerings. Inspired by the Japanese notion of wabi-sabi ("appreciating the beauty of imperfection") as well as Western modernism, the 1,500-square-foot space combines raw materials such as wood, metal and concrete with mountainscape scenery and a ceiling that evokes ocean waves — in short, an echo of Vancouver's extraordinary fusion of urban architecture and rugged surroundings.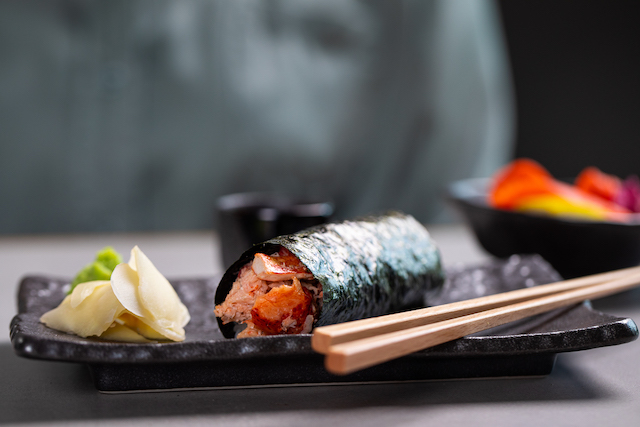 Hello Nori is the brainchild of first-time restaurateur Jean-François Eap, whose foray into the hospitality industry comes after 15 successful years in retail and software. "The goal for me and my team is to deliver a new kind of Japanese dining experience that's fast and casual without any compromise in food or environment," he says. "To achieve this, I knew I needed talented, deeply experienced professionals around me."
Eap's hand-picked culinary team includes Chef Jay Pugong, who arrives at Hello Nori following his role as head chef at Minami Restaurant. "There is no cuisine I'm more passionate about than Japanese," says Pugong. "Hello Nori gives me the opportunity to create and serve premium-quality sushi in a casual setting. Our food may be served quickly, but this isn't fast food."
There are two more locations already confirmed to open in Metro Vancouver later this year: One at Park Royal in West Vancouver and the other at Brentwood Town Centre in Burnaby.
Giveaway
To celebrate Hello Nori opening on Robson Street I have a $100 gift card to give away! Here's how you can enter to win:
I will draw one winner at random from all entries at 12:00pm on Friday, February 26, 2021. UPDATE The winner is Brent L!