The holidays usually mean good times and good food with great people, and while we can't be together this year, you can still enjoy some good eats! Meinhardt Fine Foods has amped up their gift box offerings this year, packing these parcels full of sweet treats, savoury bites, and holiday cheer.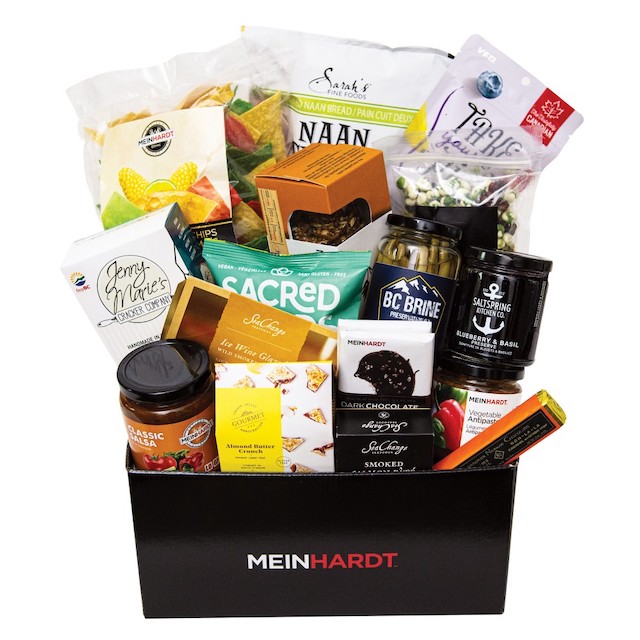 Meinhardt Fine Foods Gift Boxes
Meinhardt takes great care with local delivery of their beautifully wrapped "open-style" gift boxes and the products are carefully chosen for their individuality and gourmet appeal. Whether you choose a standard box or a wooden crate, you'll find your gift is both stylish and reflective of the quality of the products contained within.
Holiday Meals from Meinhardt
This year Meinhardt Fine Foods is offering three-course holiday meals for two or four people. Enjoy a refreshing appetizer, turkey, ham, or vegetarian pasta with all their favourite sides, and a delicious dessert. Their chefs have put together a gourmet menu with traditional holiday favourites.
Stay tuned to the Meinhardt Instagram account for details about Holiday Meal giveaways for individuals and families in need.
In-Store Holiday Items
Both locations (South Granville and Pacific Centre) are packed with holiday items that make for perfect stocking stuffers or gifts for foodies.
Meinhardt Fine Foods carries one of Vancouver's largest selections of authentic Italian Panettone, with many different flavours, shapes, and sizes at both locations. Some of the more unique flavours include tiramisu, pistachio, and chocolate brownie. They also have a wide selection of other seasonal products such as cookies, chocolates, specialty teas and coffee, Sugarfina holiday bento boxes, German spice cookies, stollen, and so much more.
Meinhardt Fine Foods was established in the South Granville community by Linda Meinhardt in 1996, quickly earning recognition for culinary excellence as Western Canada's first gourmet grocery store of its kind.
Win a Gift Box
I have one of Meinhardt's Best of the West Gift Boxes to give away (value $125). It's loaded with:
BC Brine Pickled Beans
Jenny Marie's Crackers
Sarah's Fine Foods Naan Crisps
Sacred Foods Popped Lotus Seeds
Salt Spring Kitchen Jam
Meinhardt Tortilla Chips
Meinhardt Salsa
Seachange Ice Wine or Maple Glazed Salmon
Seachange Salmon Pate
Meinhardt Tapenade
Leslie Stowe Crackers
Meinhardt Francisco Mix
Meinhardt Chocolate Bars (2)
Fraser Valley Almond Butter Crunch
Vanpure Freeze Dried Fruit
Here are several ways you can enter to win:
I will draw one winner at random from all entries at 9:00am on Monday, December 14, 2020. Winner's delivery address must be within Metro Vancouver. UPDATE the winner is hanastoer!