The 38th annual YWCA Women of Distinction Awards presented by Scotiabank will take place on Monday, June 7, 2021, and this is your opportunity to recognize an outstanding woman or organization operating in the Lower Mainland.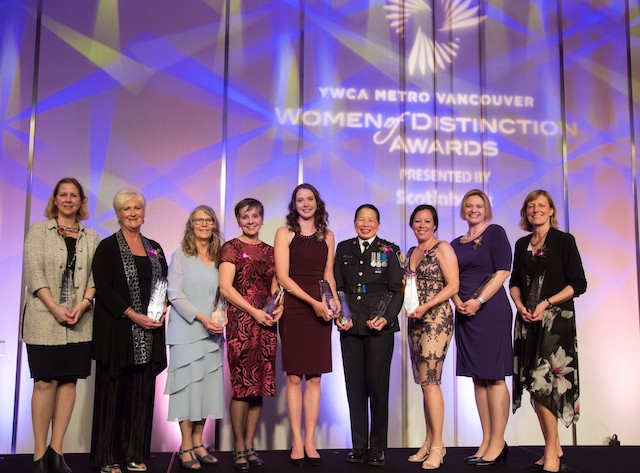 YWCA Women of Distinction Awards 2021 Nominations
Do you know a woman whose outstanding achievements contribute to the well-being and future of Metro Vancouver? Do you know a business that supports the wellness and diverse needs of its employees?
Click here to start the nomination process online »
Support the people and organizations that are making a difference across Metro Vancouver by nominating a woman or workplace for a YWCA Women of Distinction Award.
Nominating a woman or organization that you admire is easier than you think. View the FAQ page for answers to frequently asked questions.
The YWCA strongly encourages nominations that recognize the contributions of Black, Indigenous and People of Colour, as well as LGBTQ2S+ individuals.
The award categories are:
Arts, Culture & Design; Business & the Professions; Community Champion; Education, Training & Development; Entrepreneurship & Innovation; Environmental Sustainability; Health & Wellness; Non-profit; Reconciliation in Action; Research, the Sciences & Technology; Young Woman of Distinction; Outstanding Workplace.
The Nominations Committee reviews all submissions for completeness, eligibility and ensures that each nomination fulfills ALL of the nomination criteria. Please note that every nomination submission is not accepted. All accepted nominations are forwarded to an independent Judging Panel. The Nominations Committee and Judging Panel reserve the right to withhold an award in any category. 
Nominations will close on Friday, January 15, 2021 at 5:00pm.
Related: YWCA Women of Distinction Awards Winners 2020
YWCA Metro Vancouver is dedicated to achieving women's equality. Their mission is to touch lives and build better futures for women and their families through advocacy and integrated services that foster economic independence, wellness and equal opportunities.
Miss604 is a proud sponsor of the YWCA Women of Distinction Awards, since 2010.