It's the tradition we didn't know we wanted but about ten years later, a holiday season isn't complete for John and I until we get some loaves of stollen. We usually pick up this cake-like fruit bread (stuffed with buttery marzipan) from Yew at the Four Seasons or the Christmas Market but since neither are around this year, here are a few places where you can get stollen in Vancouver: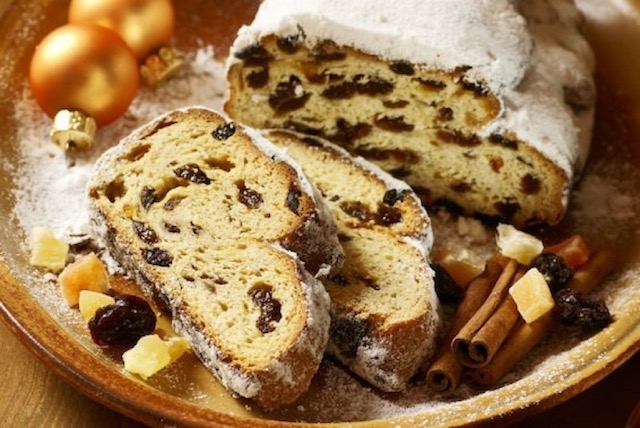 Where to Get Stollen in Vancouver
Sweet Thea Pop-Up
Where: Tsawwassen Quay Market, Main Street Pop-Up or Langley
How: Pickup or delivery
Price: $15-$25
Thomas Haas Chocolates
Where: Kitsilano, North Vancouver
How: Prepaid pickup or delivery
Price: $20-$30
Swiss Bakery
Where: 143 E 3rd Ave, Vancouver
How: Pickup or delivery
Price: Slice $4, 1lb $28, 2lb $38
Faubourg
Where: 769 Hornby St or 2156 W 41st Ave, Vancouver
How: Order online or stop by in store
Price: $16 small, $24 large
Lemonade Gluten Free Bakery
Where: 3385 Cambie Street, Vancouver
How: Pre-order online for pickup starting November 25th
Price: $15
Forage
Where: 1300 Robson St, Vancouver (online shop)
How: Order online, free shipping within BC
Price: $24.95
Bad Dog Bread
Where: 1600 Mackay Rd, North Vancouver
How: In store
Price: Not listed online
The Bench Bakehouse
Where: 1641 Commercial Drive, Vancouver
How: Order online
Price: Coming soon!
*Prices are those listed online at time of publishing and does not include taxes or delivery fees etc.
Do you know of more? Please tell me in the comments section and I'll add it to the list.
Related: Christmas Activities in Vancouver: What's Open, Cancelled for 2020