Science World will livestream its annual Girls and STEAM event on Saturday, November 7, 2020. This is a free, half-day Symposium with the aim of preparing British Columbia's youth for the STEAM (Science, Technology, Engineering, Art + Design, Math) heavy job landscape of the future. The event will be opened by keynote speaker Dr. Bonnie Henry, BC's provincial health officer, with closing words by marine biologist Dr. Sarika Cullis-Suzuki.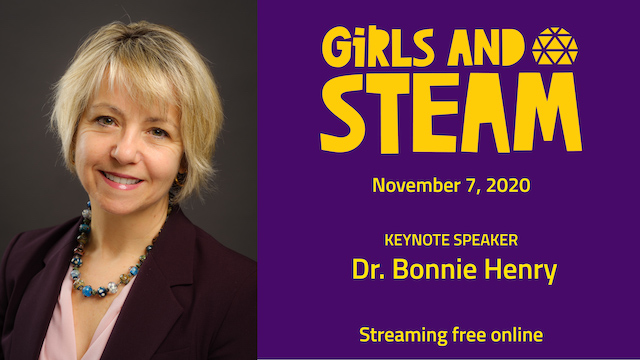 Girls and STEAM Event
Where: Online
When: Saturday, November 7, 2020 from 9:00am to 11:30am
Registration: FREE! Book your spot online now
With Canada facing a major gap in gender diversity in STEAM careers, Girls and STEAM endeavours to inspire, engage and empower girls to pursue research-focused and technical careers by connecting them with female professionals and learning opportunities in these fields.
Dr. Bonnie Henry has been one of many famous faces of Science World's "The World Needs More Nerds" campaign and was asked to share her message with the girls, given her notable leadership navigating the province through the COVID-19 pandemic.
"It is important for young people to see and hear about the many opportunities within STEAM that can bring their passions and interests to life," says Dr. Henry. "I look forward to sharing my journey and hopefully to inspire these girls to be the STEAM leaders of tomorrow."
Dr. Henry will give her keynote address live in the Science Theatre to those onsite and a Q&A will follow with participating questions from online participants and those in the theatre.
Online participants will also receive exclusive advance access to specialized STEAM content leading up to the event; access to livestreams on the day of the event; and access to Tech-Up, an online coding, computational thinking and digital skills workshop following Girls and STEAM.
On the day of the event, there will be two workshops:
BCIT School of Construction and the Environment: How can engineering benefit society? Explore the many sub-disciplines that go into building major infrastructure projects with Civil Engineering faculty Phyllis Chong, M.A.Sc., P.Eng.
Genome BC: Solve an outbreak with us! Learn to solve a simulated outbreak scenario using the same types of data and tools that real epidemiologists use to trace bacterial and viral outbreaks like COVID-19.
Previously, the Symposium hosted 300 girls ages 11-13 onsite at Science World and event registration would be full within minutes. Due to COVID-19, the event is going online with a greater capacity able to participate. There will be a small number of girls onsite from underserved communities at Science World in order to maintain physical distancing and safety measures.