In an incredible act of kindness and philanthropy, Ryan Reynolds and Blake Lively are donating $250,000 to Covenant House Vancouver and $250,000 to Covenant House Toronto to support homeless, at risk, and trafficked youth across the nation.
Ryan Reynolds and Blake Lively Match Campaign for Covenant House Vancouver
Ryan Reynolds has been a long-time friend to Covenant House and truly believes in supporting vulnerable young people. He has chosen to use his donation as a special matching gift to encourage others to donate to Covenant House.
"Covenant House provides love, hope and stability for at-risk youth who've fled physical, emotional and sexual abuse," says Ryan.

"They do the work of heroes. For us, helping Covenant House this way isn't a donation, but an investment in compassion and empathy. Something the world needs more of. The young people who pass through the doors of Covenant House more often than not have a story marked by extraordinary trauma. They are so much more than that trauma. They have so much to offer the world. Matching this gift is saying you believe in them. You believe in the power of compassion to transform the trajectory of a human being."
The Georgia Straight just named Reynolds the "Darndest Vancouver-Bred Do-Gooder During the Pandemic" in their annual Best of Vancouver issue, for his and Blake's many random acts of kindness this year: From donating 300 parkas and other gear to students at Inuujaq School in Arctic Bay, to providing a public-service message about COVID-19 to reach young adults in BC, to organizing a BIPOC trainee program for a Netflix film that he's filming in Vancouver, and donating $10,000 to the Canadian Professional Bartenders Association. They also donated $1 million to food banks in Canada and the United States (and $5,000 to my own Food Bank Fundraiser in April).
What This Means to Covenant House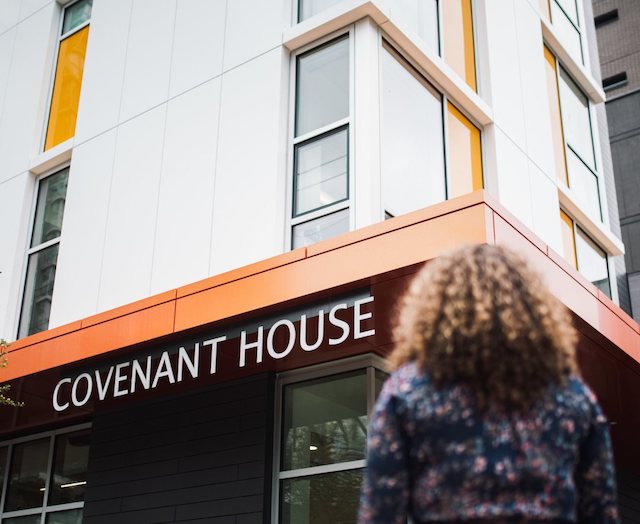 COVID-19 has presented Covenant House with new and evolving challenges, and the organization continues to provide essential services to youth experiencing homelessness.
The pandemic has impacted every youth in profound ways, but exactly how depends very much on their own individual circumstances. Job losses, increased anxiety, and the Opioid Crisis are just a few of the challenges youth are facing.
Those interested in supporting the Ryan Reynolds and Blake Lively Donation Match campaign can do so online here for Vancouver and here for Toronto.
Related: How Covenant House is Adapting Services to Best Meet the Needs of Young People; CHVCatch Up: Caring for At-Risk Youth During COVID-19; Three Crises Affecting Youth in Vancouver Right Now
Miss604 is proud to be the Official Blog Sponsor of Covenant House Vancouver.