There's just one week to go until the virtual Canuck Place Gift of Time Gala. Register (by donation) to support Canuck Place children living with life-threatening illnesses, and their families. They need your support now more than ever.
Canuck Place Gift of Time Gala Online
When: Saturday, September 26, 2020 at 8:00pm PST
Where: Online link will be sent to registrants
Registration: Donate to register for the 2020 Gift of Time virtual experience. All donations over $10 will be eligible for a full tax receipt.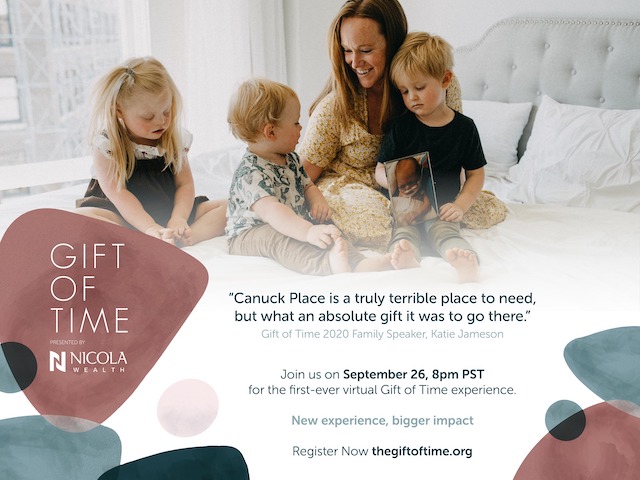 They have a great show lined up! Co-hosted by Chris Gailus, Riaz Meghji, and Thailey Roberge, the 45-minute program will feature many special guests, including Markus Naslund, Brendan Morrison, Kirk McLean, and Daniel and Henrik Sedin. You will also be treated to a powerful speech from Canuck Place mom, Katie Jameson. You won't want to miss it.
To make your night at home for Canuck Place kids even more special, you can order from one of their amazing food & beverage partners: Boulevard Kitchen & Oyster Bar, The Lazy Gourmet, Marquis Wine Cellars, and the Bar Cart.
At last year's gala, we heard from Canuck Place father, Emmanuel Domingo, whose 20-year-old son Kristian received expert clinical care at Canuck Place:
"Canuck Place gave us the gift of time…time to allow us to be a family […] After Kristian passed away, we reluctantly left Canuck Place feeling lost, empty, and profoundly sad. But our journey with Canuck Place was far from over. They continued to care for us. They provided support for our grief, and still do. We are so grateful for the abundance of compassion and kindness they have, not only for us, but for all the children and families they care for."
Register today for another inspiring evening, that will make a difference in the lives of so many families.
About Canuck Place
For 25 years, Canuck Place has been providing paediatric palliative care for the most medically complex and ill children in the province. This past year alone, over 818 children and families across BC and Yukon received care through Canuck Place programs and essential services.
Follow Canuck Place Children's Hospice on Facebook and Twitter for more information.
Miss604 is the proud blog partner of the Canuck Place Gift of Time Gala for the 8th year.