The following has been contributed by Steffani Cameron, who recently completed a 4-year worldwide adventure that she chronicled at FullNomad.com.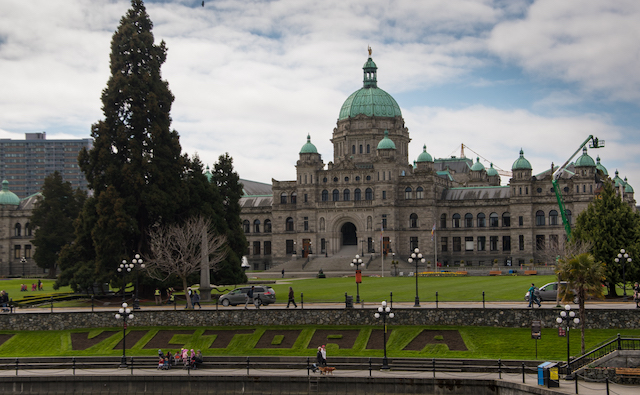 Signature Experiences in Victoria
Some towns, there are things you've just got to do if you're visiting. For Victoria, there are several, but some that hold the most resonance for me are included here.
Anyone who's ever visited Victoria knows it's up there as being one of the most water-surrounded city centres there is. That means two things, apparently – one, it's a pretty good place to do anything involving the ocean, but two, there be ghosts.
The Ghostly Walks Tour
My first night back in Victoria this year, at midnight, the Inner Harbour was, well, like a ghost town. No one was around. More than 12 hours of flights and airports finished my cross-Canada move from Ottawa to the city I love, and I longed to smell the ocean. After check-in, I took the midnight walk two blocks down to the Harbour promenade above the Causeway.
I was absently reading some historic plaques when I noticed something in the corner of my eye. My back was brushed, as if someone had pushed their way past me. I spun around to find nothing, no one, for hundreds of metres in any direction. My hair stood on end. I realized it was a ghostly encounter.
Tales like that have become the stock in trade of historian John Adams, the man behind historical walking tours in Victoria. What he's most famous for are his Ghostly Walks.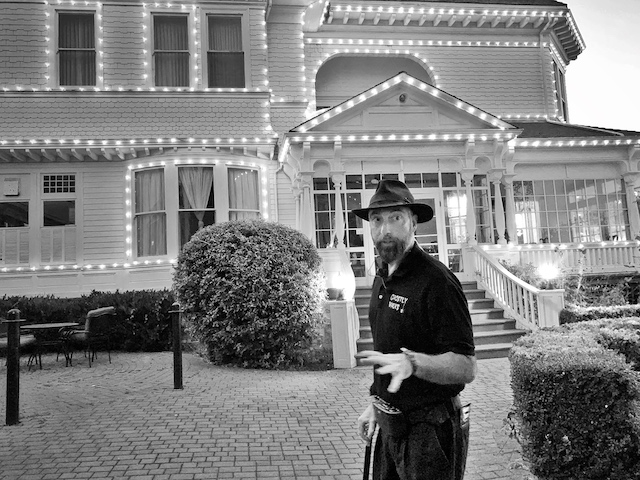 Victoria is a beautiful town today, but it was a sometimes-murderous den of depravity back in the Gold Rush years. Adams tells us the geography of Victoria – a unique mass of rock and sea – makes it ideal for containing spirits in this earthly realm, and some say this is one of the world's most haunted towns.
Today, Chris, his son, helps with the tours – sporting a similar beard and skull-topped cane as his father, but most importantly, he sports a similar compelling, charismatic storytelling style.
Whether it's Chris or John talking, their penchant for storytelling will have you hanging on every word as they creepily divulge the spine-tingling tales of meddling spirits abounding in the Queen's city. Ghostly Walks are socially distant now – they're doing two smaller groups of 10 for the same tour, and
staggering departures so the two hosts don't overlap in spaces.
Ghostly Walks offers two nightly tours until the end of October. Wear comfortable shoes but expect to stop frequently and only walk about 2 or so kilometres; you'll be standing the whole time.
Foot Ferries Forever
The Victoria Harbour Ferry company nearly met an untimely demise in June, but an angel investor swooped in to save the day, and I couldn't be happier. The Victoria harbour wouldn't be the same without the adorable little tugs chugging pedestrians to and fro, 11:00am to 8:00pm daily.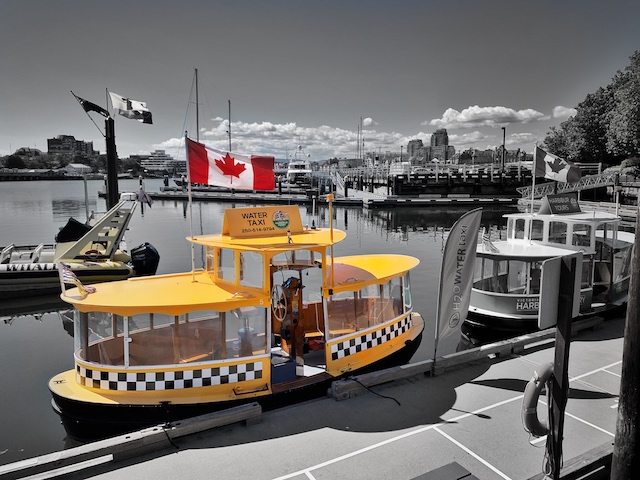 Whether you hop on for the Gorge Tour or the Harbour Tour, or you're just zipping over to Spinnaker's for a pint or meeting someone for fish'n'chips at beloved Barb's at Fisherman's Wharf, the foot ferry is how to get there while embracing your inner-child.
They've put plastic shields up to protect passengers, masks are worn by operators, but COVID-19 still means there are fewer boats running these days due to reduced demand from lack of tourists visiting from around the world.
Captains are mostly folks who have retired and enjoy the job as a means of making spare cash while meeting great people, so be aware that there can be some waits. Have a cellphone and call the number posted on the sign at your foot ferry stop, and they'll send someone over.
The main wharf on the Inner Harbour Causeway is where you're most likely to find one.
And if you're in town on a Sunday, be on the Inner Harbour for 10:30am so you can watch the Water Ballet as several ferries get together for an adorable dance-like routine on the water, free for all to watch. Your inner-child will thank you.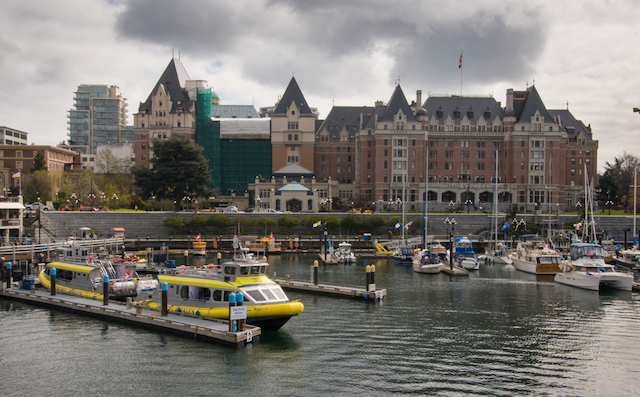 Whale Watching with the Prince of Whales
I had the most wonderful day on the water with Captain Bill, Joe, Lily, Valerie, and Seanie. I was so impressed by their COVID-19 procedures that I really felt like I could relax and enjoy the experience. With a catamaran designed for 200, licensed for 96, but only carrying 50 in these "unprecedented times," there's room aboard for everyone with Prince of Whales.
Sanitizer bottles were mounted all over the ship. One of the women passed by me at least three times in our 4-ish-hour sailing, disinfecting all the rails on the ship. They had a solid boarding procedure with distancing in place, and then assigned each passenger a fixed seat inside or under cover that they could return to over the sailing, but all the outdoor space was communal.
We saw a pod of orcas, including an 8-month-old baby. Thrills were had. But we also sailed up to Mandarte Island and saw the bird colony, and we heard about Takaya, the lone wolf who mysteriously appeared on an island in 2012, believed to be a reincarnated local chief, and more.
While the transient whales, which are what we saw, are healthy and doing well, it's the local resident whales who live off Chinook salmon who are threatened and struggling to stay alive. It's these pods that had the mother who carried her dead calf for 17 days, breaking hearts around the world. While she's pregnant again, it's a cautious joy us locals feel, because we know how stressed the population of Southern Resident Killer Whales is – they can't eat other fish or seals because they've not evolved that way, and Chinook runs will be low again this year.
What's great about Prince of Whales is how passionate they are about the environment and in teaching passengers how we can save the resident whales and other sea life by changing our behaviours with shopping – this means buying eco-friendly soaps, not eating Chinook, and making other sustainable environmental choices.
More shots from my whalewatching adventure today here in Victoria.

Plus a cormorant colony! So cool. pic.twitter.com/9ASa02Iubf

— Steffani Cameron, Social-Distancer (@SnarkySteff) August 7, 2020
I could write all day about whalewatching, but the reality is – you need to experience it. I didn't get to see humpback whales, but my aunt went later that week and did see some on her trips. Even just being on the boat is amazing, because you'll learn so much about this beautiful region.
The team on the catamaran are clearly passionate about what they do – by educating us and helping us see these majestic creatures where they live, in the wild, the hope is that we'll all care a little more about this beautiful world of ours, and we'll all do that little bit extra to save the whales – and ourselves.
Whether you go hunting ghosts in this legendarily haunted city or you enjoy it shipside from the Salish Sea or in the harbour, there's something in this magical little city that will captivate you.
Related: A Restful Stay at the Magnolia Hotel in Victoria, Tips for Enjoying a Trip to Victoria in COVID-19