Turn off the dusty gravel road to a tree-lined drive way and park under the shade of a chestnut tree. "You're just 45 minutes from Downtown Vancouver but you're a world away," says Joanne Braithwaite of Glen Valley Stables. She and her husband, along with a crew of experienced guides, host horseback trail riding experiences in Langley's Campbell Valley Park.
Before checking in, Joanne will direct you to the hand washing station where you'll soap up and pump some rushing water. When you're ready to go you'll be handed a sterilized helmet and walk over to meet your horse.
"It's been crazy busy, because there are so many things people can't do," she told me as we stood by the picnic tables which double as her outdoor office. "They can't go to sports, they can't play sports, but they can ride a horse. It's easy to physically distance when you're on a horse."
One of the biggest regional parks in the Metro Vancouver system, Campbell Valley has over 16.7km of horse trails, 32.8km for walkers and 3.7km cyclists. Glen Valley Stables is based out of the Equestrian Centre and our tour started out on the 11km Shaggy Mane Trail loop.
Me atop Traveler and my sister with Summer, we followed our guide Tara at an easy pace, through a lush bucolic landscape. We walked along tree-lined paths, through what locals call the "Enchanted Forest" with arrow straight firs above and a bed of ferns blanketing either side of the path. On a warm summer afternoon the air smells of wildflowers, and something citrusy tickled my nose.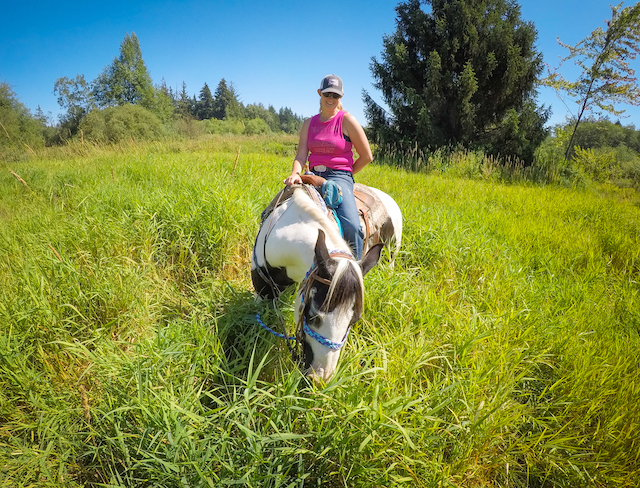 Crossing the Little Campbell River and around the bend you'll come to the meadow where the horses will get a well-deserved snack break.
According to Trip Advisor, this tour is the #1 outdoor activity to do in Langley, and I can see why. Joanne says most of their guests have never or hardly ever been on a horse before. "We just have really good horses for that, we've got calm, quiet, well cared for horses and good experienced guides."
The ride literally offers a new perspective of this natural playground. I found myself in quite a relaxed and contemplative state, with butterflies fluttering through sunbeams breaking through the canopy, rolling along with Traveler on his familiar path.
When you're trotting back on Shaggy Mane, you may feel a sense of accomplishment, like when you try something new, perhaps overcome a fear, or take on a new challenge. You may simply enjoy the surroundings, the company, or the connection made with your horse.
Glen Valley Stables hosts guided tours Tuesdays to Sundays, with 1 to 2 hour options. Their outdoor office is also a great spot for a picnic before or after your ride, and you can find delicious ideas in my Langley Staycation post here.
Want to stretch the Langley staycation and stay a bit longer? Check out some of the deals on offer at the Sandman Signature Langley. It's right off Highway 1 with comfortable, quiet and cool suites — and all the hand sanitizer stations you could hope for. Follow Tourism Langley and the tag #LangleyFresh for more inspiration.