With a careful reopening of our province, it's just the right time to enjoy the best of our own backyard. A great way to savour summer, with delectable local dishes and drinks, is to experience a Langley staycation, supporting businesses and farms in our region.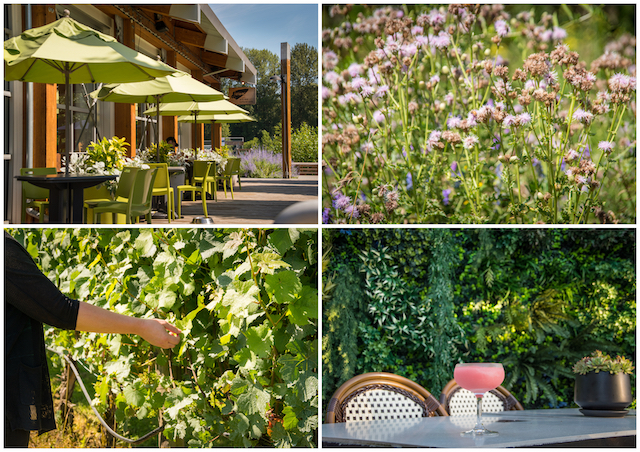 A Langley Staycation
Just 45 minutes from Downtown Vancouver you'll find authentic farm experiences to urban bistro patios, to a picnic in the park or stroll in the vineyard. Here is a delightful roundup of eateries where you can see where the #LangleyFresh moniker is well-earned.
Drive Thru Berry Waffles
Just when I thought that Krause Berry Farms (6179-248th Street in Langley) couldn't top their 'mile high strawberry pie' offering they come up with drive thru berry waffles. Stay in your vehicle (or bring a chair to sit within your designated, distanced area, and cheerful staff will deliver a hefty platter of fresh-made waffles right to you from across the field. The topping? It depends what's in season. I arrived in time for fresh-picked BC Blueberries, which was a perfect start to my Langley staycation.
Wine Tastings
There are some wonderful wineries in Langley (enough to do a full day tour for a day with a designated driver) and at Backyard Vineyards (3033 232 St, Langley) you can pop by for a tasting, or pick up a bottle and charcuterie plate to enjoy in their picnic area next to the vines. I recommend starting off with a flute of bubbly Blanc de Noir Brut to set the tone for your staycation.
Distillery Tasting
"Knee high by the fourth of July" is the guideline for corn growth, at least that's what my Iowa-born husband tells me. I found some stalks that were definitely on track when I stopped into Roots and Wings Distillery (7897 240 St, Langley) where they craft spirits using local corn and potatoes. On top of the staples, they serve up clever concoctions like Dill Pickled Vodka (which is a very popular trend south of the border), Peachy Keen Vodka (summer in a glass), blended Whiskey spirits, Absinthe, Jackknife Gin and much more. There is plenty of outdoor seating where you can sip your tasting flight or cocktail while the sprinklers spritz away on the farm.
Take Out Lunches
Physically distancing in Langley is pretty easy to do with meadows, forests and fields around every corner which are all great for al fresco dining. You can order and pick up a ready-to-go Summer Picnic Pack from Well Seasoned – A Gourmet Food Store (20353 64 Ave #117, Langley), with seven different menu options. I actually received a text from my sister yesterday longing for the Wild Salmon with Blueberry Salsa on Herbed Couscous (option 7). It was SO. GOOD. If you could put the Fraser Valley in a bowl, this was it. We paired our feast with the floral aromas and dreamy sights of eagles flying above at Derek Doubleday Arboretum (21559 Fraser Hwy, Langley).
Patio Dining
Breakfast: Visit the legendary Hilltop Diner (23904 Fraser Hwy, Langley) which you may recognize from countless movies and TV series filmed in the area. Aside from its iconic look, Hilltop serves up a hearty helping of breakfast favourites. If my sister is still dreaming of the salmon, I am still dreaming of those deliciously seasoned hash browns. Grab a spot on the patio to enjoy your coffee and Hilltop French Toast in the fresh air.
Lunch: Not only does Indigenous owned and operated leləm' in Fort Langley (23285 Billy Brown Road, Langley) have one of the most beautiful riverside patios, bordered by fragrant lavender shrubs, they now have bannock tacos! Choose from smoked salmon, smoked shredded beef, chorizo sausage and mexi-tofu. They've always had a great coffee/tea and snack selection but the tacos are a must-try. They also have Dole pineapple whip, which honours the Polynesian families that worked and lived alongside the local Indigenous people during the fur trade.
Dinner: On the lighter side, and perhaps once you've gone for a stroll along the river or perused the shops in Fort Langley, pop into The Bench Snack Bar (9124 Glover Rd #3a, Langley) for wine or cocktails, and tapas. Burrata, terrine, tartare, confit, cassoulet oh my! Rich flavours, shared plates, refreshing sips. Remind me to return for a date night in the future as the ambiance is as charming as the menu is tasty. A refreshing Aperol Spritz is lovely on a warm day.
On the heartier side there's S+L Kitchen and Bar (8399 200 St, Langley) with steaks, seafood, pasta, sandwiches, bowls and more. Steak Frites will always satisfy (with a side of kale caesar salad) and the Sablefish's warm bacon potato salad with smoked egg yolks is presented beautifully. The menu, ordering, and payment can all be done online from your phone by scanning QR codes on the tables.
Want to stretch the Langley staycation and stay a bit longer? Check out some of the deals on offer at the Sandman Signature Langley. It's right off Highway 1 with comfortable, quiet and cool suites — and all the hand sanitizer stations you could hope for. Follow Tourism Langley and the tag #LangleyFresh for more inspiration.