The following has been contributed by Steffani Cameron, who recently completed a 4-year worldwide adventure that she chronicled at FullNomad.com.
For families, the only thing better than a family-friendly hotel resort for a getaway is one that's walking-friendly, with a beautiful view. Perched on the edge of the Songhees Walkway, the Delta Ocean Pointe Resort faces Victoria's Inner Harbour, right on the waterfront.
Enjoy the Best of Victoria Harbour at the Delta Ocean Pointe Resort
There are plenty of hotels of all kinds in Victoria, with something for everyone. For those looking to get away, the Ocean Pointe is a great option offering a gamut of on-site activities and amenities suited for everyone, for when you're tuckered out from a day of walking the town. With Victoria's Old Town just across the bridge, a five-minute walk away, it's easy to get out to eat and stroll the Harbour yet get back for a game of tennis, some time in the pool, or a workout at the gym.
But everyone can get comfortable at Ocean Pointe because it's an incredibly accessible resort for those with mobility challenges. There are ramps and wheelchair-friendly entrances everywhere. Even the Songhees Walkaway around the hotel is accessible for anyone of any ability who'd like to explore more. The new bridge also has wide, easy-to-use separated pedestrian-only pathways for getting into town.
COVID-19 Safety
Like all other hotels, the Ocean Pointe is following COVID-19 protocols, like requiring all guests and visitors to wear masks in all public places, including to and from their tables in the restaurant. You'll find disinfectant wipes in the room as well. Personally, I welcomed their strict measures and it made me feel safe.
Dining at The Lure also took me by surprise, since the food is reliably good but very well-priced given the incredible view they have of Victoria's best side. My aunt and I both opted for the same meals – the chicken sandwich with side fries and salad, and chocolate pot de crème. We had no complaints and enjoyed a long evening's chat with the seaside view.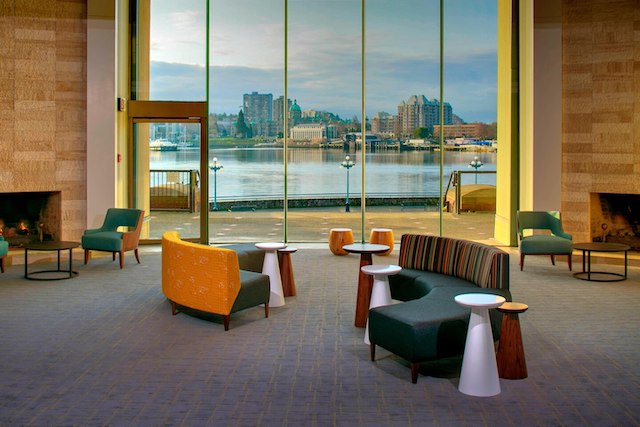 Victoria Harbour Fun, and More
Just in front of the Ocean Pointe, you'll find a Victoria Harbour Ferry dock, so if you're itching to get over to Fisherman's Wharf for some fish and chips at Barb's or to rent a kayak or stand-up paddleboard to explore the shores, it's easily done.
For cyclists, the hotel offers free, secured underground storage, and bikes are the best way to get out around Victoria, since there is so much infrastructure catering to those on two wheels.
Dallas Road's beaches have all new cycling paths just finishing construction, and that's just over the bridge and 2 kilometres past the Inner Harbour and Beacon Hill Park. But lots of Mainlanders don't realize how much they can do and see from the Lochside and Galloping Goose cycling trails – one heads over 30 kilometres down from Sidney, and the other is a stunning 55-kilometres trail out to a ghost town called Leechtown, just north of Sooke. Wineries and cideries, lakes and parks, out-of-the-way eateries – they're all on comfortable, separated bike paths. Visit Thetis, Elk, or Swan Lakes for beautiful spots to get away from crowds, or plan a day cycling to Sea Cider in Cordova Bay for some local cider tasting (consider pre-ordering a charcuterie board for refuelling). Naturally, the paths are great for distance runners, too.
But I was in the middle of a stressful move and saw myself with the opportunity to just enjoy the immediate area. It was a crazy windy day – not particularly unusual in Victoria, of course — but sunny and hot. I found it the perfect time to walk a little further up the Gorge and find myself a Happy Hour and a sunny patio over at The Tug, which is also next to Canoe Brewpub, both just 10 minutes from the hotel on foot.
For those with cars, parking on-site will set you back $20 a day, but if you're planning on road-tripping to Port Renfrew or maybe to take an early fall dip in the Sooke Potholes or do some rainforest hiking, the memories will be worth it.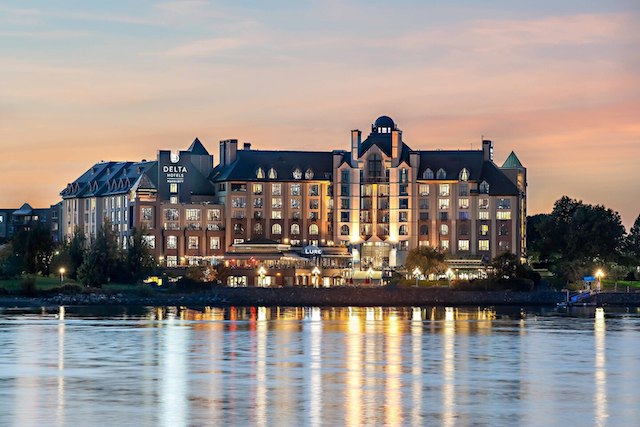 Ocean Pointe may not be a boutique hotel, but the staff bring a friendly, helpful approach that makes it feel like a little-big hotel with the sort of heart you want when you're getting away. Whether you crave the expansive vistas on the property or you're looking to capitalize on how much less it rains year-round in Victoria than Vancouver, the Ocean Pointe is an accessible, easy-going hotel where you can do it all.
Related: Signature Experiences in Victoria, Tips for Enjoying a Trip to Victoria in COVID-19