SoundON has announced its summer concert lineup plus intimate, exclusive performances by BC artists. This province-wide campaign and resilience fund aims to help bring British Columbia's music community, providing desperately needed support to those connected to the sector, including artists, presenters, production staff and venues.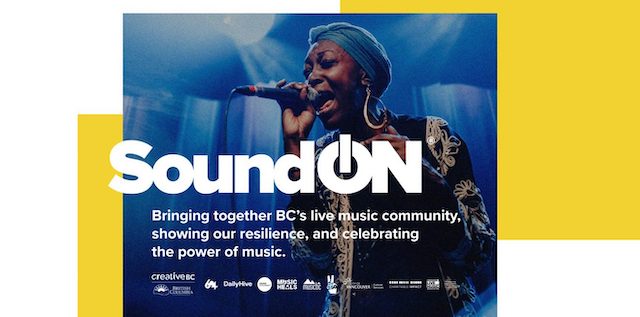 SoundON Announces Concerts to Support BC's Music Community
When: July and August, 2020
Where: Live on SoundOn.ca
The first project of its kind in Canada, it is the ultimate in community and collaboration as it brings together industry members from across the province with one common goal – to bring the province's vibrant music industry back to life.
The first round of festivals and shows will begin streaming this Saturday, July 18th at SoundON.ca. This will include 11 shows curated by BC's most beloved festivals and emerging presenters from across the province, including: FVDED in the Park, Bass Coast, and Midsummer Music Festival, as well as Afro Van Connect's Black Space Jam and Virtual Feast, a collaborative showcase of more than 40 Indigenous artists, presented by Full Circle, 2Rivers Remix, Savage Society, and Vines Festival.
SoundON concerts will stream from diverse locations across the province and will help audiences discover the incredible array of talent in the province. From rising stars like BBNO$, Snotty Nose Rez Kids, NuZi Collective and Old Soul Rebel, to renowned BC artists like Alex Cuba, Lightning Dust, Chin Injeti, and Shred Kelly, all shows funded by SoundON will be free to watch and stream at SoundON.ca.
"Music has always been a nucleus for human beings to gather. And music has always healed and soothed us," says Sirish Rao, Artistic Director of the Indian Summer Festival, "and SoundON gives me hope for BC's music community, and that our creative voices will continue to have a stage."
In partnership with Music Heals, the Unison Benevolent Fund, and Charitable Impact, SoundON also provides an opportunity to invest in the power of music during a time of crisis. SoundON presentations will give audiences the ability to contribute support to BC's music community for counselling services, financial assistance, and health and wellness programs.
Lineup July to August, 2020
July 18 – BBNO$, Snotty Nose Rez Kids, The Funk Hunters + more – FVDED (Vancouver)
July 18 – Chin Injeti, Lil India, Horsepowar + more: Indian Summer Festival (Vancouver)
July 23 – Makadi, Iamtheliving, & Una Mey: Let's Hear It! Live (Vancouver)
July 24 – Lightning Dust w/ Audio Osmosis: Eventide Music Series (Victoria)
July 24 – Black Space Jam: Afro Van Connect (Vancouver)
July 24 – Lola Parks at Virtual Feast (Vancouver)
July 26 – Khotin & Michelle Helene Mackenzie: New Forms Festival (Vancouver)
July 31 – Symphonic Pride: Vancouver Pride x VSO (Vancouver)
August – Alex Cuba, Elijah Quinn + more: Midsummer Music Festival (Smithers)
August – Young Dene, Crystal Precious, Smalltown DJs + more: Bass Coast (Merritt)
August – Shred Kelly, The Parsons + more: Fernie Stoke Fest (Fernie)
August – Radio Cascadia and Kerri Coombs – Islands Celtic Festival (Vancouver)
Stay tuned to SoundON.ca as more festivals and concerts are announced in the coming months. An anticipated 100 shows will be produced to showcase the incredible diversity of British Columbia's music community.
SoundON is delivered with initial funding from Creative BC, the Province of British Columbia, and Music BC. With continued support from public and private partnerships, and individual donations from music lovers across British Columbia, together, we can help keep the Sound ON.
Follow the campaign on Facebook, Instagram, and Twitter for more info.