It's June so that means it's strawberry season in BC! The BC Strawberry Growers Association has over 40 growers throughout the province, growing fresh and processed strawberries on around 600 acres in the fertile Lower Mainland for over 30 years.
Strawberry Season in BC
Where to Pick Strawberries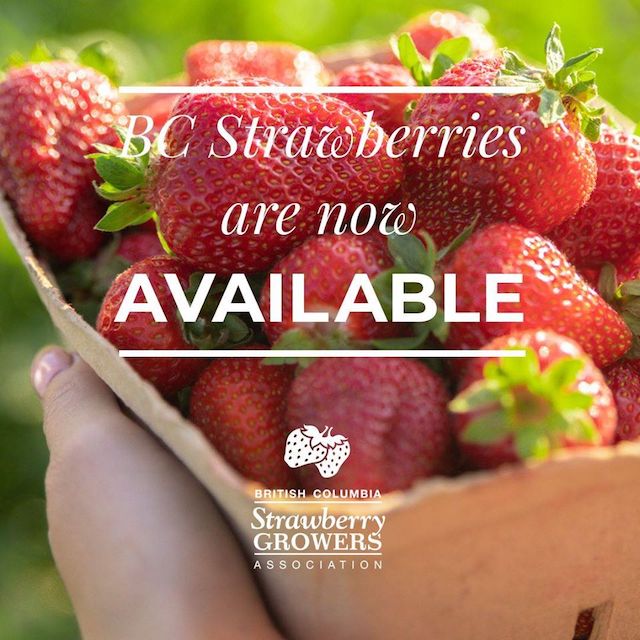 Here are a few local spots to order online, pick-up, and u-pick strawberries this season:
Surrey Farms
5180 152st, Surrey
Now open for u-pick. Fields are open everyday from 9:00am to 6:00pm. U-pick is subject to field availability and supply. Please call ahead for availability: (604) 574-1390. Due to COVID-19 customers are no longer able to bring their own containers. One will be provided for you for a small fee.
Driediger Farms
23823 72nd Ave, Langley
The u-pick berry fields hours are 8:00 am to 5:00pm daily, starting mid-June. To avoid disappointment, call ahead (604) 888-1665 to ensure the u-pick berry fields are open. Cost is $2.75 per pound to pick. The use of personal containers or bags from home this season this not allowed. Driediger farms buckets are mandatory at the u-pick booth for $1.50 each.
Krause Berry Farms
6179-248th St, Aldergrove
Online orders & pickup available now, u-pick available from June 8th. Be sure to order some of their signature strawberry pie!
Maan Farms
790 McKenzie Rd, Abbotsford
Online orders & pickup available now, u-pick open from June 5th.
Westham Island Herb Farm – Ellis Farm
4690 Kirkland Rd, Delta
Online orders & pickup available now, u-pick open from June 8th.
Emma Lea Farms
2727 Westham Island Rd, Delta
Opening soon for u-pick. The use of personal containers is prohibited, containers will be available for purchase.
Willems Berry Farm
33736 Vye Rd, Abbotsford
They are starting to take limited amounts of orders for strawberries, call (604) 864-1149 to order. U-pick will be available later in the summer.
Remember to keep 6 feet apart, wash your hands frequently and use available hand sanitizing stations, and keep your family group small when visiting. Enjoy fresh, local produce from Delta to Langley, Surrey to Abbotsford! For more information follow BC Strawberries online.