In this month's guest post from Visit Coquitlam you'll find a Coquitlam bike and Patio Guide! It's your resource for finding great spots to bike around the city followed by some open air après options at local restaurants:
Coquitlam Bike and Patio Guide
Sunny days call for bike rides followed by cold drinks and snacks on the patio. For those of you in and around Coquitlam, the trails beckon – whether they're paved and cruisy, gravel and forested, or rugged and adventurous.
And now, with patios reopening, you can soak in the summer atmosphere while replenishing your fluids and taking in the sights. Here are some tips for places to ride and relax, whatever your pace.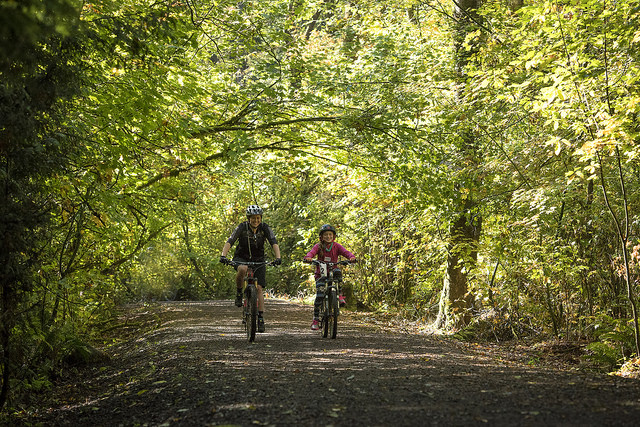 Where to Ride
Wondering about the top trails to explore around Coquitlam? Check out Coquitlam's Biking page for information about exploring the city on two wheels.
If you want easy forested trails, try Mundy Park or the Coquitlam River trails for a wildlife adventure through the forest.
If it's wide open spaces you'd prefer, DeBoville Slough and Colony Farm Regional Park are two to try. Find out more at visitcoquitlam.ca and check out Let's Go Biking for other family-friendly routes.
Want to try out mountain biking but don't know where to start? Download your free copy of TORCA – A Beginner's Guide to Mountain Biking in the Tri-Cities, brought to you by the Tri-Cities Off-Road Cycling Organization. You'll find out about Coquitlam's best trail networks, including Pinecone Burke Provincial Park (Burke Mountain), Eagle Mountain and Riverview Forest. Consider a membership with TORCA as a way to support the trail network in the Tri Cities.
Kinetik Cycles and Canadian Tire in Coquitlam have all of your biking needs covered from parts to accessories to bikes.
Where to Patio
Maybe you seek a sunny spot for people-watching? Or a buzzy spot to catch up (physical distance-style) with friends? Or a kid-friendly refuge with sun umbrellas?
The list of patios now reopened for business in Coquitlam is growing fast. You'll find some suggestions below, and be sure to refer to their map with all businesses open for dine-in, takeout, and patio service online here.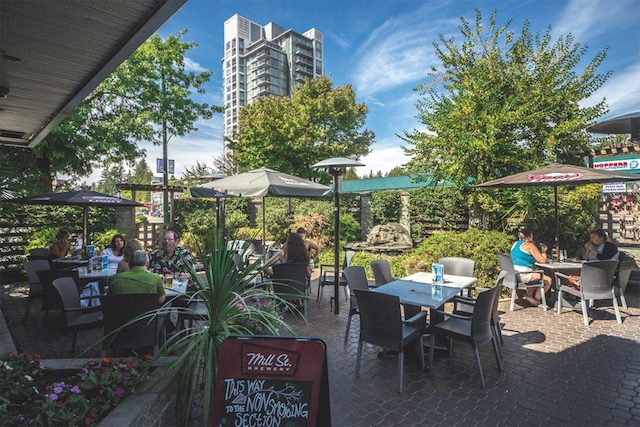 Though not the entire list, here are some to try!
For Big Views
It's hard to beat the view from Westwood Plateau & Country Club. Kick back for a drink and bite to eat at Fairways Grill & Patio or Rogues Bar & Grill, where you can gaze over into the skyline as far as Mt. Baker.
Also, try out the licensed patio at Eaglequest Golf, Sandwedges Café.
For Seeing Friends
Sometimes the view isn't just about nature. For some people-watching on the patio, try Browns Socialhouse Town Centre & Schoolhouse, Cactus Club Coquitlam, Milestones Coquitlam or JOEY Coquitlam.
For a Craft Brewery
Head to Mariner Brewing for locally brewed beer on the front or back (pet friendly) patio.
For Pub Life
Thinking beer and wings? Try the patios at John B. Neighbourhood Pub, the Golden Parrots Pub, Woody's or The Taphouse Coquitlam.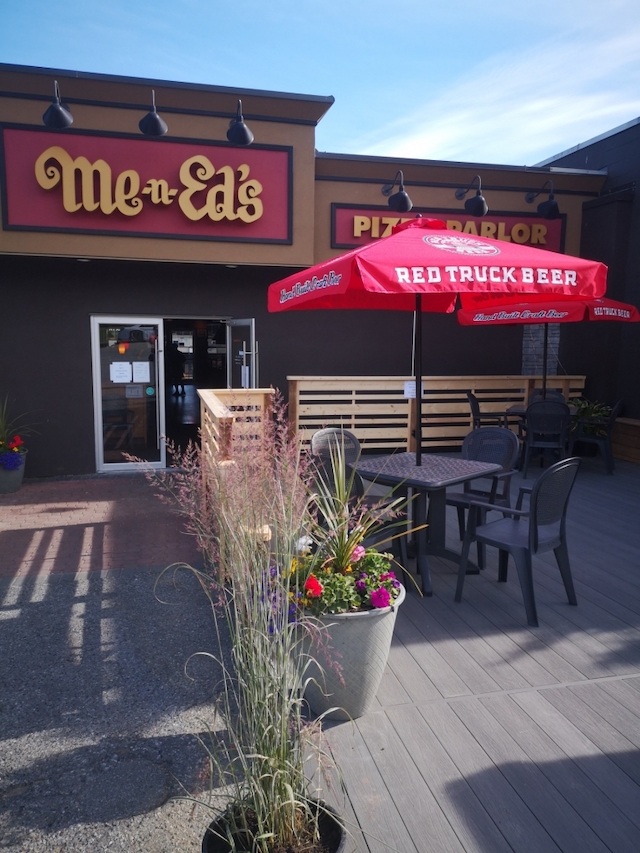 For Families
Check out 'happier' hour at Mr. Mikes Steakhouse Casual, which has a large, open outdoor patio. Other family-friendly patio options include Pasta Polo, Doppio Zero Pizza, White Spot, and Me-n-Ed's Coquitlam. Kooks Cooks is also a great spot for breakfast and brunch with the family.
For Meat Feasts
Head to The Keg Steakhouse + Bar's large patio, with outdoor heaters for those chilly evenings. And don't miss the Rio Brazilian Steakhouse for all-you-can-eat barbecued meat – al fresco.
Want to know more about each of these patios? View the full list online here.
Do you have a favourite patio to add to the list? Share your photos on social media using #ExploreCoquitlam.
75 Days of Summer in Coquitlam
Celebrate 75 Days of Summer in Coquitlam ON NOW until September 7. Follow @visitcoquitlam on Facebook and Instagram for daily ideas and inspiration to explore all of the spectacular culture, nature, and adventure our City has to offer. Enter to win weekly giveaways for great prizes and share how you are participating with your friends and family by tagging your posts with #SummerintheCQ.
Coquitlam Celebrates Canada Day
Join in the fun at home July 1st as Coquitlam presents its annual Canada Day celebrations online with live music, dance, interactive activities and more.
Kicking off with a welcome parade, the 12th annual Coquitlam Celebrates Canada Day will be broadcast online from 12:00pm to 7:00pm with many of the much-loved aspects of the celebrations traditionally held at Town Centre Park.
A full schedule will be posted online prior to the event. Featuring a mix of live and pre-recorded segments, the broadcast will go live at noon July 1st and remain online until the evening of July 5th.