They're reading stories, teaching skills, and saving the Vancouver Aquarium, now you can purchase Vancouver Whitecaps It Takes a Village artwork in support of the Greater Vancouver Food Bank.
Whitecaps It Takes a Village Artwork in Support of the Food Bank
Vancouver Whitecaps FC announced today that they have joined forces with internationally-recognized local artist Carson Ting who has created It Takes A Village, a unique and inspirational piece commemorating Vancouver's 7:00pm ovation for healthcare workers, emergency responders, city employees, store clerks, supply chain workers and all who have been working tirelessly on the frontlines of the pandemic.
100% of the proceeds from every print sold will be contributed to help address the Greater Vancouver Food Bank's unprecedented demand.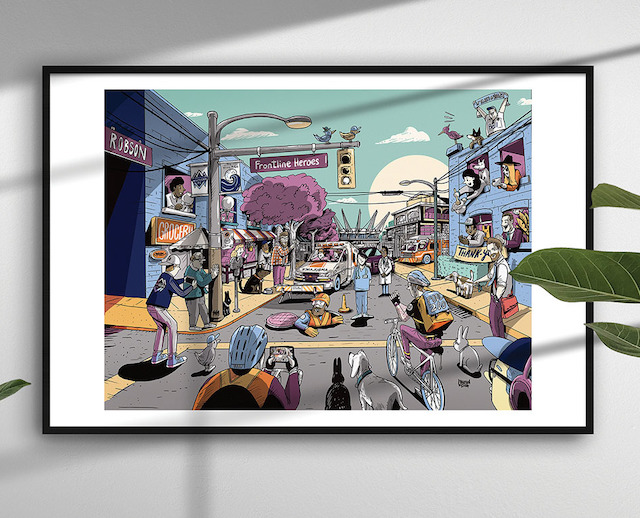 The club will also be gifting a print to each of its #FrontlineHeroes, who are recognized nightly across Whitecaps FC social media channels.
The uplifting scene also features BC's own provincial health officer Dr. Bonnie Henry and expert sign-language interpreter Nigel Howard, who have been guiding British Columbians through the uncertainty since the pandemic began. Local celebrities Ryan Reynolds, Seth Rogen and Steve Nash can also be spotted in the artwork.
I'm deeply inspired by our city's collective energy, unity and positivity," said Ting. "Before this project, I was thinking of ways that my skill-set could be used to support our courageous frontline workers during these difficult times. When I got the call from Whitecaps FC about this initiative, I was all in."
Local production company Kindred & Scout donated their energy and creativity to create a video that features 'Caps forward Tosaint Ricketts and community cheers across Vancouver. Hemlock Printers and Hemlock Harling also supported the food bank in a big way, donating their resources to print and distribute the artwork to donors.
Each of the 24" x 18" art pieces can be purchased online for a minimum of $30 plus tax and shipping. The Greater Vancouver Food Bank will issue tax receipts approximately six weeks after each donation.
"We are truly grateful to be included in this artistic tribute to COVID-19 frontline heroes," said Greater Vancouver Food Bank chief operating officer Cynthia Boulter. "Our staff and volunteers are working continuously to ensure we can provide healthy food each week to those in need across the Lower Mainland."