The BC Museums Association has been a website consulting client of mine for the last few years (through my company) and while doing some recent website updates for them I noticed that they are as busy as ever! I reached out to their Programs Coordinator, Lorenda Calvert to find out more about how BC museums are coping with their doors closed during COVID-19.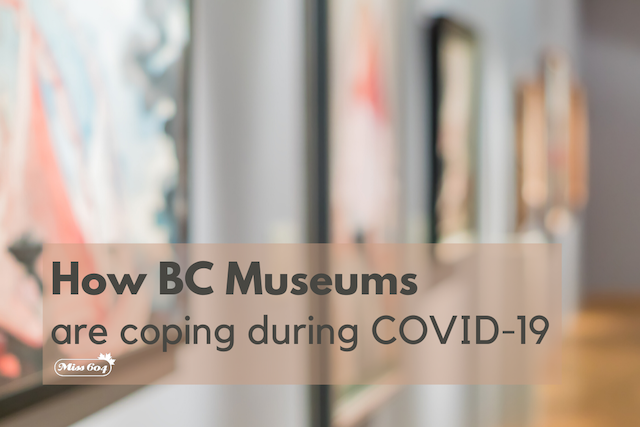 How BC Museums Are Coping During COVID-19
My Q&A with Lorenda follows:
What kind of resources does the BC Museums Association provide?
One of the many resources we have created in partnership with Arts BC is CultureOnline.ca; a directory of online programs and resources that museums, art galleries, and cultural organizations are sharing with British Columbians during the COVID-19 shutdowns. This has provided one central platform for organizations to share and seek inspiration.
We've prepared a list of resources and links that explore best practices, innovative ideas, and administrative support for cultural organizations as they cope with prolonged closures and remote work. We've also increased our webinar offerings on topics related to addressing the COVID-19 shutdowns such as digital programming and DIY videography to support our members and community as we adapt to these changing times.
We've partnered with the Greater Vancouver Professional Theatre Alliance and BC Alliance for Arts + Culture to help quantify the impact that COVID-19 is having on the province's arts, culture, and heritage sector through and impact survey and have used that to keep government informed of the impact COVID-19 is having on our sector and to advocate for the necessary support to ensure that we can continue to protect and promote BC's arts, culture, and heritage now and into the future.
And to address social isolation during this time of social distancing we've launched a weekly informal online group chat where community members can catch up, chat, ask questions and seek advice.
What are some of the ways museums are continuing to engage British Columbians while their doors are closed?
Museums, are rising to the challenge of engaging, educating and inspiring members of the public via online initiatives such as virtual exhibit tours, engaging podcasts, live stream lectures, activity packages, digital science experiments, virtual events, engaging social media and so much more. Great examples of ways museums are continuing to engage BC residents while doors are closed can be found at CultureOnline.ca which is an online directory where institutes can upload listings of their content.
What are some really creative examples of engagement from members?
There are so many! The Exploration Place in Prince George has been doing daily live streams with their Animal Ambassadors where they do live feedings, playtime, and bath time with their animals will answering viewers questions. The Reach Gallery in Abbotsford has created a self-guided driving tour of public art in and around Abbotsford.
The Jewish Museum and Archives of BC in Vancouver has an amazing podcast series called The Kitchen Stories – food provides such comfort during these crazy times. The Vancouver Art Gallery has created Art Connects where they host bi-weekly interactive live streams with local and international artists.
The Maritime Museum of BC in Victoria has created a slew of virtual programs for youth, adults and seniors. They've even launched a digital trivia night. The list goes on and on.
How can British Columbians continue to support their museums at this time?
There are many ways to show support including: engaging with institutes on online and via social media and sharing the content they are creating, partaking in virtual programs or lectures, purchasing or renewing memberships, making a donation and advocating to their friends, families, and politicians about the value museums and cultural institutes provide to their communities.
For more information, follow the BC Museums Association on Facebook and learn about their members and the support they are offering — including their Animal Crossing presence!