Tulips are a lovely sight to see at this time of year, from the millions of bulbs in the Fraser Valley, to gardens and groves in the heart of the city. They have a very special meaning here in Canada, and their story is told through the 800 Liberation Tulips now blooming outside the Seaforth Armoury on Burrard Street.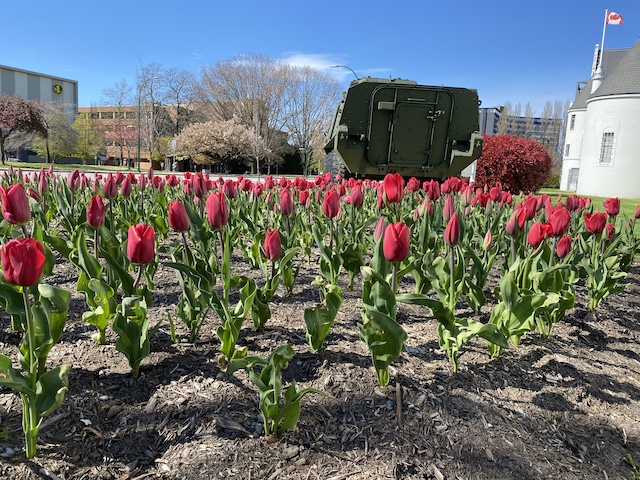 800 Liberation Tulips Now Blooming
On May 1st, over 40 local members and Regimental Family of the Seaforth Highlanders of Canada, Vancouver's Infantry Regiment, were planning to fly to Holland to mark and celebrate the 75th anniversary of the liberation of Holland during World War II. 
Members of the Seaforth Highlanders of Canada were responsible for liberating Amsterdam and several other Dutch towns and cities during the war so plans were for Seaforths to attend official veteran ceremonies at War Cemeteries, tour the liberation route of the Seaforth Highlanders, visit battles sites and to recreate the May 8, 1945 march into Amsterdam. 
Like so many other events, plans changed overnight with COVID-19 and the only marker of this milestone is the 800 Liberation Tulips planted outside the Seaforth Armoury on Burrard Street.  For the Liberation Tulip campaign, goal was to plant 1.1-million across the country, to commemorate the 1.1-million Canadians who served for their country during the Second World War.
In the fall of 2019, Canadians were encouraged to plant the red "Triumph" tulip, which would be blooming right now. Brian Minter wrote in the Vancouver Sun:
As a symbol, this tulip was to be a recognition of liberation, an expression of deep appreciation and a means to create awareness among the younger generations of the role Canadians played. The goal of planting one million tulips in schools, parks and home gardens was set. The Dutch Canadian 2020 Liberation Society decided that this should be a not-for-profit campaign here in B.C. with the net proceeds going to the Royal Canadian Legion, B.C. and Yukon Command.
As a thank-you for Canadian's efforts in World War II, the Dutch Royal Family has been giving Canada 100,000 tulip bulbs each year since the war to be planted in the Ottawa region, but this year they will be donating 'Liberation 75' bulbs to 1,100 schools across the country, as well as 750 bulbs to provincial capitals. The National Capital Commission, the official gardener of the Capital, has also agreed to match this donation by planting 100,000 'Liberation 75' tulips around our Capital.
Read a poignant, first-person account of liberation by Marguerite Gildersleeve (Blaisse Herckenrath) on the Seaforth Highlanders website.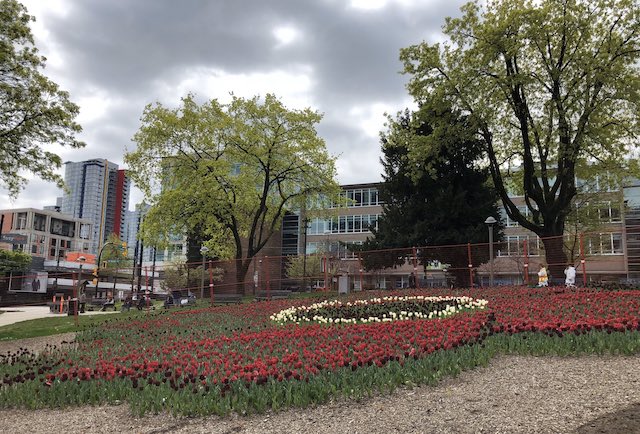 You can see the Liberation Tulips at Burrard and First Ave. If you snap a photo during a morning constitutional, tag the Seaforth Highlanders on social media and #Liberation75 #LiberationTulips to share the beauty of these flowers, and their meaning.