The Vancouver South African Film Festival ("VSAFF") is proud to present features and documentaries that explore the culture, history and politics of South Africa – films that inspire, entertain and inform at its 10th Annual Film Festival from March 27 – 29, 2020.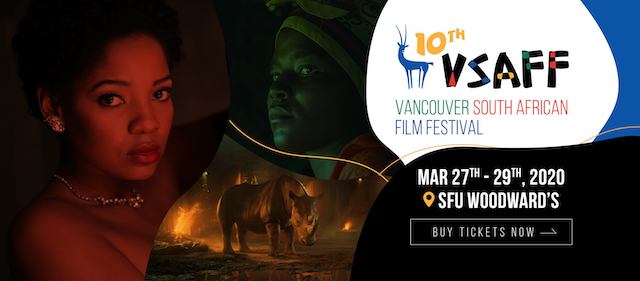 Vancouver South African Film Festival 2020
Where: Djavad Mowafaghian Cinema, Goldcorp Centre for the Arts (2nd floor) at 149 W. Hastings St, Vancouver
When: March 27-29, 2020
Tickets: Available online now
Individual Tickets: $15 Regular Screenings(+ fees)

Festival Passes: $145 Weekend Festival Pass including Friday evening gala party. $110 Weekend Festival Pass (All films, no gala party). $55 Gala Pass (Friday night opening film and fabulous gala party at Spaces Gastown)
Film Lineup
Skin – Friday, March 27, 2020 at 7:00pm
Without Skin, there would be no Vancouver South African Film Festival. This extraordinary film, based on a true story, inspired the first VSAFF and was embraced by everyone who saw it. It was the Gala opening film at the first VSAFF – and it's the Gala opening feature once again this yea, bringing it back for the retrospective screening it deserves.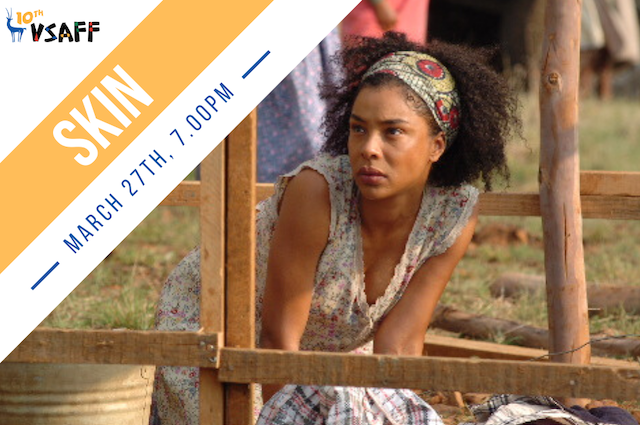 Sides Of A Horn – Saturday, March 28, 2020 at 11:30am
The first film to tell the story of Africa's poaching war from both sides of the fence. Based on actual events, and filmed in the townships and game reserves most directly impacted by wildlife crime, this dramatic short film (only 17 minutes) paints a balanced portrait of a modern battle that is tearing communities apart and driving the rhino to the edge of extinction.
Rooibos Restitution – Saturday, March 28, 2020 at 11:30am
tells the story of the indigenous San and Khoi people and their struggle to be recognized as the original knowledge holders of the uses of rooibos. They have staked their claim to legal ownership of something entirely intangible – the traditional knowledge of their ancestors.
Pili – Saturday, March 28, 2020 at 1:30pm
Each year VSAFF presents one film from an African country other than South Africa. This year they're extremely pleased to present Pili, from Tanzania.
Life is Wonderful – Saturday, March 28, 2020 at 4:00pm
Ten people including Nelson Mandela were convicted at the Rivonia trial (named after the location of the farm where most of them were arrested) and went to jail for decades. Life is Wonderful features the three surviving Rivonia defendants at the time of filming: Dennis Goldberg, Andrew Mlangeni and Ahmed Kathrada.
Picture Perfect Heist – Saturday, March 28, 2020 at 7:00pm
Three hopeless hoodlums arrive at a gallery to steal a valuable painting. It only takes 8 minutes for this tragi-comic story to unfold and for audiences to be convulsed with laughter. Small-time crime in the "New South Africa" means role reversals, confusion and some real-life lessons.
Back of the Moon – Saturday, March 28, 2020 at 7:00pm
Back Of The Moon plays out in a single night in 1958. It's a tale of gangsters fighting for every advantage – for every drop of power and dignity in the midst of squalor – while not quite hidden in the background the vicious policies of the apartheid state draw ever closer.
Soft Vengeance – Sunday, March 29, 2020 at 11:00am
In all the years VSAFF has been focussing on South Africa no film has had the impact of Soft Vengeance. Many who missed the 2014 screening begged VSAFF to bring it back. Many more who saw it the first time asked that they show it again. So it's no surprise that Soft Vengeance is the retrospective documentary for this 10th Annual Festival.
Soft Landings – Sunday, March 29, 2020 at 1:30pm
A seeming chance encounter between an airplane-obsessed young boy and an aging retired golfer reveals the depths of love, respect and feeling as a family deals with life's complex journey. In just seven minutes a drama unfolds that tugs at our hearts and inspires our dreams.
Flatland – Sunday, March 29, 2020 at 7:00pm
Every year VSAFF ends with an Afrikaans language film. This year Flatland takes us on an edgy and unconventional journey through the emotional, psychological and physical wasteland of the Karoo. Flatland presents this forbidding interior region of South Africa emphasizing its dusty roads, distant mountains and endless sky. It's a contemporary quasi-western with a feminist twist.
Izulu Lami (My Secret Sky) – Sunday, March 29, 2020 at 1:30pm
Ten-year-old Thembi and her eight-year-old brother, Khwezi, are left alone in their rural homestead in KwaZulu-Natal after their mother dies. All they have to remember her by is a grass mat she wove, which she planned to enter in a craft competition in the city.
Good Hope – Sunday, March 29, 2020 at 4:00pm
VSAFF is honoured to present the World Premiere of the remarkable documentary Good Hope. Despite the avalanche of optimism that liberation and democracy brought in 1994, there persists a negative narrative about South Africa that is difficult to shake. Good Hope tells an alternative story, about the astonishing efforts of a new generation set to tackle the country's challenges.
Follow the VSAFF on Twitter and Facebook for more information.
Win Festival Passes
I have a pair of festival passes to give away, here's how you can enter to win:
Leave a comment on this post (1 entry)
Click below to post an entry on Twitter
[clickToTweet tweet="RT to enter to win passes to the Vancouver South African Film Festival @VSAFFest March 27-29, 2020 #VSAFF http://ow.ly/bTw130qmrYb" quote=" Click to enter via Twitter" theme="style6″]

I will draw one winner at random from all entries at 12:00pm on Monday, March 9, 2020. Prize includes weekend festival passes, does not include opening night gala tickets. UPDATE the winner is Catherine!

VSAFF is a non-profit event organized entirely by volunteers. All proceeds from the festival go to go to support Education without Borders to provide educational opportunities for disadvantaged and at-risk children through initiatives in South Africa and Canada.

Miss604 is a proud media partner of VSAFF

UPDATE: Due to the COVID-19 outbreak, the festival has been cancelled. Here is a message from organizers:

If you have already purchased tickets for the Festival you can choose one of the following by emailing us at 

[email protected]

:
 
1.    Cancel your tickets and we'll refund the full cost.
2.    Keep your tickets and use them when the Festival is rescheduled.
3.    Make the cost of your tickets a donation to Education without Borders – where all proceeds of VSAFF are directed each year.  We'll send you a tax receipt if your ticket cost was over $20.