It's a live concert from a safe social distance! The Diesel Bird Festival will feature some of Canada's favourite musicians and hosted by Dan Davidson on Instagram.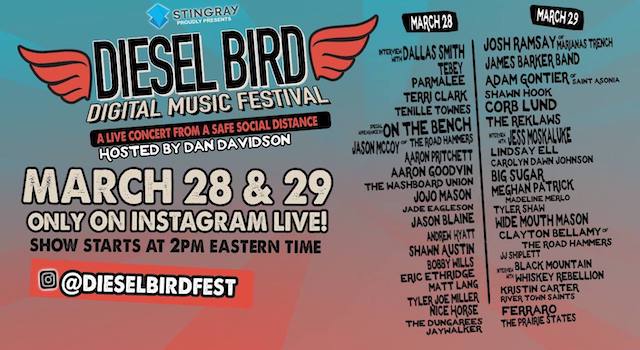 Diesel Bird Festival Online
Where: Instagram
When: Saturday, March 28, 2020 at 11:00am (March 29 TBA)
Cost: FREE
"We have to do our best to take care of each other by staying away from each other," say festival organizers which include Dan Davidson, Travis Nesbitt, Joel Jelinski, and Chuck Erman. "We want to give music fans an excuse to stay in and enjoy themselves. They can have an intimate music festival right from their couch."
Confirmed Lineup
Dan Davidson
Dallas Smith
Tebey
Clayton Bellamy
Nice Horse
Andrew Hyatt
Jason Blaine
Aaron Goodvin
Aaron Pritchett
Jo Jo Mason
The Recklaws
Josh Ramsay
Wide Mouth Mason
Jason McCoy
Jess Moskaluke
Eric Ethridge
Meghan Patrick
The Dungarees
Kristin Carter
Matt Lang
Shawn Austin
JayWalker
James Barker Band
Corb Lund
Big Sugar
Shawn Hook
Kudos to the team and Blxck Marketing for getting this up and running so quickly, with some wonderfully consistent branding to boot!
The official schedule has not yet been released (it's expected Monday, March 23rd) but I'm sure you'll want to tune in for the whole thing anyway! You can support the effort through donations here which will go to Red Cross Canada. Follow on Facebook for more info and updates.
Related: Free Concerts to Watch at Home During COVID-19 Distancing; COVID-19 Resources & Ways to Stay Entertained