It's been a few years since I used the Sprinkles Cupcake ATM in Los Angeles but when it comes to automated machines for treats, this one's just as exciting. Vancouver's first smoothie vending machine is popping-up outside the Parker Street Studios (1000 Parker St, Vancouver) starting February 25, 2020.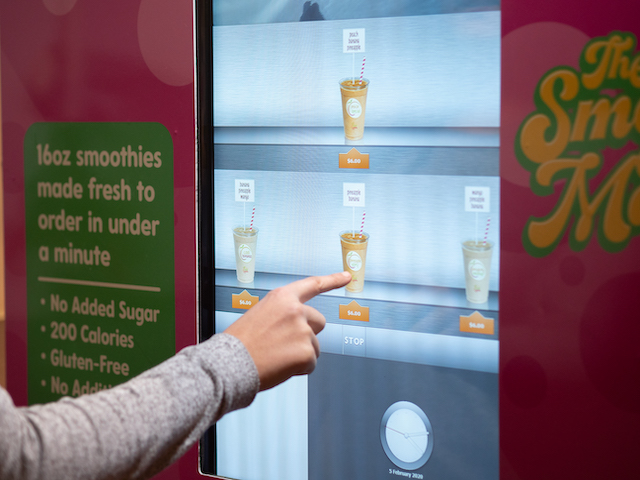 Vancouver's First Smoothie Vending Machine
"We are excited to launch Vancouver's first smoothie vending machine," says Carissa Campeotto, who co-founded Trendy Vending Inc. with partner Craig McIntosh. "It just seemed like a natural fit for our city! We are debuting the machine with several fruit smoothies, but are actively working on new blends to include plant-based protein, vegetables, and superfoods."
The Smoothie Machine is essentially a robot that makes plant-based smoothies to-order in less than one minute. Nothing is pre-mixed. The smoothies are blended with water, ice, and a touch of Stevia. They are also pasteurized for safe consumption.
The menu is made up of six flavours featuring 100 percent pure fruit and includes Mango Tango, Passion Peach, Pineapple Glory, Cool Banana, and Tropical Berry.
Each smoothie is $6 for 16oz, contains two to three servings of fruit, and 200 calories or less. The packaging is compostable and recyclable, the machine itself uses sustainable energy. Eventually, Campeotto hopes to allow customers to utilize their own reusable cups.
The smoothie vending machine was invented by Rodolfo Piedrabuen, a systems engineer with more than 30 years of experience in automation, robotics, and software development. With the goal of bringing convenience and affordability to the world's 9 billion dollar smoothie market, he designed and developed a fully automated machine for preparing frozen beverages in an on-demand process.
The machines have been successfully tested in various locations around the world over the last 2.5 years. The Smoothie Machine will also debut at the Canadian Health Food Association ("CHFA") West conference on February 23 and 24, 2020 at the Vancouver Convention Centre West.