The 27th Annual RBC JCC Sports Dinner is happening on March 11th with Keynote Speaker Drew Brees of the New Orleans Saints. Celebrating professional and local athletes, the Sports Dinner raises much-needed funds to provide scholarships and programs for members of the community who wouldn't otherwise have access to these services.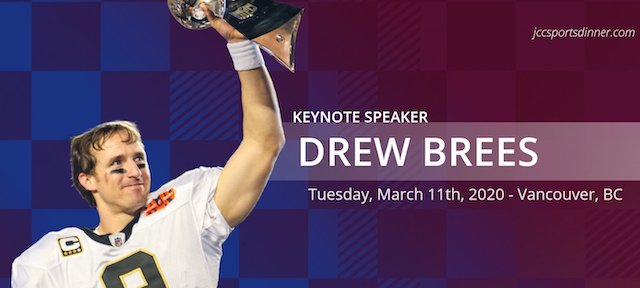 Event Details
Where: Hyatt Regency Hotel Vancouver (655 Burrard St, Vancouver)
When: Wednesday, March 11, 2020 reception 5:30pm, dinner 6:30pm
Tickets: Tables and a limited number of individual tickets will be available mid-February. This event usually sells out so stay tuned!
The evening will be hosted by emcee Al Murdoch (from the Canucks) and James Cybulski from SportsNet650 will be back again as the Keynote Moderator. 
JCC Sports Dinner Auction Items and Prizes
One of the most impressive live auctions and silent auctions will be found at the JCC Sports Dinner, including the auction of a New 2020 Cadillac XT4 Crossover SUV! Last year a Cadillac sold for $37,000 during the dinner's auction.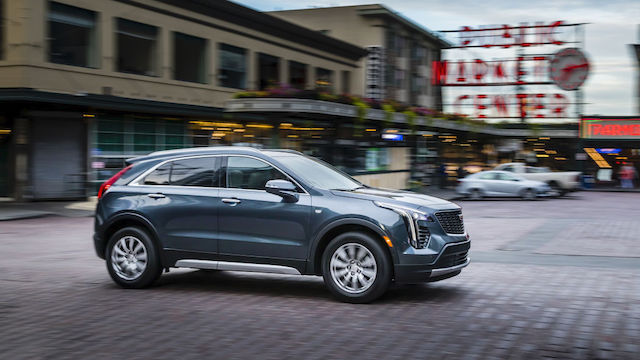 Guests can also bid on a trip to the Euro 2020 finals in London. Europe's best teams are battling for the title of Euro 2020 champion and the auction winner can enjoy a spectacular Category 1 view at Wembley Stadium for not just one, but both semifinal games.
There's also an exclusive Whiskey Tasting at the Vancouver Club, for 8 guests, hosted by the renowned Nate Gana of Single Malt Daily, and a premium home bar collection up for grabs.
For sports fans, the auction includes the chance to hit the field with New York Yankees pitcher James "Big Maple" Paxton and enjoy batting practice, and VIP seats for a game in New York. There's also a VIP Indianapolis 500 access experience with Champion Rinus Veekay, and the chance to catch a pass from Super Bowl MVP Drew Brees LIVE at the RBC JCC SportsDinner!
There will also be a trip to Las Vegas to see (and meet) The Who, a premium wine auction, and a fully stocked silent auction.
Follow the RBC JCC Sports Dinner on Facebook, Twitter, and Instagram for more information. Everyone is welcome at the Jewish Community Centre ("JCC"), which provides exceptional cultural, educational, recreational and social programs and services. The JCC offers daily activities, services, and programs including fitness offerings and award-winning early childhood education, and more.
Miss604 is the proud Social Media Sponsor of the RBC JCC Sports Dinner