I turned 40 a few weeks ago and the best present my husband gave me was that he took time off work. He told me about a week in advance, and although he originally wanted to surprise me, he figured if he gave me notice then I could plan something — and plan I did! I was given a blank slate: A 4 day weekend and the chance to do literally anything I wanted to do with him by my side. So, of course I picked mud and rain, sandy beaches, lush forests, and nightly soaks in a hot tub. I picked a B&B on the Sunshine Coast.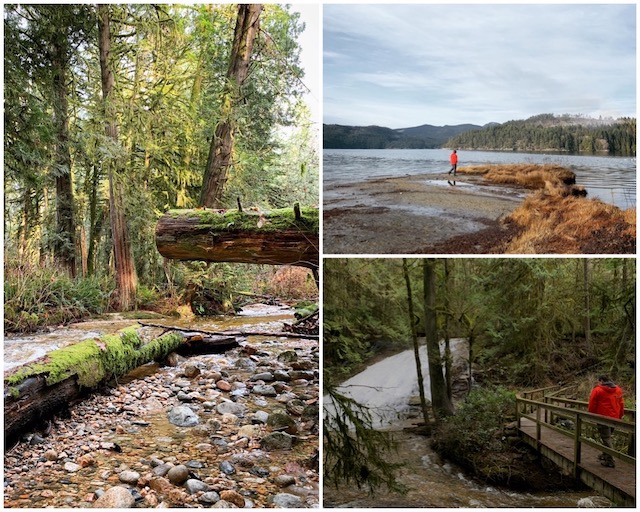 Winter Getaway at a B&B on the Sunshine Coast
I knew exactly where I wanted to stay. My sister and I enjoyed a visit to Shades of Jade Inn and Spa a few years ago while on a press trip with Sunshine Coast Tourism. I looked them up on my Booking app, and on their website and they had availability, which is very exciting since they always sell out in the summer — they have 5/5 on TripAdvisor with good reason.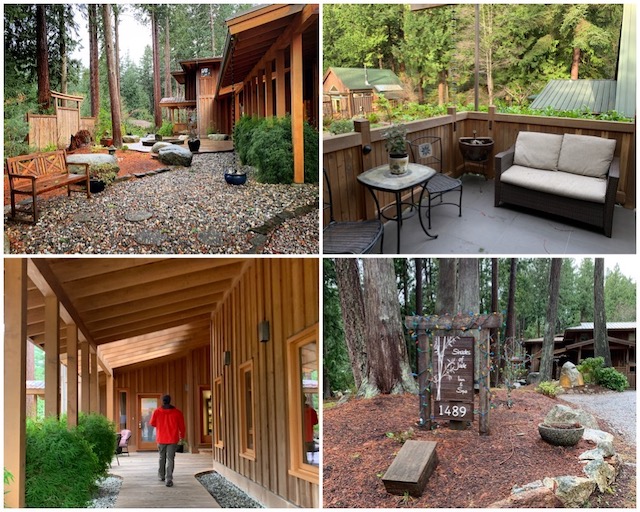 I selected just a few other places I wanted to visit on my actual birthday once we got off the ferry at Langdale. The first was the Gibsons Public Market so we could pick up some provisions for our mini vacation. We hit the butcher, the baker, the fishmonger, and the cheese shop (all in one place, it's so convenient). I knew the suite at Shades of Jade had a kitchenette with fridge so we planned accordingly.
The next stop was up to the Gumboot in Roberts Creek for brunch. I went to summer camp in Roberts Creek (from 1988 until 1998) and this seaside village holds a very special place in my heart. We both had the Gumboot Hash (two eggs over easy, avocado, diced tomato, aged white cheddar, on a pile of spuds, gumboot multi grain toast) which I admit, was better than anything I ever had at summer camp.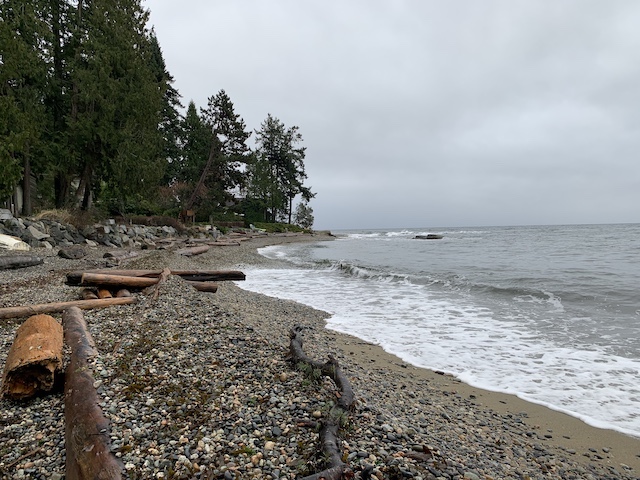 With full bellies we continued along the Sunshine Coast Highway, through Sechelt, and over to Porpoise Bay Provincial Park — with an enviable oceanside campground, beach, and trail network. I was last there in 2018 with Candace Campo from Talaysay Tours who guided me around this traditional Sechelt First Nation village site. It's a gorgeous park and during the second weekend of January is was bright green with mosses, lichen, leaves, grasses, and the salmon spawning creek rushed along through the woods and out to the inlet. I was very happy to spend a few hours there with John.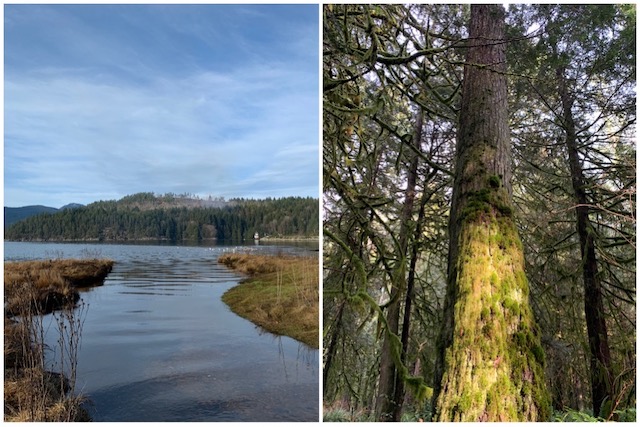 Our shopping and outdoor adventures complete, we checked into Shades of Jade back in Roberts Creek.
There are two guest-rooms available (Tea Garden Suite and Tall Cedars). I selected Tall Cedars, which was upstairs. King size bed, fireplace, free WiFi, kitchenette with microwave, sink, and fridge, and the bathroom – oh the bathroom. It has a jacuzzi tub, steam shower, bidet, double sinks and vanity, and heated floors.
Everything you could possibly want in a getaway B&B, they have at Shades of Jade. Individually packaged coffee grounds for the coffee maker in the morning, little LED candles that can turn on by remote, spa mood music with adjustable volume via a switch on the wall, delicious and nutritious breakfast baskets with pastries, yogurt, fruit and juice each morning. They also encourage recycling and composting, which is nice to see (especially since we're used to doing at home).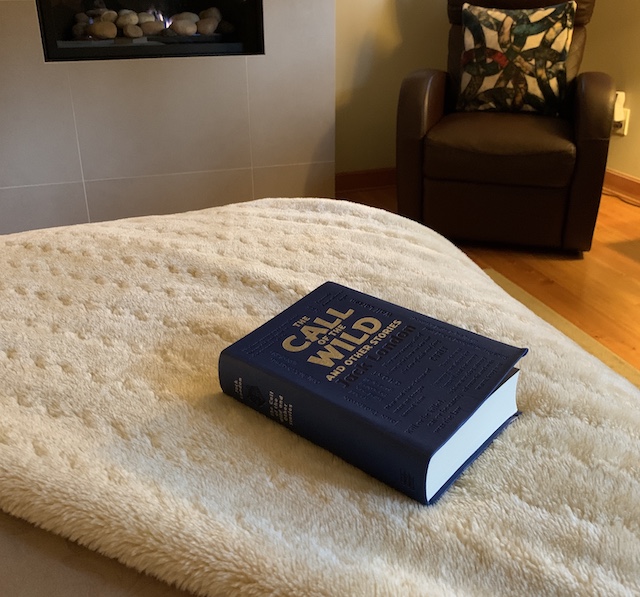 We sat by the fireplace, turned on some music, and read for hours. John got me a copy of Call of the Wild since our last getaway like this was to the Yukon in August, where we visited Jack London's cabin in Dawson.
Together, quietly, just being with each other. We're also fans of card games and I figured, there had to be cards in the room – Shades of Jade is literally perfect (again, check their Trip Advisor, it's flawless). I found a small box on a shelf and when I opened it there were dice, dominos, cards, note paper and a little golf pencil. See? Perfect.
After hiking, reading, and playing cards, there was only one thing left to do. Pop open some prosecco, pour it into the stemmed 'glasses' provided, and head down to the hot tub. We walked outside, past our private heated patio, down the stairs, and into a little alcove between buildings where the hot tub was prepped and ready for guests.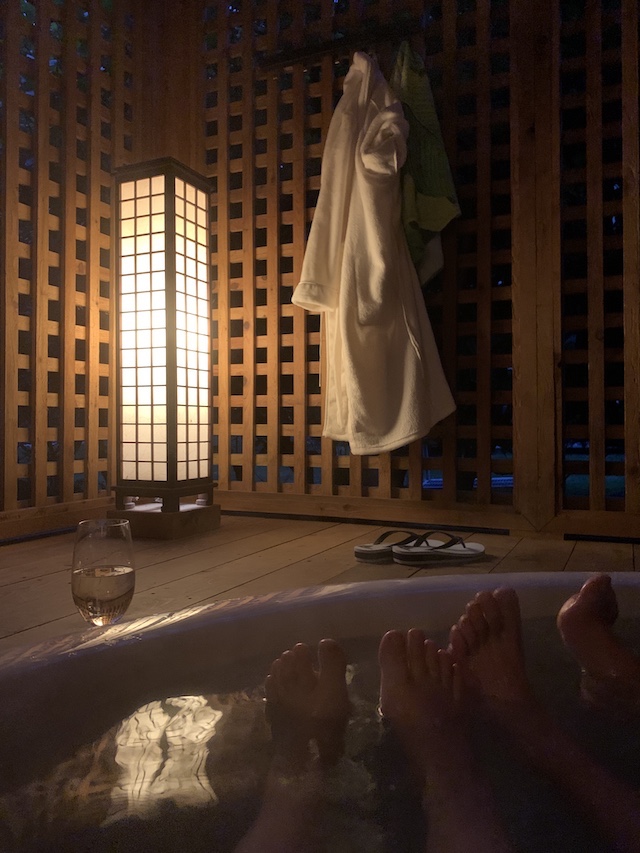 The rain fell around us outisde, steaming up the cedar lodgings and providing an incredible aroma and ambiance while we floated in the bubbles, while sipping our bubbles.
Like I said, the best gift John gave me was his time and this was the best time. In the morning we went for a few walks, the inn is just a few hundred meters away from Henderson Beach and down the road from Roberts Creek Beach (aka "the sandy beach" we called it when I was at camp). In the evenings, we retired to the room, our robes, and our bubbles. It was the perfect getaway.
Rates for Shades of Jade as of January 24, 2020 are $189 per night ($10 for the breakfast basket per night for 2 people) for the Tall Cedars Suite that we had. I'm sure the inn is lovely in the summer too, especially with the proximity to the beach, but I really did love our winter getaway at this B&B on the Sunshine Coast.
Honourable mention: Cliff Gilker Park – home to one of my favourite little waterfalls on the Coast. In the summer the water slows to a trickle and glides down the smooth rock face. In the winter, it's as rushing a waterfall as you'd want in the middle of a forest – where you can't tell if it's raining a bit or the mist from the cascade is tickling your cheeks. Always a worthy place to stop for a walk (and photo op) in Roberts Creek.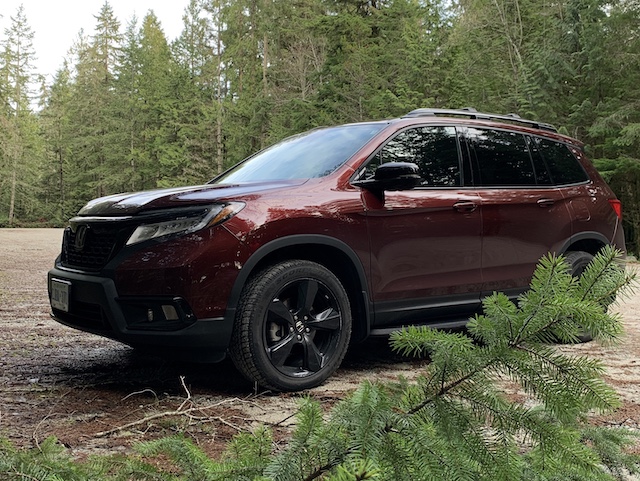 Thanks to Honda Canada for the use of the Honda Passport for this trip. All of our groceries tucked nicely into the sub-floor bins in the back of the hatch, the seat and steering wheel warmers were nice on cold mornings. When we returned during beginning of snowmageddon, the Snow drive mode and winter tires gave us the traction we needed to get home. Miss604 is a proud partner of Honda Canada, watch for campaigns throughout the year on Twitter and Instagram.