Hop across Howe Sound on a ferry from Horseshoe Bay to Langdale and in under an hour you can be savouring the very best of BC's Sunshine Coast. If you're not sure where to start – since there are so many local producers, growers, crafters and artisans – you can get a taste for the region at the Gibsons Public Market.
Recently re-opened after a massive renovation, this heritage building by the shore (and just 5km from the ferry terminal) is much more than a public market, it's a community gathering space. It's where locals and visitors convene for workshops, meetings, a community kitchen, a bite at the bistro, yoga classes, arts and entertainment. Not to mention shopping!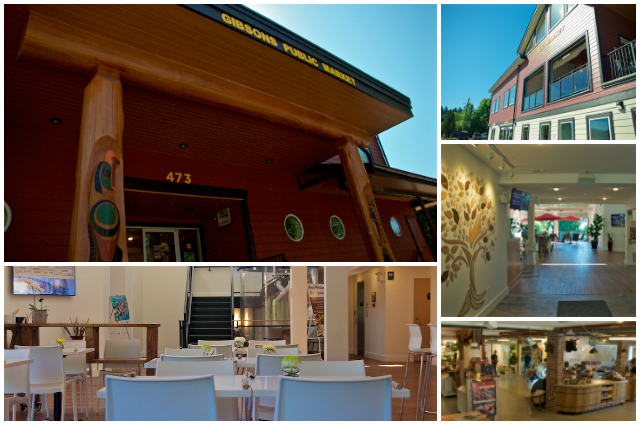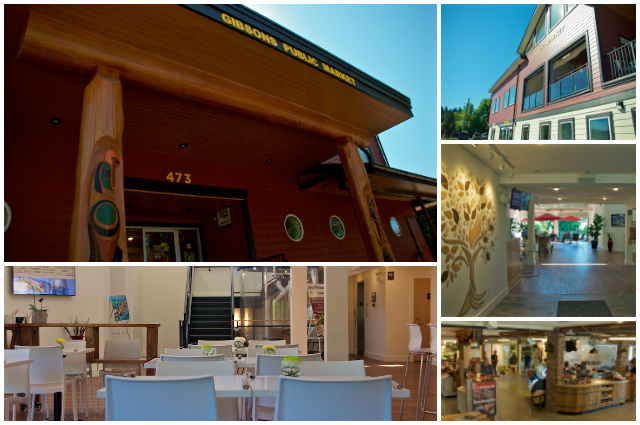 On a recent trip to the coast, my sister and I were greeted by Wendy, with the market's administration team. "So much of this building is built on volunteers," she told us as we walked over to Emelle's Catering Market Bistro for brunch. Fresh, local, delicious breakfast options were on the menu, including this veggie hash topped with a perfectly poached egg:
After brunch, it was time to head downstairs, following my nose to the sweet aromas of fresh baked goods and roasted coffee. On the lower level you'll find the main marketplace with permanent vendors:
Art Meets Chocolate, Bowen Island Roasting Company, Emelle's Catering Market Bistro, Fisherman's Market, Fromagerie de Baie, G.G. Greens, Rainflorest, and The Gibsons Butcher.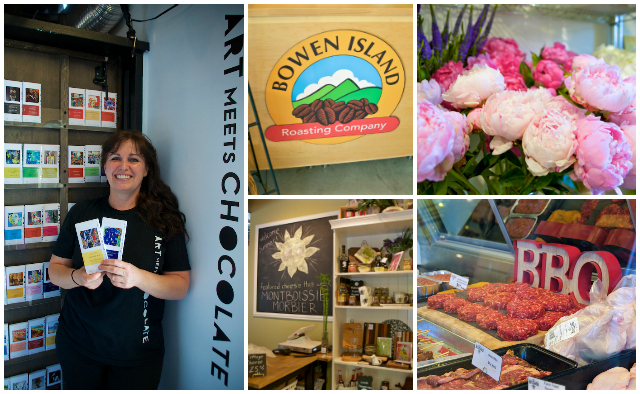 At Art Meets Chocolate's market counter you can pick up ice cream sandwiches, cheesecake, chocolate-dipped ice cream bars, and their famous neighbourhood chocolate bars featuring artwork from artists in BC communities. It's part treat, part collector card, an 100% local.
Award-winning Bowen Island Roasting Company has roasted coffee, now available off-island right in Gibsons, as well as baked goods and unique kitchen supplies in their cafe store.
Across from coffee and chocolate, you'll find the Gibsons Butcher's express counter. With a shop in Upper Gibsons, this post serves as a Lower Gibsons outlet for their beautiful cuts, burgers, sausages, and jerky.
Our next stop was Fisherman's Market for some wonderfully fresh and seasoned poké samples. They specialize in sustainable, wild, and organic seafood like BC salmon, spot prawns, and much more. Their crew is experienced, knowledgeable, and they care about sustainable fishing practices. Ask them anything at the counter!
Local brie? Curds? Yes please! The coast's only cheese shop, Fromagerie de Baie is located right in Gibsons Public Market. They carry a selection of top quality cheeses from BC, Canada, and Europe. We had another sample here, and also picked up some antipasto and honey. We were eating our way through the market, inspired by the spectacular array of ingredients that any home cook would love to work with.
From blue cheese to bouquets, the beautifully fragrant Rainflorest is where you'll find colourful stems and arrangements, along with an assortment of garden plants, orchids, cards, and candles. Even the flowers on the tables upstairs, that we admired earlier, were from Rainflorest.
Finally, no market would be complete without a grocer like G.G. Greens. It has everything you need to compliment the variety of goods you'll pick up from other vendors. Edible flowers, fruit, organic vegetables, popcorn, crackers, and more.
We were so full from brunch, and plenty of samples, after our visit to the market. Whether you're picking up a snack or planning an entire family feast, it really is a one-stop shop. Pop in to pick up your groceries, your morning coffee, or the catch of the day. Stay a while on the upstairs balcony and peer out at the harbour while live music plays.
Pro Tip: Purchase a Membership
An annual membership to the Gibsons Public Market is just $35 (single) $50 (family) and it comes with many perks. Get discounts at market shops as well as retailers and producers up and down the Sunshine Coast.
Pick your membership up at the welcome desk just inside the public market's main doors. After our visit I used mine twice later that day! Once at Persephone Brewing and again at The Nova Kitchen. Read through the full list of partners here »
The market is open Tuesday to Sunday, 10:00am to 6:00pm (open holiday Mondays in the summer). Coffee window opens at 8:30am and the bistro opens for brunch at 9:00am. On now until October 6, 2017, stop by the expanded Friday Farmers and Artisans Market from 11:00am to 4:00pm where the market spills out into the parking lot and even more local vendors like Persephone Brewery, Lee's Place, Green Green Kitchen, Roundtable Farms, and Artisans Way Organics will be on site. On Saturdays, there's always live music from 2:30pm to 4:30pm.
Take a day trip from Vancouver, or be sure to make this your home base during your Sunshine Coast visit.
Gibsons Public Market
473 Gower Point Road (P.O. Box 191)
Gibsons, BC V0N 1V0
For more information about the Sunshine Coast, stay tuned! I have more information to share about my recent visit that will give you insights on the best places to sip, savour, stay, and play. In the meantime, follow Sunshine Coast Tourism on Facebook, Twitter, and Instagram.